The Internet can't stop retweeting this picture of a sad grandpa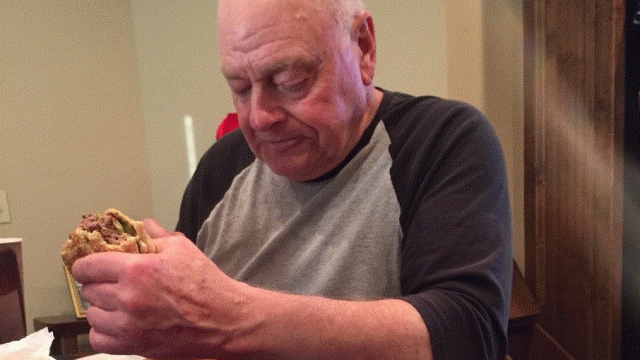 Kelsey never thought that her grandpa, known best as "Papaw," would become an overnight sensation when she tweeted a picture of him on March 16th— but much like Alex from Target, everyone seemed quick to latch on and share the photo with their social media connections.
Papaw seemed excited to spend dinner with his grandkids, but out of the 6, Kelsey was the only one who managed to show up. While Papaw was probably grateful for her company, there's a lingering look of sadness in his eyes.
After posting the tweet, the responses came flooding in. As of right this second, the image was retweeted 144,918 times, and "liked" a whopping 237,359 times. Why? Well, since everyone felt so terrible for Pawpaw, and wanted to show him some extra love. It also probably hit a lot of people emotionally, as neglecting to visit a grandparent is something we're all a bit guilty of — Kelsey unknowingly illustrated how these actions can truly hurt someone.
Of course, a few people took the opportunity to show their PaPaw support in a funny way, by creating a few memes. Here are a few of the notable ones.
And of course, others responded by showing how this one tweet made them feel some feels, or even a little bummed that the other grandkids failed to show their presence during the dinner.  
Kelsey seemed so overwhelmed by all of the responses and Papaw love, that she actually had to release a personal statement regarding both Papaw's health (he's doing great!) and the tweet itself. Turns out, Papaw isn't totally familiar with social media, so he did not understand how the cheeseburger gathering became big news, but appreciates everyone's love and support.   
Kelsey reiterates that her original tweet was in no way meant to grab attention — instead, she just wanted to show her appreciation for Papaw. In Kelsey's eyes, family is everything, and she'd never use her own relatives as a way to gain fame.  Let Papaw remind you that even the strongest, wisest adults still have feelings. And of course, always remember to give your own grandparents a call every once in awhile —they'll appreciate the time you took to get to know them better.  Our next cheeseburger will be eaten in honor of you, Papaw.