We didn't know you could make waffles out of all these foods
Happy International Waffle Day! In celebration of the most glorious holiday, I experimented with some foods to see if they could be made into waffles. It takes courage to risk inundating your waffle iron with the cinnamon-sugary spirals of a cinnamon roll, or the cheese and bean stuffed innards of a burrito. While conducting these experiments, a mess seemed imminent — and I wasn't wrong. But I did some home research and figured out the best way to do things, and realized I should honestly never use an oven again! Without further ado, here are my favorite things to waffle:
Hash Browns/Tater Tots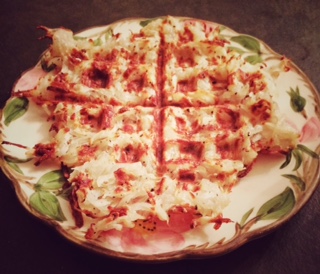 Yup, shredded potato can be made into waffles. It makes for a delectably crispy treat, and you don't even have to flip it to brown on both sides. Just squeeze as much liquid from the taters before piling them in. I got this idea from Will it Waffle? by Daniel Chumski.
You could either shred the potatoes themselves, or just buy some frozen browns or tots and toss them in a greased iron. Too easy.
Eggs 
So, I thought I invented the idea to beat up an egg and cook it in a waffle iron. Then I Googled it and found out that many people have "invented" this. Oh well. No matter who put the discovery on the interwebs, it is something worth making. Just beat up an egg with some salt and pepper or herbs if you are so inclined, and pour into a buttered waffle iron. Cook like you would a waffle.
French Toast
French toast is yet another breakfast fave, so you can only imagine that combining waffles and french toast would be amazing. I tried it, and it's one of my faves on this list. You can also call these "lazy waffles". Recipe here. It's the marriage of french toast and waffles and it is delightful.
Cookies
This is one I wasn't sure about at first, but it totally worked. ALL ya have to do: soak the cookie in the same sort of batter you soak bread in for french toast and then put in the waffle iron. It gets brown and melty. SO! If you are into warm chocolate (and who isn't?) you will dig it.
Grilled Cheese 
Why grill when you could waffle? If, like me, you like to put butter on your grilled cheese after cooking you will find all those waffle indentations make a divine excuse to use extra butter. I really like doing this with a sandwich filled with pimiento cheese.
Falafel
I'm coming to the realization that anything vaguely ball or patty shaped can be put into a waffle iron with favorable outcomes. You can even use falafel mix. Just cook it in the waffle iron instead. Another great idea from the Will It Waffle? collection.
Wafflurrito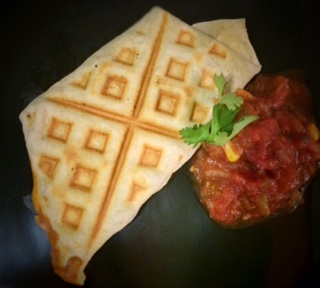 If you are lazy like I am inclined to be when waffling, grab some 5-layer dip. Use a spatula or large spoon so you can scoop down to the bottom of the container and get a large amount of this sip without mixing the layers. Then gently push off the spatula on a tortilla so you can still see the layers. Add in some fresh veggies. Fold in the sides of the tortilla then roll into a wide burrito. Heat up the waffle iron. You can be decadent like me and brush the outsides of the burrito with melted butter before cooking, or spray the waffle iron with nonstick spray. Place in the waffle iron and gently lower the top to compress ever so slightly. Cook until nicely bronzed.
Cinnamon Rolls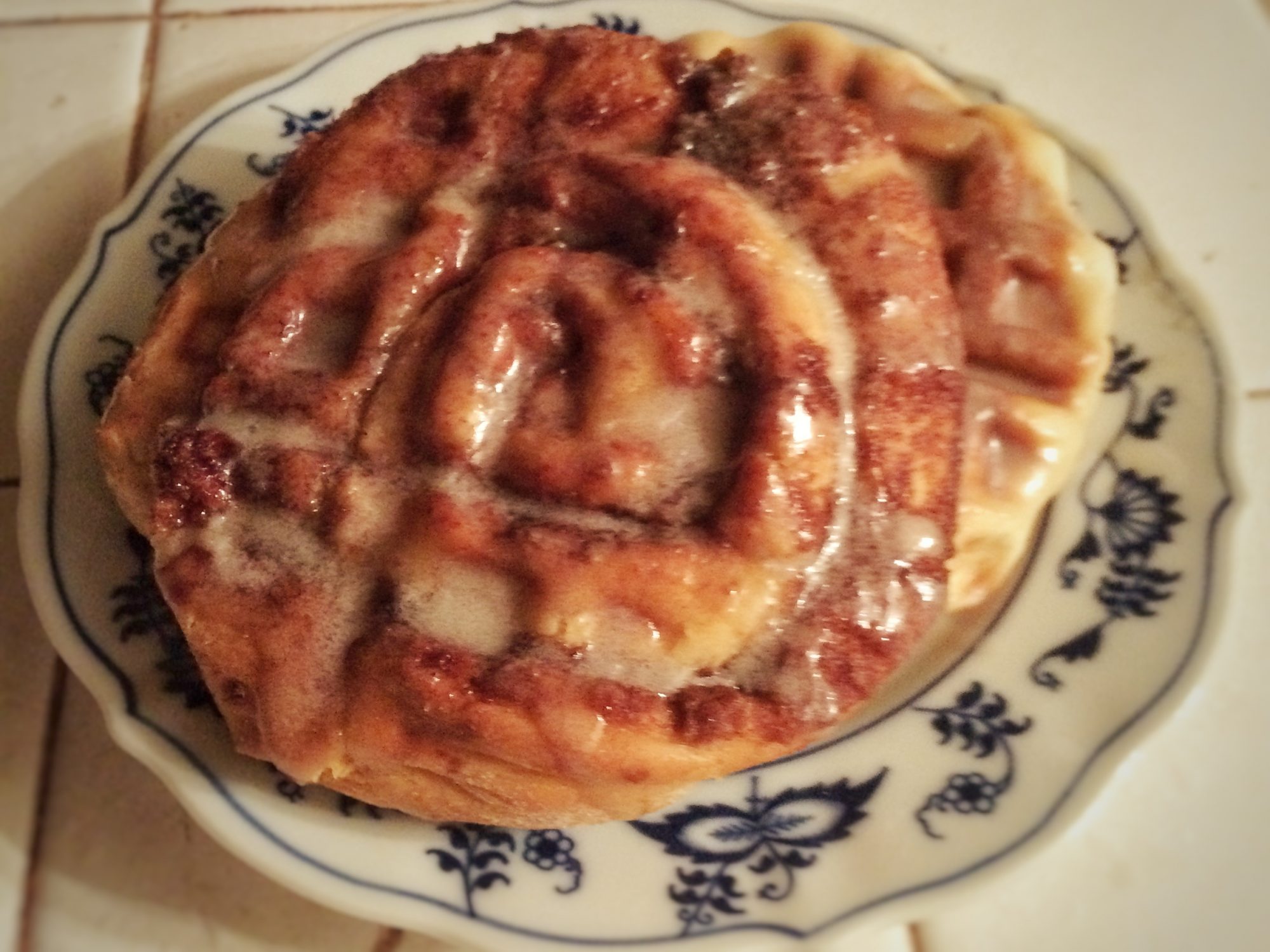 This was yet another one I thought I invented but didn't. After "creating" it, I Googled and found others have too. Great minds, y'all. This is basically the best thing ever, which is why I saved it for last. Ooey, gooey cinnamon rolls, topped with glazed icing, and made on a waffle maker for your convenience — what more could you ask for?