Instagram will *finally* let you re-share your friends' Stories, and here's how
[brigthcove videoid=5780609225001]
Tech is always evolving, and our fave photo-sharing app, Instagram, is no exception. The company has added a ton of new features recently, including the new Instagram Focus feature for Stories. And now the company has released an eagerly-anticipated update: On June 7th, the app brought a new feature to Instagram Stories that will allow you to share your friends' posts.
From now on, if a friend tags you in their story, you can add it to your own. First, you'll be notified that you were mentioned in a story, and then you'll see the option to re-post it for 24 hours. That way, if you're too busy living in the moment to snap a photo, you can still share an update with your followers. There's even a cool twist: Shared stories appear as stickers that you can customize with text or other stickers. When you re-share the story, it will contain a link back to the original poster's account.
But to respect users' privacy, this new feature will only work for public accounts. And if you're not mentioned in a story, you won't be able to share it.
Check out a sample of how re-shared stories will look below: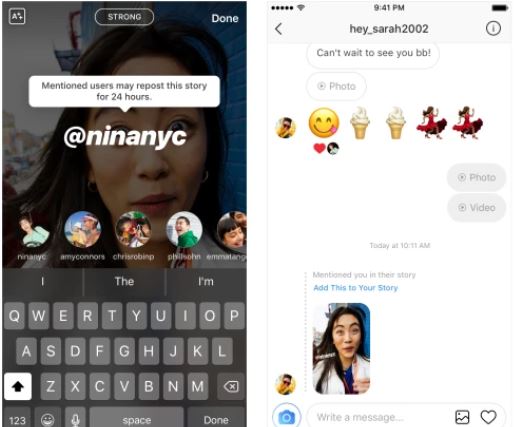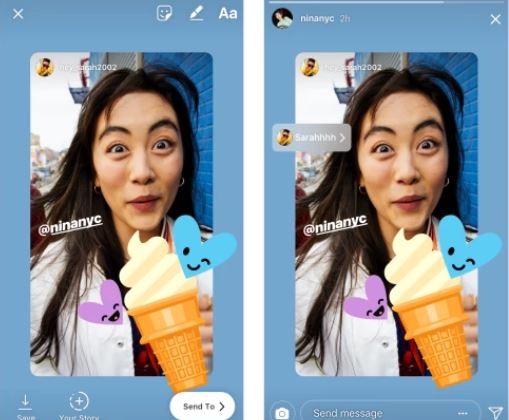 To take advantage of the new feature, update to Instagram 48.0 on iOS or Android.
We're excited to test out this latest update, and we're curious to see what else the app has in store. We've still got our fingers crossed that someday, the app will return to a completely chronological feed. Until then, we'll just share a story or two.