Instagram is launching LGBTQ stickers to celebrate Pride Month
Get ready to say hello to some brand new Instagram stickers that celebrate pride in a fun and social way. LGBTQ Pride Month happens every June — and it's the time when the LGBTQ community and its allies come together to promote equal rights and celebrate sexual diversity in a loud and proud way. You know, with parades, festivals, rallies, dance parties, lots of rainbow-beaded necklaces, and much more.
To help celebrate Pride Month, Instagram has announced a new set of LGBTQ-themed stickers and a rainbow brush for Instagram Stories.
Six stickers were created by LGBTQ artists from all over the world, and they depict queer culture and life, but not in the traditional sense (i.e. just a bunch of plain rainbows).
A few of the stickers are simple and fun, like a pair of sunglasses with rainbow lenses, a rainbow megaphone, a person holding a rainbow fan, and the word "queer" spelled out in rainbow colors. And the others are a bit more poignant, like an image of an eye with the trans flag inside of its iris to show the importance of trans visibility, and another sticker that pays tribute to the history of voguing in communities of color.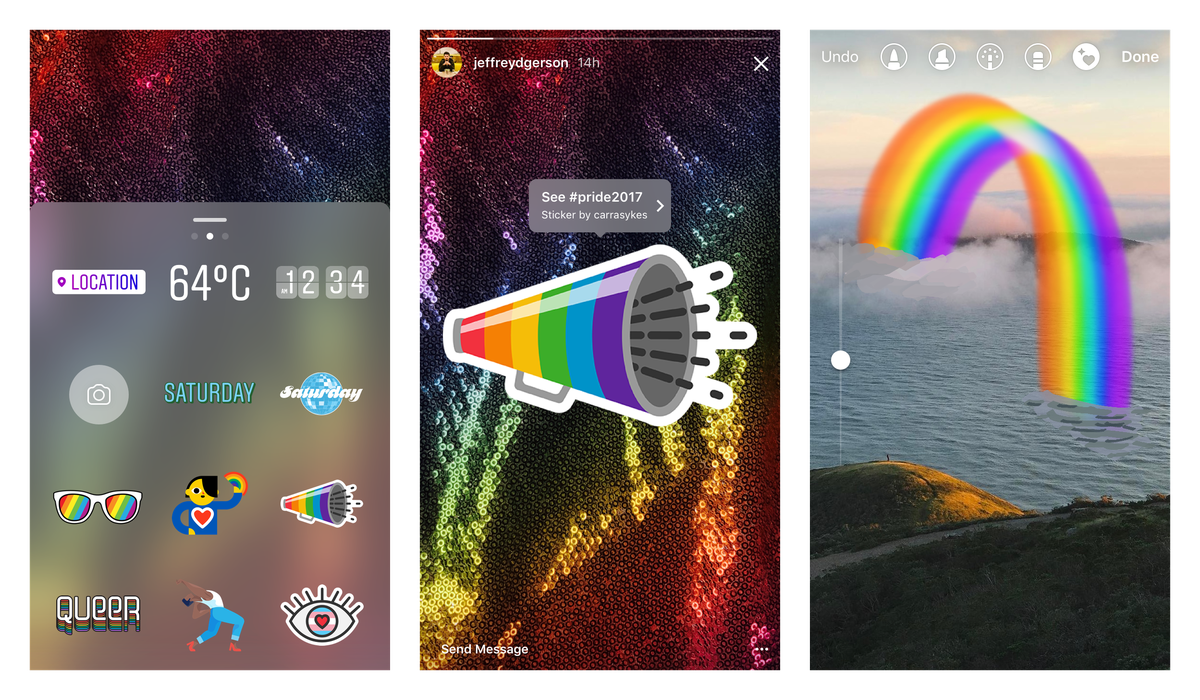 The stickers were created by LGBTQ artists Andy Simmonds, Carra Sykes, Cute Brute, José Antonio Roda, and Josh McKenna. Users can tap on the stickers to find out who created them, and then a second tap leads to #Pride2017, the official hashtag of Pride Month.
Pride Month officially kicks off on Thursday!