Instagram just launched Guides to help your well-being amid coronavirus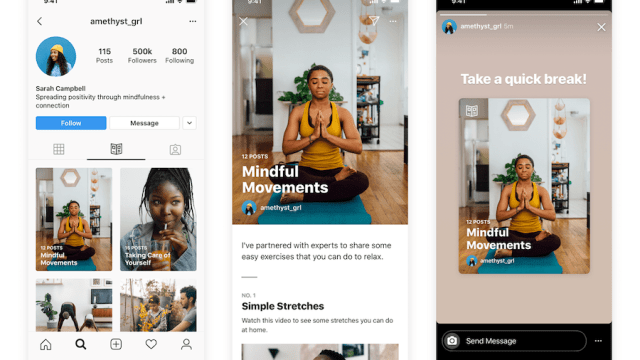 There's one phrase you're probably tired of hearing at this point: "These are unprecedented times." But while it's indeed a broken record, it's true. As much as we're all trying, none of us truly know how to navigate the current coronavirus (COVID-19) pandemic, and we could all use a bit more guidance. That's why Instagram just launched Guides, a new feature aimed to connect users to wellness and mental health content by creators, public figures, organizations, and publishers on the social media platform.
"We'll enable creators to connect with expert organizations to share resources during this time, including tips on how to look after your well-being, maintaining connection with others, or managing anxiety or grief," the brand wrote in a statement.
Instagram is collaborating with organizations like NAACP, Hispanic Heritage Foundation, and the Boys and Girls Club of America, as well as publishers like Meredith, across brands like Real Simple, Health, Parents, and, full disclosure, yours truly, HelloGiggles, to create Guides.
The Guides can be found on participating creators' profiles. To view a Guide, tap the icon that looks like an open booklet (in between the grid icon and the IGTV icon) to see all the Guides that account has available.
See what Instagram Guides look like on HelloGiggles' profile below.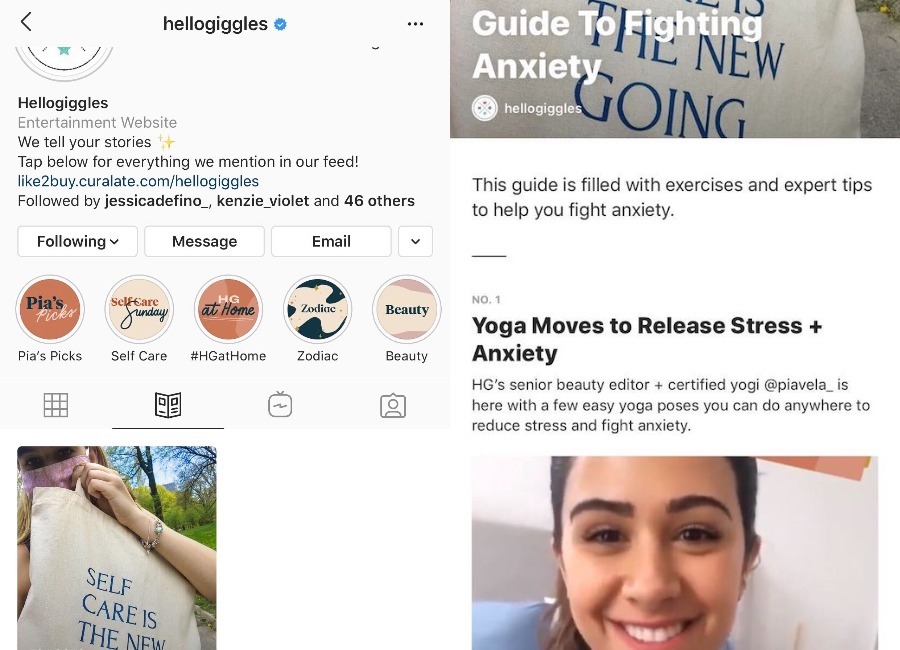 Explore for yourself on our Instagram page.
Though each Guide may look a little different, each is curated and compiled with content that fits under the theme of wellness and mental health. For example, HelloGiggles' "Guide To Fighting Anxiety" includes a video walkthrough of yoga moves designed to release stress, cognitive behavioral therapy exercises to quell negative thoughts, a relaxing coloring page, and more.
Stay tuned in the coming days and weeks to see how more profiles are using Instagram Guides.
As information about the coronavirus pandemic rapidly changes, HelloGiggles is committed to providing accurate and helpful coverage to our readers. As such, some of the information in this story may have changed after publication. For the latest on COVID-19, we encourage you to use online resources from CDC, WHO, and local public health departments, and visit our coronavirus hub.