This Instagram famous pig loves her winter hat, and it's so cute we're gonna cry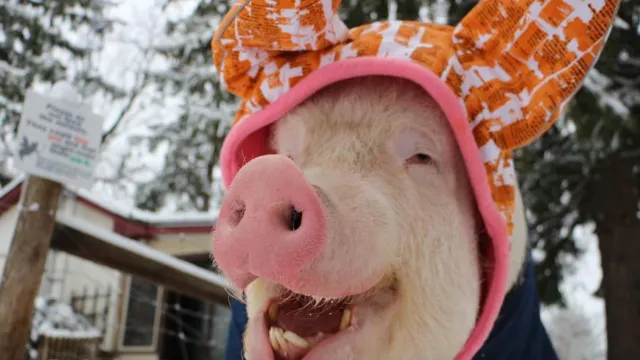 While Instagram cats and dogs and other "normal" pets give us all the feels, the rise of Instagram pigs actually brings us major joy. Now, this is one Instagram famous pig we're seriously *so* in love with. In honor of winter, this rescue pig named Esther is rocking a winter hat, and she's so pleased! Too, we're so pleased, because she's so, so cute we're actually going to cry.
If you've ever questioned whether or not you want a pig as a pet, get ready to be 100% sure that your answer is yes. But just know that there are pros and cons to owning a pet pig, just like there are for any other pet, despite their nonsense levels of cuteness. Especially for those ADORABLE teacup pigs that swept the internet. Our love for pigs is strong, and all we wanna do is kiss this stylish stunner right on her little nose!
It's time for you to meet Esther, an Instagram famous pig who is *pumped* for winter. Get ready to fall in love, friends.
All she needs to brave the cold is her rad teensy outfit, and she's ready to go!
Her little hat is bright and colorful and WE LOVE IT SO MUCH.
If we had a pet pig, we'd probably give all of her strolls a soundtrack. It's just meant to be.
We heart you, Esther! We hope you're nice and warm and happy in your snowy adventures.