These Instagram dogs recreated Kanye West's "Famous" video for a *very* important reason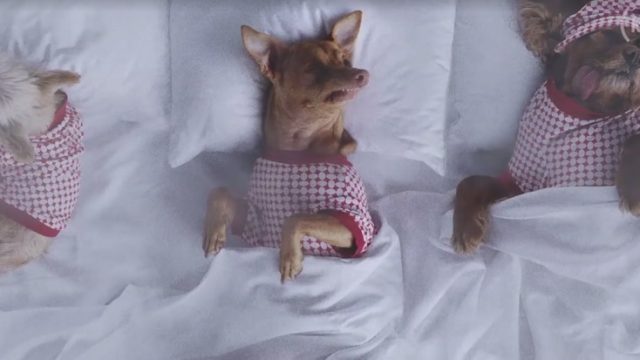 Since we are thoroughly entertained by dogs doing people things, we cannot stop watching these well-known Instagram dogs that recreated Kanye West's "Famous" video. While a pack of dogs lying in a bed is obviously nowhere near as provocative as Yeezy's original "Famous" video, it's far less traumatizing (we're still recovering from the first one, tbh), insanely funny, and we honestly wouldn't mind having any of these dogs as our BFFs.
According to The Daily Mail, the video is a collaboration between 10 Insta-famous dogs and (RED), which will put the proceeds from the video towards the effort to eliminate AIDS. Bedhead, the company that provided the precious pooch pajamas each pup is wearing, contributed enough money to purchase over 50,000 days of HIV meds.
Effin' hilarious.
If you recognize some of these fab furry faces, it's because you've probably seen them flexin' on the 'gram for their followers. For instance, there's Tuna, the dog that recreates Anna Kendrick's Instagrams.
Also making a celebrity cameo in the video is Toast aka America's supermodel dog. The gorgeous King Charles Cavalier boasts a huge following, including fellow supermodel Karlie Kloss (yes, this means we are totally jealous of a dog).
Here's Toast, absolutely slaying the "Famous" shoot:
So far the doggies' charitable video contribution has garnered over 40,000 views, a number we fully expect to increase after we spend the rest of the day binge-watching it.
We thought West's "Famous" video being made into an art exhibit was a huge honor, but we have to admit that this video is way more impressive.