Instagram deleted this woman's weight loss side-by-sides, and we're confused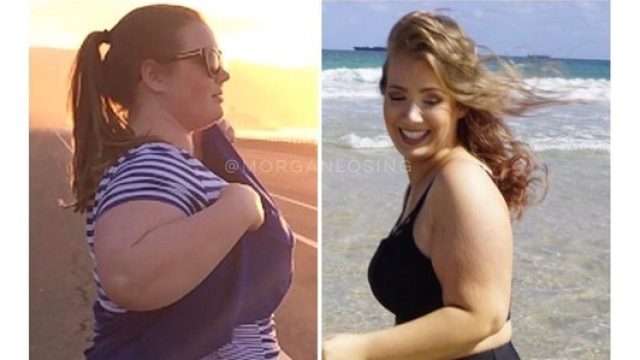 With over 113,000 followers on Instagram, Morgan Bartley's inspiring weight loss journey has gone viral. She's lost 115 pounds already, but when she posted a celebratory side-by-side photo of her weight loss, Instagram deleted it — without explaining why. The two pictures featured Morgan in a bikini, so it's not like she was naked or showing anything inappropriate. The whole thing is pretty baffling.
Morgan posted an original of the weight loss photo again a few days ago, saying she's (rightfully) disappointed in the fact that somebody went through the effort to report the picture and have it removed from Instagram. On the left she weighed 286 pounds, and on the right she's 172 pounds.
In the caption, Morgan encouraged everyone by saying, "Never let worldly pessimism or judgement prevent you from living your life and celebrating what you've done with it." She made it clear that she's not backing down anytime soon, because she's come a long way and she's proud of herself.
"I've lost over 110 pounds and I think I look pretty freakin bomb in a bathing suit on the beach, and that's after a lifetime of letting insecurities hold me back from experiencing life," Morgan wrote.
To say Morgan and her weight loss journey is an inspiration would be an understatement. When she was 17, she weighed 300 pounds and had been diagnosed with ovarian torsion, which resulted in the loss of an ovary, menopausal symptoms, and the inability to conceive.
Morgan took her fate into her own hands. She started going to therapy, changed her eating habits, and exercised more. She also took part in a weight loss surgery that removed 80 percent of her stomach. Now she's doing better than ever and is loving her body.
Why her photo was taken down from Instagram still remains unclear, but Morgan isn't going to let that stop her from continuing on her weight loss journey (she wants to lose 30 more pounds). There are thousands of people who have been inspired to get their health on track as a result of her bravery, so we hope to see lots more from this incredible woman.