There's an Instagram dedicated to destroying Lush bath products, and it's oddly hypnotizing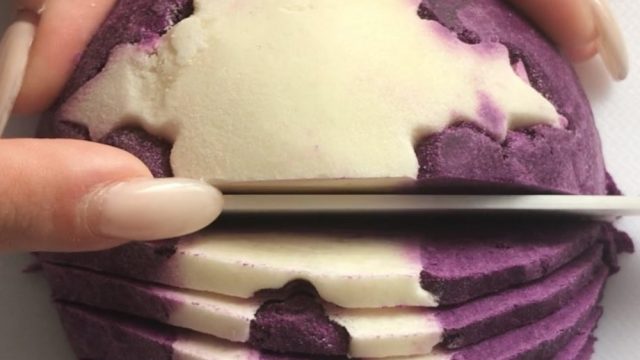 To be truthfully honest, we are total suckers for Lush bath products, especially since watching Lush bath bombs unfold in the tub proves to be a fun past time we aren't ashamed to admit. So, of course, being the huge Lush fanatics we are, we were pretty overjoyed to hear that there's an Instagram dedicated to destroying Lush bath products, and yes you guys, it's sure to be your latest obsession!
If you are just like us and love watching Lush bath bombs turn your water into a swirl of magical colors, the colorful @RoseQueenn Instagram account will totally satisfy your love for all things Lush, as the account is dedicated to chopping up bubble bars and watching bath bombs unfold in your tub. Trust us, it's best seen to be believed!
Seriously, who knew watching this Space Girl bath bomb was so hypnotizing? Just look at those colors!
Equally exciting, watching this chameleon explode in bath water just brought warmth to our cold hearts.
But if you are super curious to see what Lush bubble bars look like from the inside, @RoseQueenn leaves us bewildered with this Instagram post, as she chops up this Plum Snow bubble bar, which is a totally bewildering sight to see!
Call us crazy, but this totally looks like the most edible chocolate ever.
With Instagram posts this fantastic, it's safe to say that @RoseQueenn totally takes #lushporn to a whole new level. And with the brand's Christmas collection finally out, we're curious to see what Lush goodies she creatively pulls apart.