How a Decade of Instagram Changed the Way Celebrities Interact With Fans—and With Each Other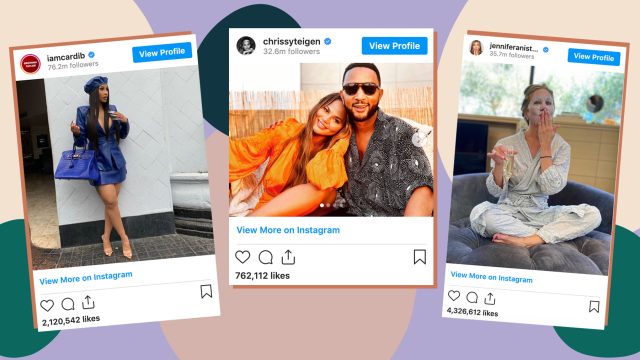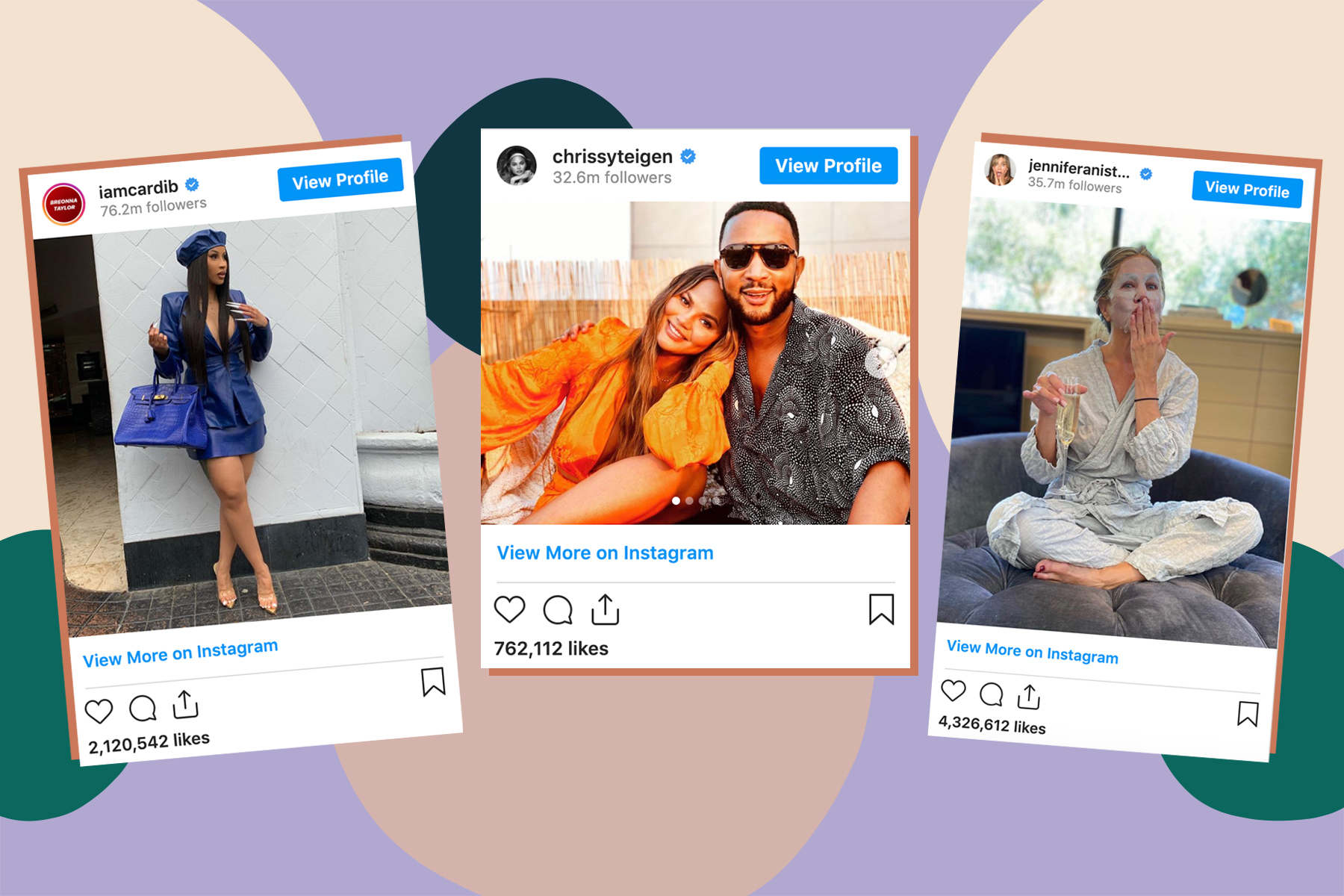 Back in 2010, the path to becoming a popular celebrity was, if not easy, relatively straightforward. After finding success via a movie, TV series, or song, you tried to focus on your career and stay out of the tabloids, occasionally giving an interview or appearing on a magazine cover to show fans your "real" self. When you wanted to give an update on your personal life or needed to respond to a controversy, you released a carefully crafted statement through your publicist. In other words, you only showed what you wanted to show, and that was, more often than not, enough.
And then, in October of that year, a little app called Instagram launched, changing social media and celebrity culture as we knew it. Suddenly, everyone was posting casual photos of everything from their vacations to their meals, writing captions about relationship updates and friendship shout-outs, and connecting with each other via a like, comment, or follow. Over the years, as Instagram's reach increased, so did its offerings: hashtags, then tagging, videos, then sponsored posts, and so much more. Today, around 1 billion people use Instagram monthly—including nearly every celebrity not named Brad Pitt or Jennifer Lawrence.
For celebs, Instagram isn't just a way to share updates on their latest projects or post the occasional edited selfie. It's a tool to connect with their fans and to each other with an intimacy never before possible—from Chrissy Teigen sharing photos of her pregnancy loss to Kylie Jenner revealing she'd secretly given birth to Miley Cyrus and Selena Gomez chatting candidly about their mental health. While millions of followers tuned in live, celebrities have used Instagram to provide looks into their lives that are far deeper and more honest than if they'd gone through a publicist or magazine spread.
And, in doing so, they've gotten the chance to tell their stories in their own words and on their own terms. No longer are their public images decided for them by paparazzi photos and out-of-context interview quotes; with Instagram, celebs get to be the ones in charge. "Now, if stories come out about them, they can address them directly on Stories on their feed. You can follow them…and hear from them directly," says Angie Nwandu, the founder of the celebrity gossip empire The Shade Room, which began as an Instagram account in 2014. "So they have this ability to control their own narratives."
Kanye West's disturbing tweet sprees and presidential run threatening Kim Kardashian's reputation? She addresses it all on her Stories, gaining sympathy for her description of life with a mentally ill partner. Megan Thee Stallion wants the world to know what really happened with Tory Lanez? She explains everything in a passionate Instagram Live. Taylor Swift needs fans' support to get her masters back from Scooter Braun? She writes a letter that's instantly shared by users all over the platform.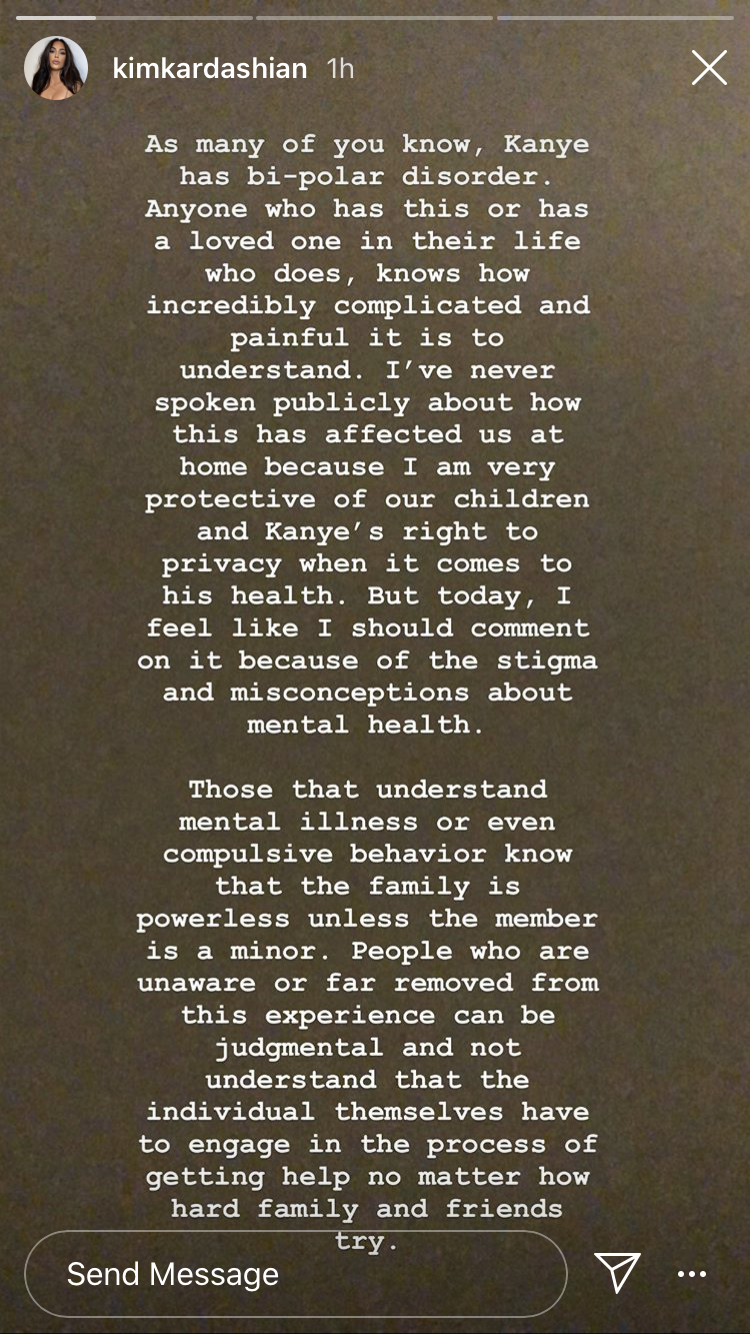 "As Instagram has grown, probably the biggest difference is just the level of transparency that celebrities have chosen to give," says Emma Diamond, who, along with Julie Kramer, cofounded Comments by Celebs, the popular account tracking stars' interactions on the platform. While not every A-lister with Instagram uses it to post personal messages or interact with fans, those that do, Diamond and Kramer note, have greatly benefited from it. For one thing, they don't have to wait for a publicist's approval in order to weigh in on a story about them. With social media, Kramer says, stars "have so much power in their own hands." Of course, that power isn't always used well (see every celebrity who's posted a cringe-y video or tone-deaf comment during quarantine), but when it is, it can be a major asset for celebrities looking to change up their images or weigh in on a relevant matter.
There's also the boon to their careers that being on Instagram provides. In an era when influencers reign supreme and TikTokers are cast in movies, higher engagement—and, thus, more followers—can be key to a star's long-lasting success. "Those that do not have a social media following many times are losing out on roles," says Diamond, explaining that she and Kramer have heard this directly from celebs. "To a certain level, fame carries you so far, but then if you're not at the top of the top fame-wise, it's actually crucial in terms of getting roles that you have that following."
In the early years of Instagram, many high-profile stars may have viewed joining the app as silly or unnecessary, or even an insult to their fame—did they really need to share selfies in order to connect with audiences? But now, "you're seeing more very legitimate A-listers not feel ashamed to come on," with everyone from Julia Roberts to Jennifer Aniston joining (and, in Aniston's case, nearly breaking) the platform. Instagram, says Diamond, "has now become synonymous with being a celebrity."
That said, the intimacy encouraged by Instagram can be a double-edged sword. For every revealing celebrity post that earns praise from fans, there's another that gets torn apart by people accusing them of trying too hard or coming off as performative. Even an Instagram superstar like Teigen, whose success as a celebrity is based largely on her openness on social media, has faced backlash. While her pregnancy loss photos, for instance, garnered plenty of support, they also earned criticism from people who felt they were "too" personal or performative. "It's kind of like damned if you do, damned if you don't, you know?" says Diamond. "I don't think you can win when you're a famous person, specifically a famous person on social media."
Celebrities have never been immune from criticism, of course. But today, anyone with 10 seconds and an Instagram account can leave a cruel comment on a star's photo that can get seen and emphasized by thousands of others. And even when the interactions aren't mean-spirited, they can be overwhelming or unfair, with followers demanding even more information than whatever the star's chosen to provide.
"When you invite people into your personal life, those people will begin to feel like they have a right…to say whatever they want to say," says Nwandu. If a star posts about their relationship on social media, for instance, or even just tags a rumored love interest in a photo, "people are gonna want to follow the story," she explains. "They want to know what happened—whether you get married, whether you break up, whether it's a scandal. They want to know what's gonna happen, because they are buying into this relationship."
Some stars are careful to avoid this spotlight as much as possible, whether they want to maintain an image of mystery (see: Beyonce) or whether they have been burned one too many times by "fans" weighing in on their most private matters. Others, though, thrive off of this scrutiny. Take Justin Bieber and Hailey Baldwin, both of whom frequently leave flirty comments on each other's posts, likely knowing they'll get picked up by outlets and dissected by fans. Even Hollywood royalty like Gwyneth Paltrow or Jennifer Garner often get into it, posting celeb-filled selfies or silly dance videos that inevitably earn them positive press.
"Celebrities are trying to be a little bit funnier to be noticed. Maybe they would comment on a meme they typically wouldn't comment on—not even just to get [picked up by] our account necessarily, just for the public perception of thinking that they're funny and they have funny things to say," says Kramer.
That strategy doesn't always succeed; it's all too easy for a star's decision to chime in on a joke or jump on the latest viral trend to come off as inauthentic and forced. And the backlash can be swift. (Take Gal Gadot's star-studded "Imagine" video at the beginning of quarantine, for instance.) But when it works, it can really work, adding to a celeb's likability and growing their platforms.
And with those new followers comes, increasingly often, money. In recent years, stars such as Jenner and Emily Ratajkowski have used their Instagrams to hawk countless products, whether from their own brands or others with whom they've partnered. Their posts drive these companies' sales and earn them serious money, so it's not surprising that more and more stars are choosing to transform their accounts into opportunities for financial growth. As the ecommerce industry continues to grow, expect to see more sponsored content or "swipe up" language on celebs' photos than ever before.
"Having a platform where they can reach their audience directly and they can find new, innovative ways to sustain themselves and their brands is going to be more important than ever," predicts Nwandu.
For celebrities not used to such overt self-marketing (aka anyone older than millennials), these changes might feel intimidating or excessive. But just like with their decisions to join Instagram in the first place, making the switch might be necessary to sustain their careers. "If they want to maintain that level of relevancy," says Kramer, "they're gonna have to learn the different nuances of each [feature] that pops up."
Judging from recent months, that might mean hosting a TV-like show on Instagram Live, like Cyrus and John Mayer did earlier this year, or taking advantage of opportunities that don't even exist yet. It's impossible to say what Instagram—or social media in general—will look like next month, let alone 10 years from now, but as the last decade has proven, users will inevitably find ways to adapt. And that includes celebrities who'll like, comment, and share their way into the future, one talked-about post at a time.