This girl's dressing-room pic proves clothing sizes are meaningless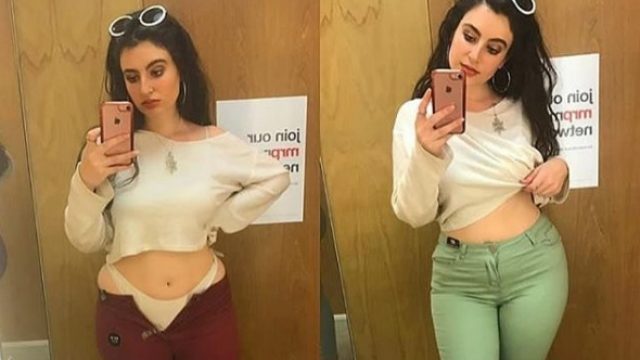 For most people, going clothes shopping leads to stress and anxiety (that fluorescent lighting! those judge-y sales people! Clothes that never fit right!). Even if you're totally confident in your own skin, it's hard not to feel insecure standing in that tiny, sweltering room surrounded by mirrors.
One body positive activist took to Instagram to shatter the notion that clothing size matters in any way, shape, or form, and her message about the number inside your clothes is something we all need to hear.
Instagrammer Mira Hirsch posted a side-by-side photo of herself on Instagram during a recent shopping trip to show that two pairs of pants in the exact same size can fit your body so differently, and we're absolutely cheering at her body positive message.
https://www.instagram.com/p/BY-Fxt4jhIP
In the photos, Hirsch can be seen trying on two pairs of jeans in the same size, just slightly different cuts (one was marked "New Fit"). She couldn't even button the "New Fit" pair, while the other style fit perfectly. Hirsch posted the photo for her followers as a reminder that none of us should define ourselves by a number.
She wrote: "I used to absolutely DREAD shopping because of this reason alone! You look for something in your usual size, it doesn't fit and you end up leaving the store feeling so shitty about yourself. Letting diet culture kick in, and self-loathing take over. I know I did..."
Hirsch offered some words of wisdom about clothing size, advising followers to: "stop trying to fit into the 'ideal size,' wear clothes that you feel funky in!"
"Who the hell cares if it's a few sizes bigger or smaller than what you normally wear. Take back your power and wear whatever size and style you desire. Love the skin you're in!"
Of course, often times this is easier said than done, but we applaud Hirsch for her message because it really is true: Clothing size is an arbitrary number that means absolutely nothing, and changes not only from store-to-store, but from garment-to-garment.
It's wonderful seeing these body positive messages defying and shattering certain norms, and Hirsch's message should serve as a reminder for all of us the next time we find ourselves in a dressing room. Bravo, girl!