This Instagram artist creates amazing drawings on her bathroom mirror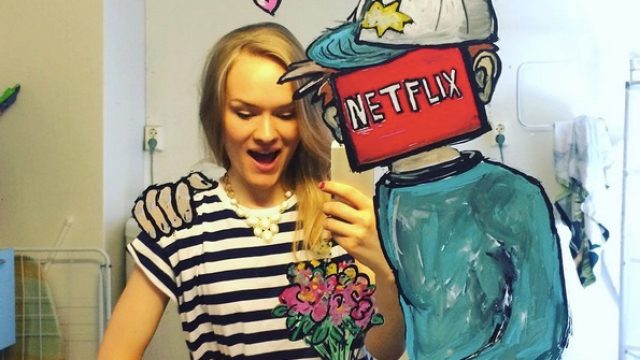 Super-popular Norwegian Instagrammer Helene Meldahl creates incredible art that you just *need" in your feed. Her signature? Creating kooky, creative, and totally inspiring selfies by drawing on mirrors, and putting herself in all kinds of fantastic situations. Just this week, she drew herself with Netflix as her boyfriend. Swoon.
She has 167K followers, and has even caught the attention of HG founder Zooey Deschanel for her incredible work!
We're so excited to introduce you to this amazingly creative and totally down-to-earth artist, and share her words with you.
HelloGiggles (HG) When did you first start drawing on glass and mirrors?
Helene Meldahl (HM): I don't really remember when I started to draw on glass and mirrors, because I started drawing these little doodles for my roommates and friends with different colors of lipstick some time before I started posting any of the drawings to Instagram.
I started to doodle even more when I wrote my bachelor thesis in sociology, so I think there was a bit of procrastination going on there, too.
HG: Your work is so fun and playful! Is play an important part of your life?
HM: Definitely! I think play, humor and good dash of irony should play a role in almost every aspect of life, even when it comes to the darker sides or situations of life, or society.
As we grow up I think it's sometimes challenging to keep that playful and curious attitude that we once had as kids. But this way of approaching things, people or situations is so important because it give us an open mind. It's important for me to keep that playfulness and curiosity in every aspect of life, and in the things I create; this was important in my collaboration with Moods of Norway "mirrorsme by Moods" last year.
HG: Your art is so creative, like a performance every time! Could you talk a little bit more about that?
HM: Since I was 9 years old, I've done acting, singing, theater, and later short films and improvisational comedy, and that helped me a lot with my shyness. My first experience with stand-up was when I went to high school in Kansas, and got to the finals doing a comedy act as a cheerleader. That's kind of when I got the taste for it, and realized how much I loved comedy and acting to exaggerate and bring out different personality traits and qualities. After that I won a newcomer standup prize in Stavanger, Norway, and for a while I loved being able to do a little bit of traveling and standup in Norway.
So I've always had these different outlets for creating or being creative, besides studies or work, whether it was playing the guitar and writing songs, or acting. Sometimes ideas comes out as a doodle, drawing, and other times a song or a photo, you know.
HG: What do you love about drawing and art?
HM: I've always loved illustrations and photos so much, because they can tell so many stories where I think words sometimes comes up short. They don't necessarily spell everything out for you, but it leaves something up to our feelings and imagination, and has that opportunity to connect people no matter where we are from or what language we speak.
That said, I used to get really bored at museums when I was younger. My dad is an engineer and painter, and used to take us to them all looking at all these famous paintings, and I would sometimes just sit down and fall asleep! I think now I feel a little differently. So it's kind of a coincidence that Instagram and my mirrors are now a part of that creative outlet. That's what's so cool about social media and technology – people can create jobs and all these fun "social media universes" from just starting out in their basement (or wherever), doing things they love.
HG: What do you hope viewers feel as they look at your work? What kind of responses have you gotten?
HM: If they make people feel something, to me that is more than I can ask for. I think that is amazing. I also think it's so fun if my doodles attract any comments or feedback, and I appreciate them so much.
I have received emails from teachers all over the world who make these art projects based on mirrorsme, where they create these projects for their students to bring awareness to their students' "inner beauty" — and I absolutely love getting these. The teachers inspire their students to create "inner selfies" as a method to put the focus on their own and their classmates' inner beauty. They do this by making drawings and paintings on mirrors and photos, to showcase their personalities, hobbies, and personal qualities.
It's the things that are under the surface that fascinate me, and I think there is so much more to reflect on than the shape of a body, or a face.
You can follow Helene's awesome Insta art here.