This Insta-famous pooch has more lewks than Carrie Bradshaw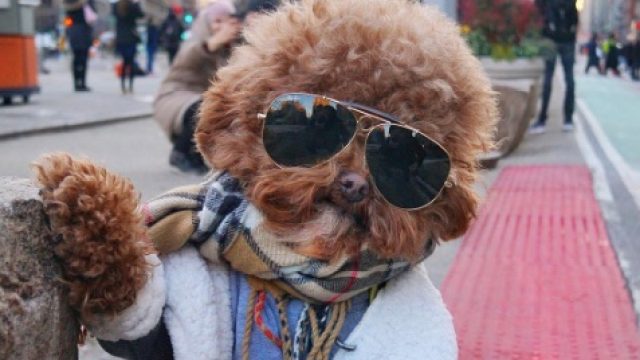 We've seen plenty of great Instagram accounts in our time, and TBH many of them involve impossibly cute animals. Today we're obsessing over Instagram dogs. Or more, specifically ONE dog by the name of Agador.
No, really. He's got a fluffy head, poses in sunglasses, wears all kinds of different clothes, drinks coffee and wine and does impersonations of well-loved (and missed) rock stars like George Michael, and generally looks absolutely freaking adorable in every photo and from every angle. He's the perfect cure for the Monday blues! No, REALLY. There has never been a creature quite like Agador.
"If each day is a gift, I'd like to know where I can return Mondays."
Think he can channel his inner Carrie Bradshaw? Well yes…he can!
Well, hello (again) style maven! Seriously, is there a modeling contract on the horizon?!
"After a fun Valentine's Day 💘 that included three dates 🌹🌹🌹and four showers 🚿, I'm feeling extra clean and dirty all at the same time."
This guy takes his work very seriously.
Can we take him home? CAN WE?
https://www.instagram.com/p/BPOHeOnDo-a
We know what you're thinking. STOP STOP! This is too much. And it is! So let's keep going.
Fancy a poodle sandwich?
Or a rock tribute?
Unsurprisingly, Agador has over 40k followers on Instagram, and he projects so many poodle good vibes to all!
One more, for the road? You got it.
https://www.instagram.com/p/BKqQqr5A78P
Thanks for all the wisdom and hilarity, Agador! This just made our day. Monday blues are officially cured.