"Insecure" actress Yvonne Orji explained why she's still a virgin at 33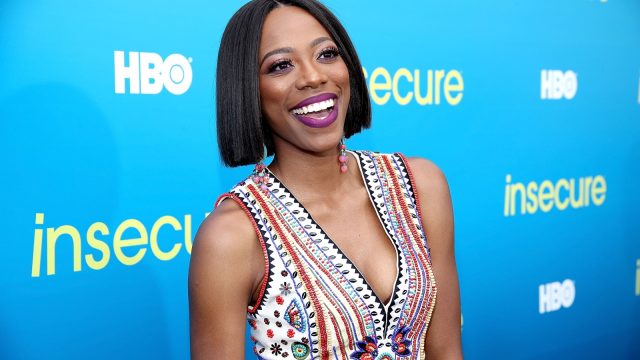 Her sexually liberated character Molly might be sharing many, many steamy moments with different men on HBO's hit series Insecure (#spoiler: terrible decision aside, how hot was that scene with Dro though?), but actress Yvonne Orji is still a virgin IRL. During a recent interview with People, the 33 year old opened about her personal life — including the reason she decided to remain celibate until marriage.
Orji was born to strict Nigerian parents and had decided she would marry young and lose her virginity at 18. However, after hearing stories of her friends' disappointing sexual experiences and finding God in college, she made a few changes to her life plan as it related to love and sex.
"Before any of [the fame] happened, I sat down with myself and with God and thought, 'When I make it, how do you want me to represent you while I'm here?' Later in the interview, she answered her own question: "It was like, 'Okay, I know why I'm here. It's to make you proud.'
Orji says she is completely secure in who she is and the decision she has made. She's also more than willing to explain her stance to anyone who's a little curious.
"How will they ever...understand if I don't talk about it? I can inform your curiosity, as opposed to everyone being in the dark and just sort of creating their own narrative about it.
The actress even gave a beautiful TED talk called "The wait is sexy" earlier this year, where she dropped gems on finding love regardless of your beliefs, values, and choices. Because when you find the right person, the wait is worth it.
https://www.youtube.com/watch?v=8zw7AXwnb8M?feature=oembed
Of course, the internet had to chime in, with some users trying to shame Orji for being a virgin much like others have tried to shame women for having "too much" sex before marriage. As women, we just can't seem to win, can we? false
But for every bit of criticism, there was a note of support.
At the end of the day, it's her body and her choice — we support it either way. We're always inspired by women fearlessly standing in and living their truth.