Chef Jose Garces Says This Ingredient Is a Must for Thanksgiving Dessert Hacks
The best part is you can be super creative with the flavors!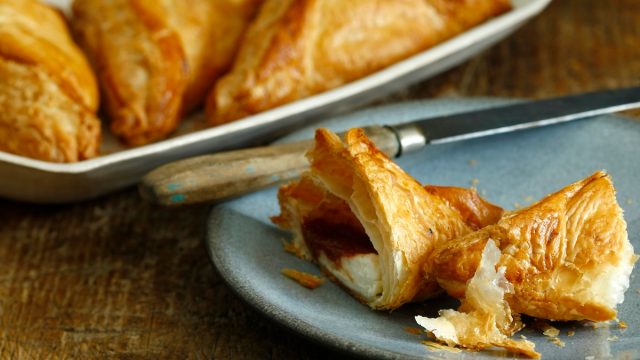 Thanksgiving is easily one of our favorite holidays, not just because of the time we get to spend with our family, but because of all the amazing food (and leftovers the next day). And if we're being honest, the best part about the meal is the desserts like pumpkin pie, apple pie, and sweet potato pie.
But let's be honest — sometimes having the same pie gets a bit boring.
If you're looking for an easy Thanksgiving dessert hack, Iron Chef and James Beard Award Winner, Jose Garces says frozen puff pastry is the ingredient to always have on hand. "Nobody ever needs to make their own puff pastry," he says. "Frozen puff pastry is the way to go."
Not only is puff pastry super versatile for desserts, but it can also be used in savory dishes, like our beloved pigs in a blanket. It should be a staple in your holiday refrigerator, along with some make-ahead cocktails.
Garces is sharing one of his favorite Thanksgiving dessert recipes with us. Even better is that it's one that can be made well ahead of time: Guava and Cream Cheese Turnovers.
RELATED: 20 Best Date Night Movies to Watch With Your Partner
Assembly is easy
The recipe has just six ingredients, and one of them is water, so you won't need to buy a bunch of extra spices that will inevitably sit in the back of your pantry until next Thanksgiving (looking at you, cloves).
Assembling the turnovers is easy, especially if you're using a pizza cutter to cut the squares that are needed to make each pastry. The pizza cutter glides right through the dough and leaves nice sharp edges, ensuring that each square looks exactly the same.
Then it's time to fill the squares. Garces likes to use cream cheese and guava paste. Garces says that if you can't find guava paste at your local grocery store or you want a more traditional Thanksgiving flavor, cranberry is a great alternative.
"For those looking to go with a more traditional Thanksgiving flavor profile, the guava paste in this recipe can be swapped with cranberry relish," he explains. "If using the jellied, [or] canned cranberry relish, it's important to put the cream cheese on the bottom, so that the pastry doesn't get too wet."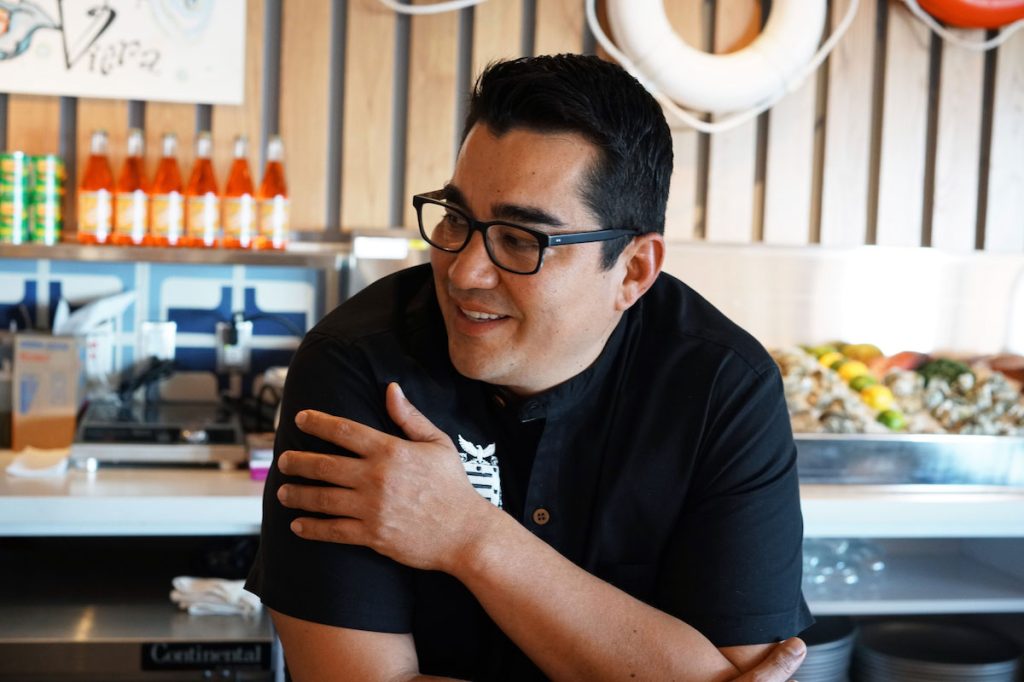 Make the dessert ahead and freeze
After folding the puff pastry over the filling so it looks like a triangle and crimping the edges with a fork, you can keep going with the recipe. Alternatively, you can place the turnovers on a baking tray to freeze them completely. If you're going with the latter option, be sure to transfer the frozen puff pastry to an airtight zip-top bag for long-term storage.
Bake on Thanksgiving
When it's time to bake on Turkey Day the turnovers take about 15 minutes to bake — although this time is more of an estimate since every oven is different.
The cooking time sounds like a big win since they can go into the oven well after the kitchen is cleaned up and there's nothing else that needs to take up precious oven and stovetop space.
To tell if the turnovers are done, look for the pastry to puff up and have a beautiful golden crust on the top. To serve, place on a shared platter or individual plates. We're sure these will disappear faster than any pie would.
So give yourself a break this Thanksgiving and follow in the footsteps of Garces with his easy dessert hack. "The most important thing is sharing special times with loved ones. And, that you can never have too many desserts," he says.
Guava and Cream Cheese Turnovers Recipe, courtesy of Jose Garces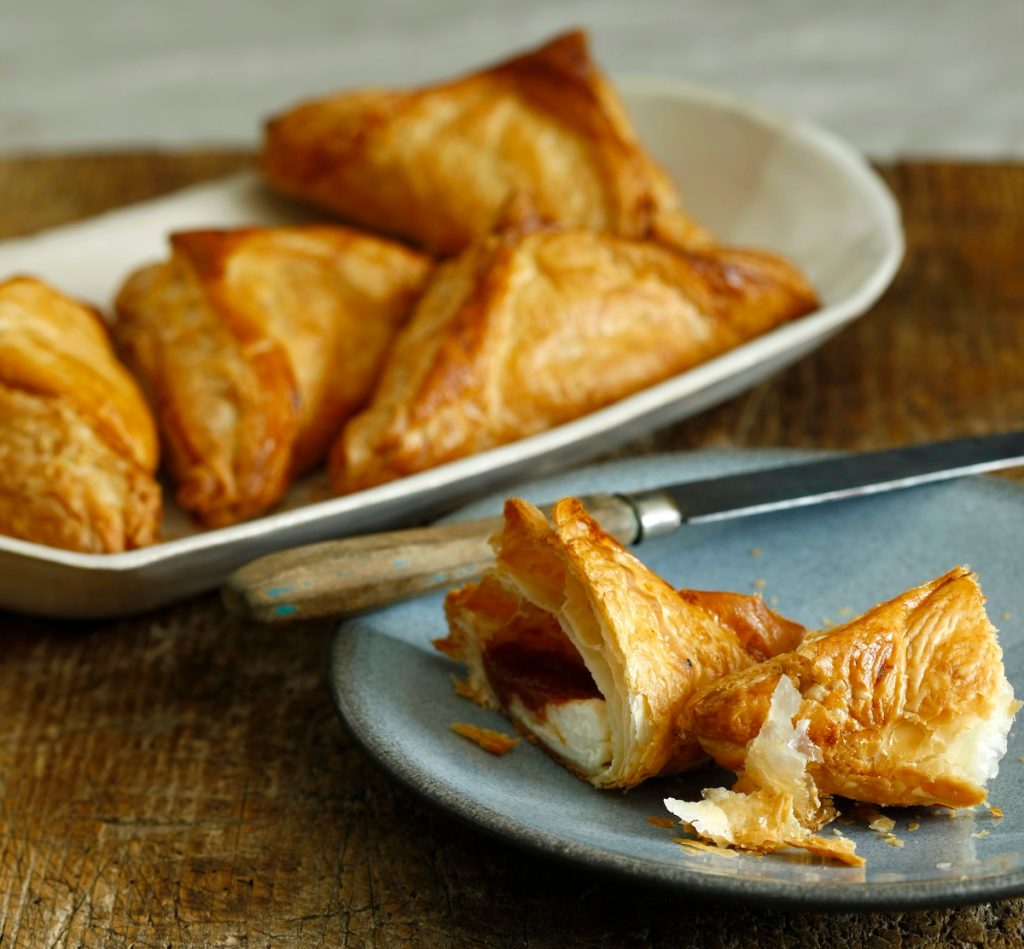 This easy recipe can be made ahead of time so you aren't trying to do "just one more thing" in the days leading up to Thanksgiving. And using store-bought puff pastry will make the process a lot faster.
Ingredients:
1 large egg
1 Tbsp cold water
2 (12×12-inch) sheets frozen puff pastry
6 oz guava paste
6 oz cream cheese
2 Tbsp turbinado sugar
Directions:
1. Line two baking sheets with parchment paper. Beat together the egg and water to make a wash.
2. Unfold the puff pastry onto a large cutting board or other work surface and use a sharp knife or pizza cutter to cut each sheet into four 6 by 6-inch squares. Brush each square lightly with some of the egg wash.
3. Spoon equal parts (about 1 Tbsp each) of guava paste and cream cheese onto the pastry squares, just off-center. Fold each square over, corner to corner, forming a triangle, and seal by pressing the edges together.
4. Crimp the edges with a fork, brush the tops with the remaining egg wash and sprinkle with sugar. Arrange pasteles on a baking sheet and freeze for 30 minutes.
5. Preheat oven to 400 while the pastries are chilling. Bake the pastries, rotating the sheets once, until golden and puffed, about 15 minutes.
Megan duBois is a travel and lifestyle journalist with bylines across the internet and in print at Delish, Conde Nast Traveler, Travel + Leisure, Yahoo Lifestyle, and more.
Read more