This is what happened when HG's slightly claustrophobic Beauty Editor tried out an infrared sauna cocoon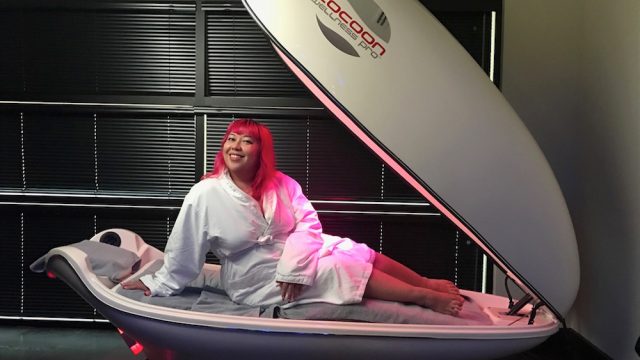 The thought of putting myself, a slightly claustrophobic person who gets hot easily (the concept of "hot yoga" has always made me clutch my pearls), inside of something called an infrared sauna cocoon was a TAD alarming. I can never stay inside of the saunas at my favorite spa for too long, I feel suffocated. However, in the name of beauty, I decided to hop inside of a cocoon-shaped infrared pod, courtesy of Skin Matrx in Burbank, CA.
If you're a spa nerd, chances are you've probably heard of infrared saunas. Unlike the regular sauna at your gym, infrared saunas work by heating the body from within instead of heating the air surrounding you. Some of the benefits claimed from infrared therapy range from healing the body, detoxification, boosting the immune system, stimulating collagen, burning calories (due to sweating caused by the heat), helping with skin issues, and blood circulation, and of course, relaxation.
Studies have shown that infrared therapy can also assist those with chronic pain. Lady Gaga invested in her own personal infrared sauna for this reason.
When I visited Skin Matrx, I had been training several times a week and was always pretty sore, so I was excited to see if the cocoon would help ease my muscles. Of course, I was already down to try something that would make me feel more relaxed. The cocoon literally LOOKS like a cocoon, but from outer space, especially since it's lit up with magical pink lights and lined with stones. This must be what extraterrestrial spas look like.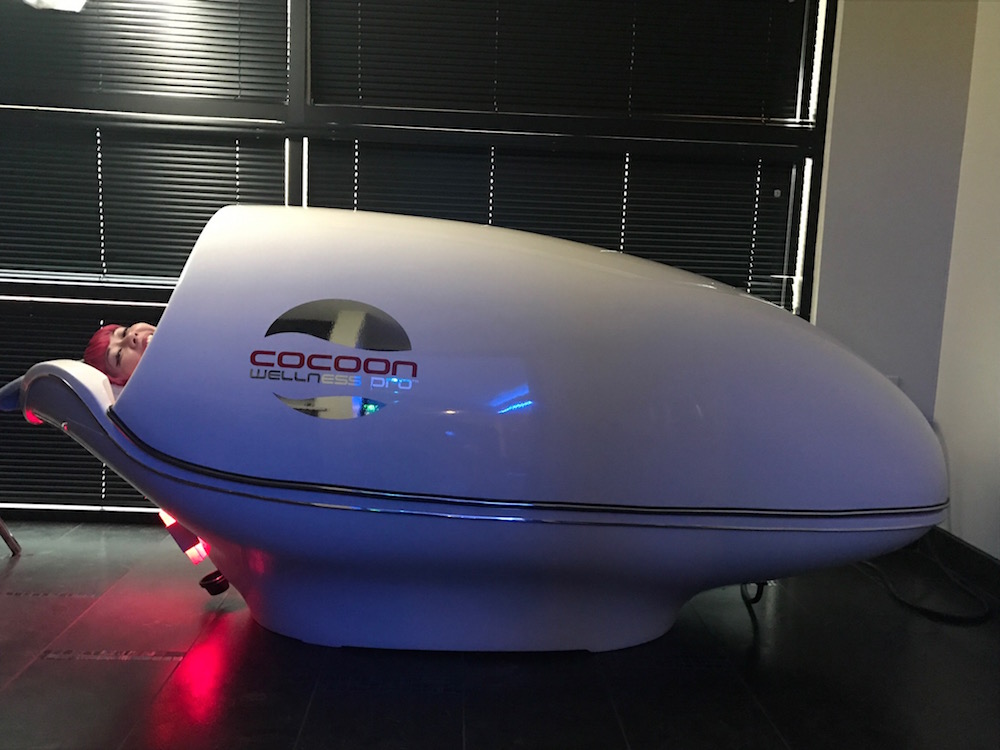 So, what do you wear inside this magical cocoon, you ask?
You can opt to either keep your clothes on or get butt-ass naked, so knowing I tend to overheat, I discarded my comfy robe and undressed down to my underwear. Then I whispered, "Goodbye suckers" and got inside of the cocoon. Like the thrill-seeker I am, I set it to its highest temp of 180 degrees Fahrenheit (after testing to make sure I could easily jump out and escape if need be) and prepared for ultimate relaxation.
I really liked how the cocoon was easily customizable. You can adjust its internal temperature as often as needed, so if you get too hot you can simply lower it. You can also use its vibrational massage function and add essential oils for a little aromatherapy. There's also tourmaline and jade stones lining the bod, which is nice for those of us who do crystal work, as well as himalayan salt,  which some believe helps with a slew of health issues.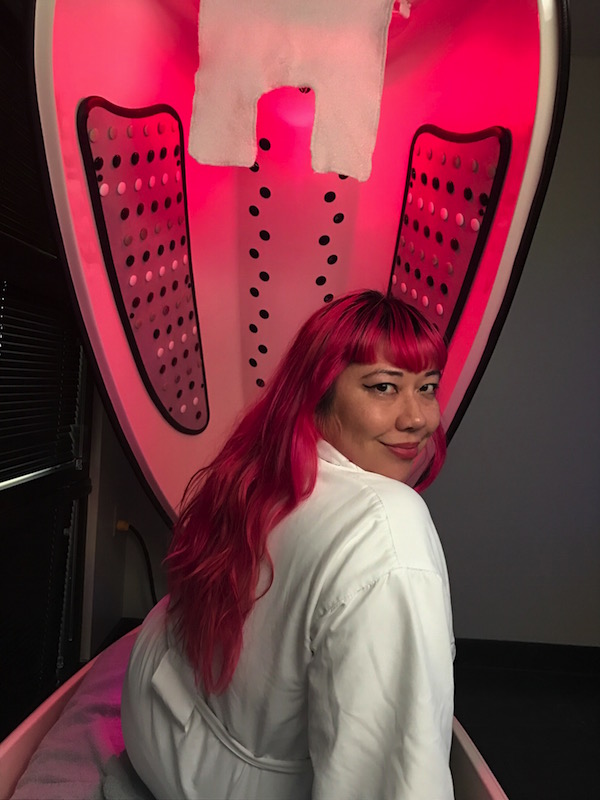 There is also an air system near your head, which will help you keep cool. The session lasted 40 minutes, and I did have to lower the temperature once when I felt like I was getting too hot. I really liked the cool air near my face and it made me realize this cocoon was perfect for people like me who can't handle being in regular saunas too long.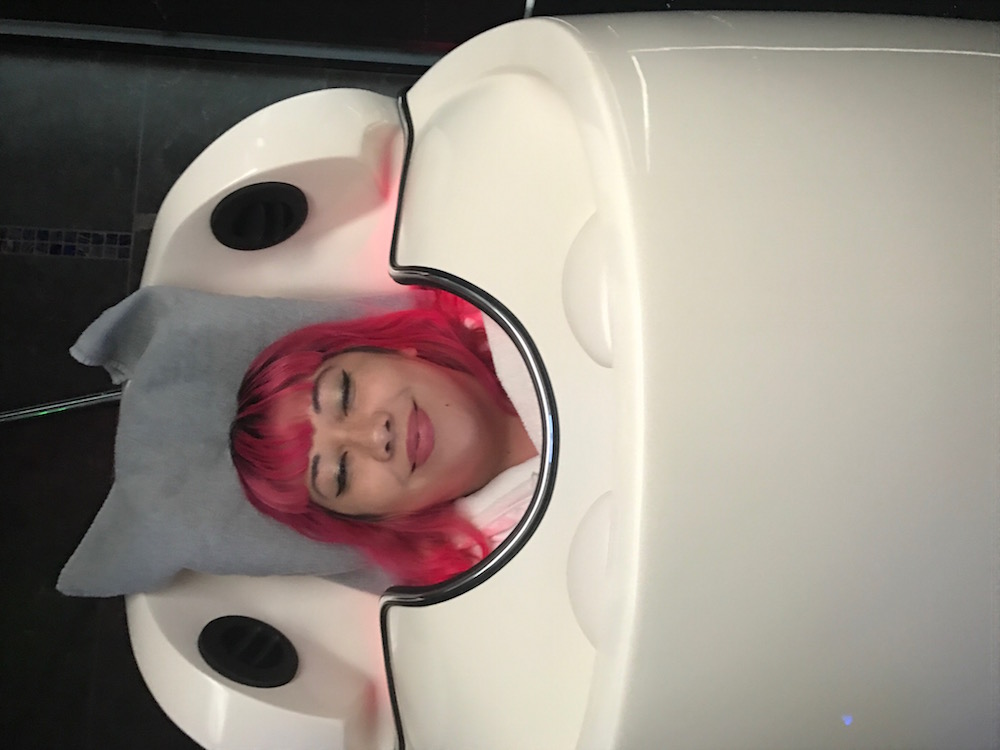 When my session was finished, I immediately had to drink water, and like with basically any sort of detoxifying spa service, was told to drink a lot of it afterward.
The best way to describe how I felt was "dreamy."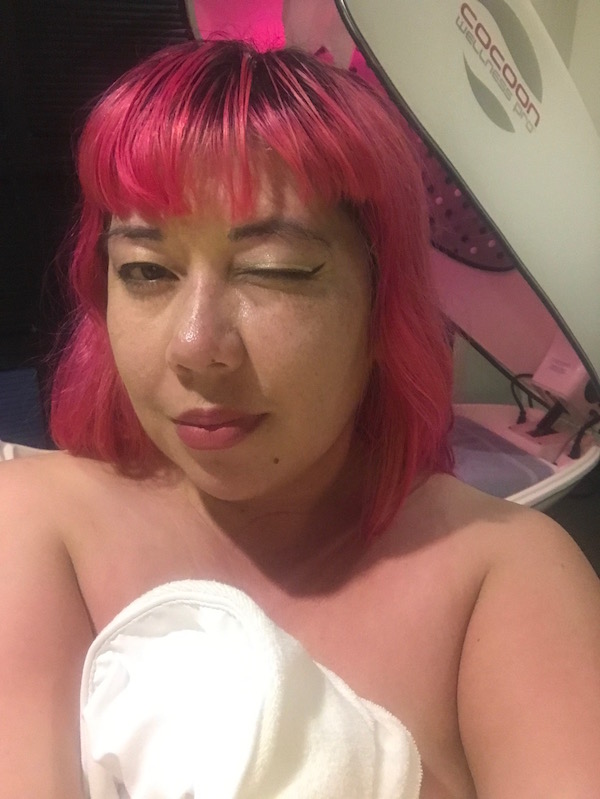 It was just this true feeling of relaxation that I RARELY get to feel. What was incredible was that my sore muscles were about 80% gone. My calves and thighs felt so much better, considering all the squats I had done the day before. Unfortunately, the very next day I would be leaving to Palm Springs for a good friend's wedding, which means that whatever detoxing had happened would be all for naught. Oopsie.
You can check spas in your town to see if they have the cocoon, which ranges from $40 to $60 for a session, or check out Skin Matrx in Burbank if you're in the LA area.
Read about the other interesting trends our Beauty Editor tries, all in the name of beauty, here.