Industry Standard has done the impossible and created the perfect pair of jeans at an incredible price
Who among us hasn't suffered through the indignity of buying jeans and thought to themselves, "NEVER AGAIN!" ? There is something uniquely challenging and painful about purchasing a pair of jeans, but one brand is trying to change that by taking the guesswork out of purchasing denim and dare we say, produce a perfect pair of jeans: Industry Standard. They've developed a small, expertly curated collection of jeans that are tailored beautifully, have exquisite little details, and won't break the bank.
Part of the torture of buying jeans is the process of trying on pair after pair of ill-fitting jeans that leave you feeling like a stuffed sausage who has never looked good in her entire life, but Industry Standard helps you figure out your ideal size by asking you questions about your body as well as your style preferences. The result is a pair that fit like a glove without having to spend hours in a torture chamber of a dressing room.
https://www.instagram.com/p/BRRjw-YhML3
Industry Standard's Founder and CEO, Nicole Najafi, knew the acute pain of not being able to find the perfect pair of jeans.
She tells HelloGiggles,
"I felt like jeans were a broken category. There were so, SO many options, but not very many good ones. I could not find a good quality pair of jeans I could afford. So I was determined to make that possible. it turns out a lot of other women felt frustrated by overpriced jeans, too!"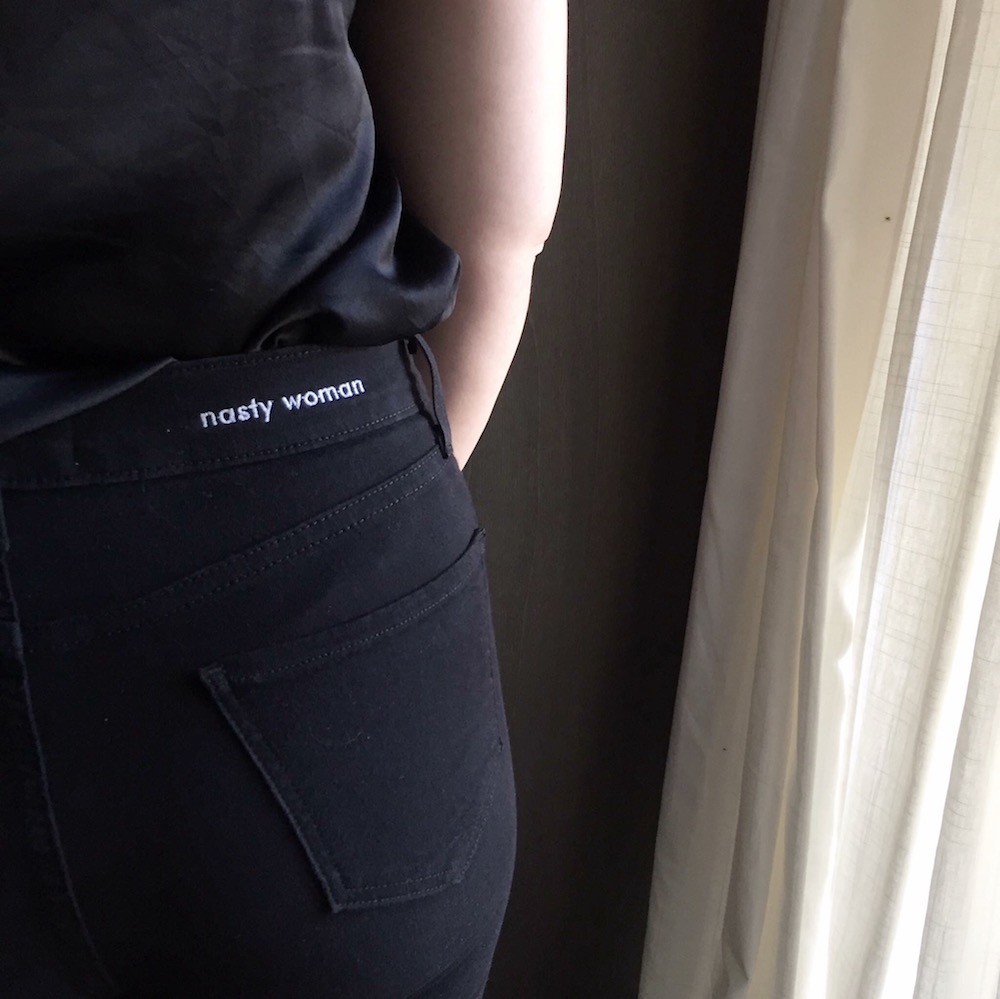 What sets the quality and pricing of Industry Standard apart from other brands is that they're made in a small factory that they've actually partnered with in Los Angeles, ensuring a high quality and low cost. There also aren't hundreds of different styles and fits to wade through. We all know what looks good on our own bodies — why sift through hundreds of bizarre and seemingly unnecessary different fits that get us nowhere? Nicole tells us,
"We only have seven styles of jeans. I didn't like how denim brands would have countless fit and wash variations, it's too overwhelming and confusing. I wanted to do a smaller, more edited collection and really nail each style. We're also the best deal in town — we make our jeans in Los Angeles with American denim for $115 to $135. We're able to do that because our factory is a partner in our business, so we get the benefits of owning our own factory even though we're a small brand."
Another detail we absolutely LOVE is that Industry Standard offers embroidering, so you can get whatever you want added to it. It's an adorable little detail that personalizes your pair and makes the experience that much more enjoyable.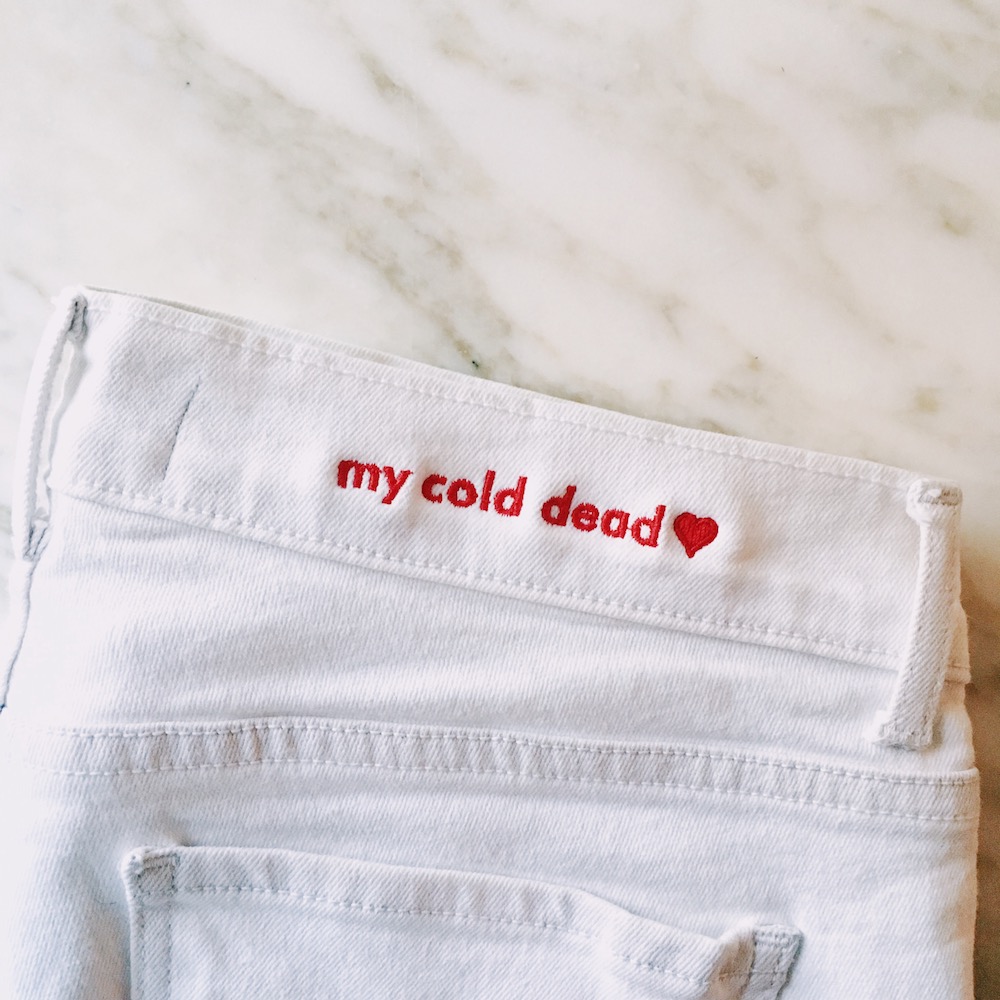 Nicole's impeccable taste and gorgeous aesthetic flows through her entire vision of the brand, so the website is beautiful and easy to use — you aren't going to have to troubleshoot a complicated site while you try to figure out what kind of jeans you want. She credits her background at Balenciaga, Lanvin, and YSL for teaching her a lot about creating a luxurious shopping experience — and it shows!
We love every style we've seen so far — these jeans are impossibly chic, timeless and you just can't beat that high-end quality. It's such a treat to find a truly luxe pair that would ordinarily cost double or triple the actual cost of these. We all deserve to be wearing clothing that feels great and makes us look good without breaking the bank.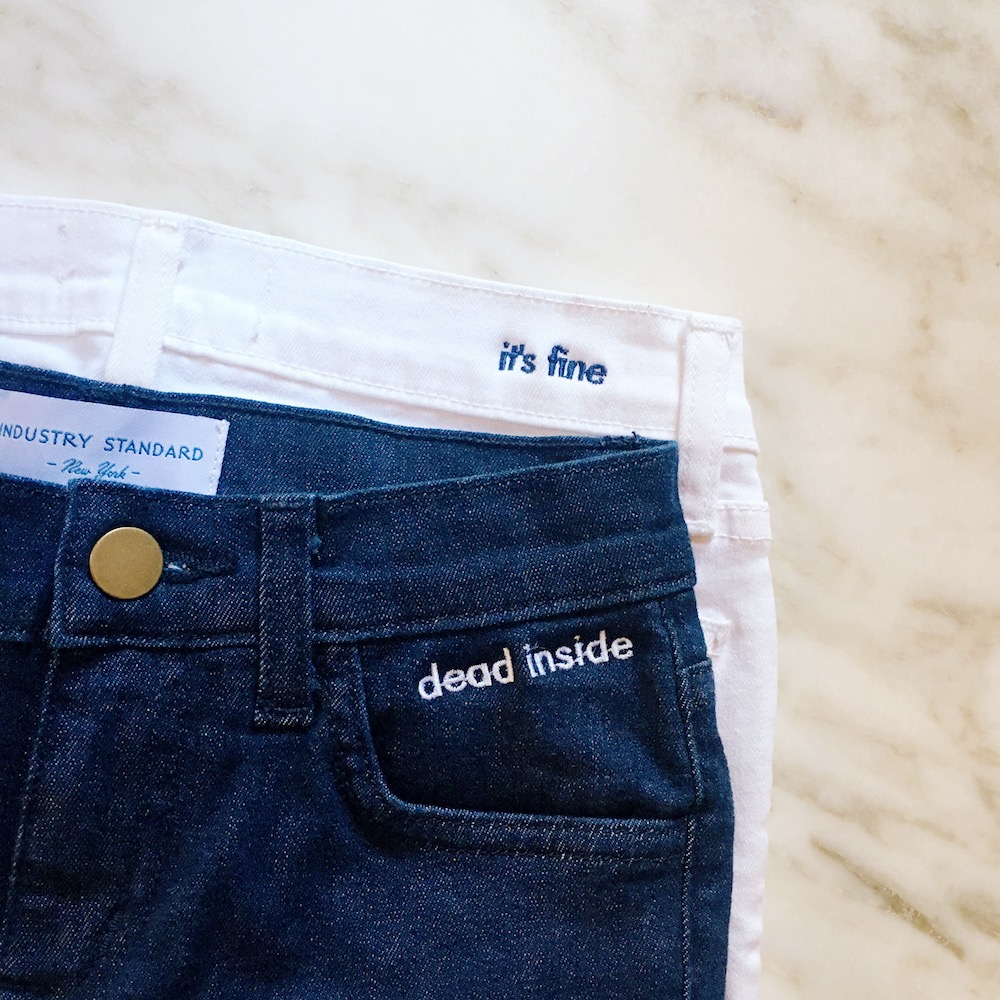 Make your way over to Industry Standard and pick up a pair of these gorgeous jeans today! What would you have embroidered on them? You can get some inspo over on their Instagram account, or consider getting your favorite song lyric stitched on. Is it too much if we get "Bidi Bidi Bom Bom" on ours? Either way, we are LIVING for these *game-changing jeans*!
Smell ya later, we're going shopping!