This is how individual states are systematically attacking Roe v. Wade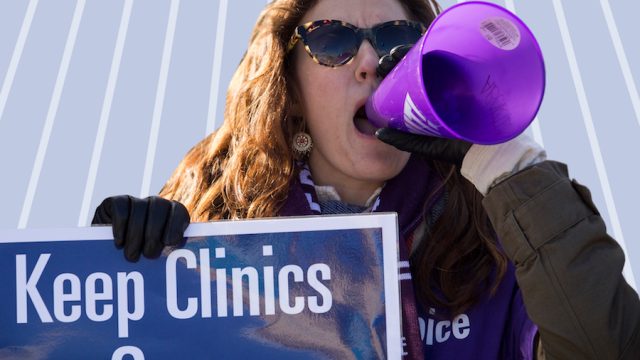 Throughout his campaign and presidency, Donald Trump has made clear that overturning Roe v. Wade is a top priority. And if he has the opportunity to appoint just one more Supreme Court justice before his presidency comes to an end, our right to safe, legal abortions could very well become a thing of the past.
This is terrifying — but for women in a number of growing number of states, abortion has already essentially been outlawed. According to the Guttmacher Institute, 347 measures to restrict access to abortion, contraception, or both had been introduced in 37 states in the first three months of 2018 alone. And less than two weeks into May, the picture is looking even grimmer for women in states like Iowa and South Carolina.
These are the states that have most viciously and systematically attacked Roe v. Wade in recent months.
Iowa
On May 4th, Iowa Governor Kim Reynolds signed the strictest abortion law in the country. The law, which is scheduled to go into effect on July 1st, prohibits the majority of abortions once a fetal heartbeat can be detected. This typically occurs just six weeks into a pregnancy — which is often well before a woman even knows she's pregnant.
The legislation, which has been dubbed the "heartbeat bill," has precious few exceptions. If a pregnant woman's life is in danger, an exemption will be made. But women who have become pregnant as the result of rape or incest will only be granted an exemption in some cases, which is a horrifying attack on individuals who have already been robbed of their bodily autonomy. Not to mention, regardless of the reason, a woman should have the right to terminate a pregnancy.
South Carolina
On the same day that Iowa passed its "heartbeat bill," a similar measure was blocked in South Carolina after Democrats held the Senate floor for nearly eight hours in a late-night filibuster.
The proposed measure would have banned an estimated 97% of the state's legal abortions. The bill only made exceptions in cases of rape, incest, or risk of the mother's life. The bill wasn't just an attack on abortion rights — Democrats pointed out that the broad measure could also have potentially banned myriad forms of contraception, including intrauterine devices and birth control pills.
The final result was a victory for Democrats in this solidly red state, but the South Carolina GOP will undoubtedly continue to push legislation attacking a woman's right to choose.
Mississippi
In March, Mississippi governor Phil Bryant signed the Gestational Age Act into law. With the exception of medical emergencies or fetal abnormalities, it bans abortions after 15 weeks of gestation. The Gestational Age Act makes no exceptions in cases of rape or incest.
The Jackson Women's Health Organization (the only clinic in Mississippi that provides abortions), the Mississippi Center for Justice, and the Center for Reproductive Rights have filed a lawsuit contending the legislation is unconstitutional. Specifically, the lawsuit calls out the state's 24-hour waiting period for women seeking an abortion and the ban on telemedicine which would allow physicians to provide women with abortion consultation and dispense the abortion pill — a critical medication in a state with just one clinic that offers the surgical abortion procedure.
https://twitter.com/udfredirect/status/991098289268445189
Arizona
Last month, Arizona Governor Doug Ducey signed a bill that requires women to provide a reason for why they're seeking an abortion. The bill specifically requires doctors to ask women if they are victims of sexual assault, human trafficking, or domestic violence. Their answers will then be reported to the Arizona Department of Health Services.
"[The bill] really adds another layer of trauma to a situation that's already fraught with a lot of stigma and nerves," said Jason Vail Cruz, policy coordinator for the Arizona Coalition to End Sexual and Domestic Violence. The bill was also opposed by a large number of professional medical associations, as reported by The Arizona Republic.
Kentucky
In March, Kentucky Governor Matt Bevin signed a bill banning an abortion procedure called dilation and evacuation starting at 11 weeks after fertilization. The only exception in the legislation was for medical emergencies. Although 89% of abortions are performed during the first trimester, D&E is used in approximately 95% of abortions that occur after this window.
The procedure, which the American Congress of Obstetricians and Gynecologists has described as "evidence-based and medically preferred," dilates a woman's cervix before using suction to remove the fetus. "Efforts to ban specific types of procedures limit the ability of physicians to provide women with the medically appropriate care they need, and will likely result in worsened outcomes and increased complications," the organization said in a 2015 statement. "Quite simply, these restrictions represent legislative interference at its worst: doctors will be forced, by ill-advised, unscientifically motivated policy, to provide lesser care to patients. That is unacceptable."
A federal judge has temporarily put the law on hold, and the state will now face off with the ACLU in court over the constitutionality of the legislation.
The fight continues. Read our helpful guide on becoming more involved with pro-choice activism here.