These 15 indigenous women are making art you need to see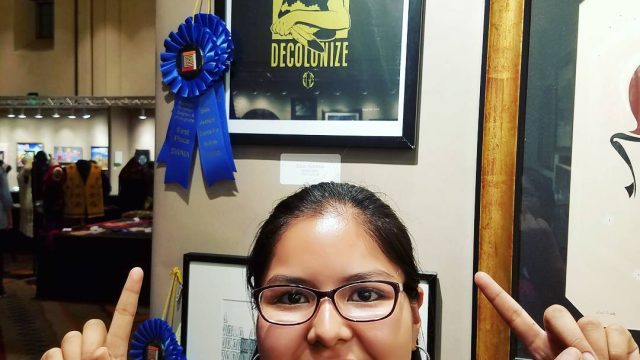 Indigenous women have been making art for as long as anyone can remember, from the pottery of our ancestors to today's multi-media creations (and today's pottery, for that matter). If it can be beaded, an indigenous woman somewhere has beaded it — and even if she doesn't officially call herself an artist, that's what she is. For many years, indigenous people have also joined the professional art world, and this August, hundreds of them gathered for the 96th Santa Fe Indian Market. Sponsored by the Southwest Association for Indian Art (SWAIA), the Market is world's largest and oldest juried Native American art market, and thousands of people come every year to see the art and fashion shows, as well as to buy the latest indigenous art at the market booths that line the streets of downtown Santa Fe, N.M.
https://www.instagram.com/p/BX9VJCKl9UJ
Today's indigenous artists use both historical and contemporary images and materials for their art, and this year's Market showcased a wide variety of styles and materials. It would be impossible to list all the up-and-coming indigenous women artists in the country (much less all the Native art markets and shows!), but here are 15 visual artists from this year's Santa Fe Indian Market to get you started.
1Heidi K. Brandow (Native Hawaiian/Dine')
Known for her cartoon monsters, Brandow has studied at the Institute of American Indian Arts (IAIA) in Santa Fe, Harvard Graduate School of Design, and Istanbul Technical University in Turkey. This year, her designs were worn by the staff at Restaurant Martin Santa Fe during the Market.
2Addie Roanhorse (Osage)
Roanhorse is the daughter of the late Gina Gray, a well-respected artist. This year, Roanhorse's own daughter, Anya, won an honorable mention in the youth category of the Market art show. She recently purchased a historic building and plans to open a gallery soon.
3The Edd Sisters (Dine')
https://www.instagram.com/p/BX-jJBUFBYF
The Edd sisters — Ruthie, Sierra, Chamisa, and Santana — are all artists, as are their parents, Esther Belin and Don Edd.  Each sister has a unique style, which you can see on their website, EddGirlArt. This year, Sierra won first place in the print category of the Market art show.
4Lauren Reed (Choctaw/Cherokee)
Besides being a painter, Reed is a dancer, musician, actress, and model.
5DeAnna Autumn Leaf Suazo (Dine'/Taos Pueblo)
Suazo is known for printing her work on vintage music sheets. On her website, she writes that her work is a combination of traditional Pueblo dance attire, Katchina (sacred beings of the Pueblo people), and Japanese anime style.
6Traci Rabbit (Cherokee)
Rabbit is the daughter of the late artist Bill Rabbit. She explains that she grew up surrounded by art, but got her degree in business. (She was the first in her family to graduate college.) With her family's encouragement, she eventually became a full-time artist.
7Christie Tiger (Muscogee [Creek])
Like many artists on this list, Tiger is from an art family. Her late grandfather, Jerome Tiger, was a highly respected artist, as is her mother, Dana Tiger. Her brother, Coleman Tiger Blair, is a sculptor who also showed work at the Market.
8Melissa Pochoema (Hopi)
https://www.instagram.com/p/BWx33swA2NG
Pochoema is the daughter of master carver Kevin Pochoema. In addition to painting, she is also a model.
9Arigon Starr
Starr, an actor, writer, musician, and playwright, is no stranger to the Market, but this year, for the first time, she came as an artist, representing her comic book, Super Indian.
10Melissa Melero (Northern Paiute)
In her artist statement, Melero writes, "Willows, tules, cattails, and pine nuts are all very important staples to the Paiute people, being sources of food, shelter, and implements made with artistic intention.  I integrated these images and cultural organic materials into my artwork as my interpretation of landscapes and how I view the beauty of my culture as well as nature itself.  I consider these works to be a perspective of my tribe and culture through the eyes of a Native woman, mother, and artist."
11Nani Chacon (Dine')
Chacon began as a graffiti artist, and today she is a muralist, painter, and activist. In a 2016 interview with Fusion, she said, "I'm a painter and I like to consider myself an illustrator because I try to evoke a narrative behind the images I create. I aim to create an archetype to which the viewer can relate and form their own narrative. As a painter I paint on any surface that lends itself to my work and what I need to use it for." Her work appeared in the Broken Boxes exhibit that ran during the week of Market.
12Hillary Kempenich (Turtle Mountain Band of Chippewa)
In a 2016 interview, Kempenich reminisced about attending the Santa Fe Indian Market with her family as a child, hoping she could participate someday, which she now does. In the same interview, she said, "I have a story to tell — about me, where I come from. There's a lot of social commentary in my work."
13Crystal Worl (Tlingit Athatbascan)
Worl works in many mediums, from painting to silversmithing to aerial dancing. She has degrees in moving images and jewelry metals, and she co-owns Trickster Company with her brother, Rico. Trickster began as a skateboard design company but has expanded to include many other products, including clothing and artwork.
14Holly Grimm (Dine')
Grimm is influenced by Chinese landscape paintings, and in her bio she writes, "My work begins with creating sketches "en plein air" or "on location" of New Mexico landscapes. By creating a direct impression of a scene, I become a medium for the vital energy of the landscape (nilch'i or qi). The resulting studio paintings provide the viewer with an opportunity for dynamic contemplation and meditation."
15Ashley Lynn Browning (Pojoaque/Santa Clara Pueblo)
Browning is from a family of potters, including her grandmother, the well-known Santa Clara Pueblo potter Lu Ann Tafoya. Browning works in graphics, painting, photography, and film. With her mother, Michele Tapia-Browning, she created the board game NDN-Opoly, based on Monopoly.
Indigenous art has always been diverse and meaningful, and these artists are working to keep it that way. So if you're looking for the perfect piece to hang in your new apartment or just want to learn more about indigenous art, check them out!