13 Indigenous Influencers You Should Follow on Instagram Right Now
From a Two-Spirit couple to a Chief Water Commissioner.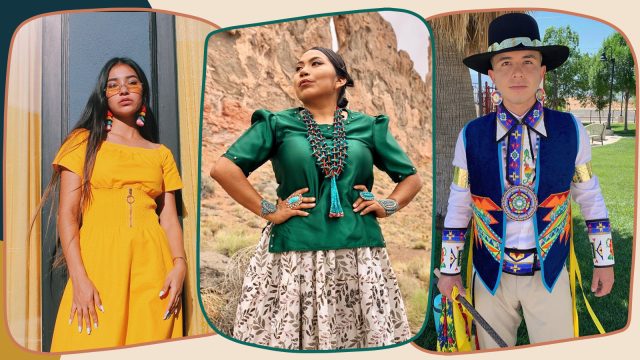 November is National Native American Indian Heritage Month, with Native American Heritage Day occurring on Friday, November 27th. It's this time of the year where we, as a nation, recognize and appreciate the diverse cultures of Indigenous people who have been living on the land we now call the United States since well before the country came to fruition. As stated by the National Congress of American Indians (NCAI), "[November] is a time to celebrate rich and diverse cultures, traditions, and histories and to acknowledge the important contributions of Native people."
NCAI continues, "The month Heritage Month is also an opportune time to educate the general public about tribes, to raise a general awareness about the unique challenges Native people have faced both historically and in the present, and the ways in which tribal citizens have worked to conquer these challenges."
To help further educate the general public, these Indigenous and Native American Indian influencers use their social media platforms to share their thoughts, struggles, and ways in which they stay true to their culture and generations-old traditions while also educating their fanbase on how to support and appreciate native peoples and their missions. If you're not following them yet, now is definitely the time to do so.
Indigenous Influencers to Follow on Instagram:
Sean Snyder and Adrian Stevens
Sean Snyder (Navajo and Southern Ute) and Adrian Stevens (Northern Ute, Shoshone-Bannock, and San Carlos Apache) are a Two-Spirit couple based outside of Las Vegas, Nevada. Snyder, a grass dancer, and Stevens, a fancy dancer, both compete and perform in couple dance competitions at powwows nationwide. 
Synder and Stevens were featured in Vogue in August and talked about how they are actively changing the traditional dance scene, which is slowly, but surely, pivoting to accept Two-Spirit dancers. Two-Spirit, as Vogue explains, is a term associated with Indigenous people possessing both male and female spirits, and is more modernly an umbrella identification term used by Indigenous queer people.
Kahara Hodges
Kahara Hodges is a Los Angeles-based Afro-Indigenous model, style influencer, and advocate. She's a proud member of the Ta'neeszahnii Nahasdzáán (Navajo Tangle Clan), and actively educates her followers on Navajo-related current issues and history. Last year, Hodges was one of many Indigenous women featured in Nike's N7 campaign, designed by Diné artist Tracie Jackson, "which highlights the importance of self-representation for Indigenous people. It's really beautifully to exist and have presence in spaces that my ancestors have been excluded from," Kahara captioned a shot from the campaign.
Kinsale Hueston
Kinsale Hueston, founder of Changing Womxn Collective, "an arts mag by & for all BIPOC women & non-binary folks who feel comfortable in a space centering women," is a poet and 2020 Cultural Capital Fellow for the First Peoples Fund. As an enrolled member of Navajo Nation, Hueston focuses her writing on "personal histories, Diné stories, and contemporary issues affecting her tribe—particularly violence against Native women and settler-colonial violence, resource extraction, and land/body relationships," as her website states.
James Jones
James Jones is an Indigenous creator who educates his fan base on Indigenous culture through Reels and IGTV. He also has over 2 million TikTok followers who come for his incredible traditional dance videos and stay for his educational factoids, storytelling, and cultural spotlights. He reminds those who stop by his platform to "appreciate, not appropriate—do that, and we're all going to get along just fine," as he said in a November 4th video.
Serain Fox
Sarain Fox, an Anishinaabe from Batchawana First Nation, located just outside of Sault Sainte Marie, Ontario, is an artist, activist—especially for Indigenous youth, and storyteller. You may recognize her as the host of RISE on Viceland or as the host of Future History on APTN. Like Hueston, she was also a part of the Nike N7 campaign, and she has also become a brand ambassador for Manitobah Mukluks. She's also keeping a blog on her official website, on which she talks about topics including the importance of matriarchs within a tribe, the plan to "date Indigenous," and "the genetics of genocide."
Tia Wood
21-year-old Tia Wood is a Plains Cree content creator with over 1.5 million followers on TikTok. It's there where she uploads a variety of educational, comedic, and music-related videos (including a video of her singing a song her father composed). Wood uploads many of her TikTok videos to Instagram, where she also shows off her beautiful collection of traditional clothing and costume.
Charlie of Diné Aesthetics
Charlie of Diné Aesthetics is a Navajo Nation trans-femme self-care advocate aiming to inspire inspiring joy and justice via their Diné Aesthetics Instagram account, a platform "grounded in inspiring hope and change, especially for other Black and Brown Indigenous queer and trans folks," as they explain in the above post. Diné Aesthetics is also the name of Charlie's personal blog, which is a collection of their "reflections, analyses, and critiques on what it means to be Diné in the 21st century navigating a (colonized) world featuring stories inspired from cultural knowledge and traditions."
Lakisha Custer-Sewap
Lakisha Custer-Sewap is a 21-year-old Indigenous makeup artist and member of the Woodland Cree. The makeup looks Custer-Sewap creates and shares are heavily influenced by tribal patterns and colors. She even created a makeup look using beads to replicate a traditional peyote stitch pattern…but on her eyes. Her talent is beyond amazing.
Autumn Peltier
Autumn Peltier is the Chief Water Commissioner for Canada's Anishinabek Nation. Though she's from Wikwemikong First Nation/Manitoulin Island and Ojibway/Odawa heritage, Peltier actively fights for clean drinking water in First Nations communities across Mother Earth by speaking at the UN as a keynote speaker at just 14 years old, and has been honored by the Assembly of First Nations as a water protector. She also traveled to Stockholm, Sweden, for World Water Week in August 2018 and was honored with the Sovereign's Medal for Volunteers for her advocacy and conservation work. She's most active on Facebook, so follow along with her incredible work there.
Adam Sings In The Timber
Adam Sings In The Timber is an Indigenous photographer based in Montana whose empowering work beautifully captures Indigenous peoples in natural elements. He's a proud member of the Apsáalooke (Crow Nation) and sells posters, stickers, and magnets of his work via Etsy.
Haatepah Clearbear
Haatepah Clearbear is a young rising model who dedicates much of his time speaking and advocating for indigenous rights and communities. The 22-year-old appeared in Vogue in August and opened up to the magazine about how he and his twin brother Nyamuull didn't know their race until they turned 18, having been adopted by two white fathers. Upon learning they were Kumeyaay, Pai Pai, and Chichimeca-Guamare, they began engaging in a life of activism. "I see myself as a model, but I think of myself as an activist, first and foremost, for my people," he told Vogue, with a specific focus on environmental issues.
Naiomi Glasses
Naomi Glasses is a 7th-generation Diné weaver, a model, and a cleft lip advocate who has established an online store of the bags she weaves. Her studio is on her family ranch in Northeastern Arizona on Navajo Nation. Though she began weaving blankets with her grandmother, "her focus has shifted to wearable weavings such as the bags she weaves," her website states. And when she's not weaving and modeling her wares, she tends to her family's sheep and cattle.