15 emerging beauty brands we discovered at the 2018 Indie Beauty Expo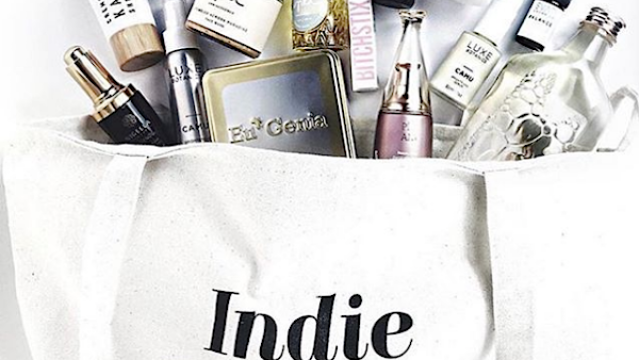 It's only my second year covering the Indie Beauty Expo, and it's already marked itself as one of my favorite beauty events out there. Since 2015, the Indie Beauty Expo has annually given hundreds of brands a platform to network with each other, promote their newest goodies, and tell their stories, all under soft lighting.
Whether you're hoping to learn about some of the pioneers in the indie beauty realm, or you're excited to witness the imagination of the baby brands just launching this year, there is something for everyone at IBE.
In fact, if anything, I found myself pleasantly overwhelmed by all of the appealing picks this year. With over 14 different categories ranging from color cosmetics, to ingestibles, to fragrance, and skin care, sorting out the golden finds requires true focus.
So, in order to give you a taste of some of the fabulous indie beauty brands currently making the rounds, I picked out a few favorites I came across this year. Variety is the spice of life, so I tried to include a range, but I certainly encourage you to check out the Indie Beauty Expo website for yourself if the mood strikes. It's basically a massive candy store for beauty junkies.
https://www.instagram.com/p/BmtoaVHlZR5
Without further adieu, here are 15 delightful indie brands I discovered at this year's Indie Beauty Expo.
https://www.instagram.com/p/BmyeqYKlr27
If you're a fan of all things glitter, gold, and decorative for your face, then Magic and Manifest is a match made in heaven. They are fully plugged into the metallic freckle trend that's been sweeping Instagram and offer the glam among us everything from holographic eyeliner to hair charms. For starters, though, the holographic face sparkles ($15) seem like a shoe-in.
After working in the beauty world for 10 years, Bill Xiang decided to launch his own brand in celebration of the birth of his daughter. On top of making cruelty-free and paraben-free makeup, Xiang decided to imbue each product with a positive affirmation dedicated to his daughter. Some say "I Am Confident," others "Eye Am Beautiful" or "Be Brave," and the whole idea is so pure. His daughter is only five, so it'll be awhile until she can enjoy the offerings, but in the meantime the Eye Am Outstanding Liquid Eyeliner ($16) is a great catch for us adults.
Persika is the Swedish name for peach, and much like peaches, all of the products smell and look sweet. As an organic and cruelty-free brand, Persika aims to give beauty lovers products that feel as luxurious as dessert, but are gentle on different skin types. I got one whiff of the Cherry Glow Brightening Peel ($60) and still have the sweet scent in my nose.
The brand founder Ellis Faas started off as a makeup artist in the Netherlands, but soon found herself collaborating with Karl Lagerfield and designing the cover stories for Vogue. After decades in the industry and a collaboration with L'Oreal that ended in 2007, Faas decided it was time to launch her namesake brand. Her experience in high-end fashion comes through in bold vision. The makeup holders look like bullets and each of the color pigments are modeled after colors found in your body (the reds are inspired by blood, the greens by veins). I'm personally most excited to try the Creamy Lips in a Deep Fuschia ($27).
Velvette Organics was co-founded by the sisters Joyce and Jenny Tse when they set out on a three-month backpacking adventure in South Asia. Normally, the sisters are fans of involved multi-step skin care regimes, but during their travels, they only had time to grab a few essential oils for their needs. In a stroke of serendipity, their findings on the trip inspired them to launch a line of all-in-one oils that cater to different skin types and cut down on time. I grabbed a container of the Normal Skin Night Facial Oil ($45), which contains horse chestnut extract in hopes it'll bring out my natural glow.
This year IBE had an exciting growth of edible beauty products and supplements, which are especially exciting for those of us frequently missing steps in our routine. Ora Organics offers plant-based supplements ranging from probiotics, to protein powder, to omega-3s and greens. The Organic Turmeric Curcumin ($29.99) is great for balancing out skin and aiding with physical pain.
Is there any feeling more relaxing than treating your hair to a luxe hair mask (barring a soak in a hot tub)?! Loba Mane is a hair care brand dedicated to using organic ingredients in their formulas, so beauty lovers can nourish their hair without raining chemicals on their scalps. The Transformative Mask ($24) is made with coconut, buriti, tucuma, argan and avocado oil, so it's ideal for those of us with colored or dry hair.
If you're also a forever fan of Lil Mama's look in "Lip Gloss", then Flickable's ethos is right up your alley. Completely paraben, silicone and sulfate-free, Flickable 's lip gloss features non-irritating moisturizing ingredients such as castor, jojoba oil and vitamin E, but my personal favorite part is the lollipop packaging. The Cu Clear ($7.95) is a good starter if you're looking for a sheer sheen.
Plum and York is a vegan and cruelty-free luxury beauty brand with a particularly generous offering of date night lipstick shades. While it's targeted towards all women, the brand is especially dedicated to launching shades that complement darker skin tones, and it shows in their stunning selection. The satin finish Spanish Wine Not lipstick ($26) is a great look for when you're trying to look sultry over a candlelight dinner.
https://www.instagram.com/p/BmMRwCfFcRC
Finding cruelty-free and plant-based nail polish options that actually offer a wide range of gorgeous shades is still a hard task. So spotting the delicious offerings of Hype Nails felt like a true godsend. I'm personally a junkie of almost all nail shades (barring yellow), but the peachy Fiesta ($7.99) caught my eyes from across the room.
The CEO and co-founder of Sumbody, Deborah Burnes, first made her mark in the beauty world when she modeled for Salvador Dali. After dabbling with a vast variety of hair, makeup and skin care products as a model, she decided to attend cosmetology school to see how it all worked. During her time as an esthetician, Burnes found herself consistently discouraged by how many mainstream products were laden with harming chemicals. It was this realization that inspired her to launch Sumbody, a completely natural lifestyle brand offering everything from body wash to makeup and hair care. Since I'm always on the search for the perfect shampoo, I'm super excited to try out the Head First Clarifying Shampoo ($22) made with omega fatty acids.
We are all sheet mask girls living in a sheet mask world. But truly, if you're addicted to sheet masks but prefer green beauty, Florapy's vegan and cruelty-free sheet masks are a true godsend. Inspired by aromatherapy, each sheet mask is formulated after a specific flow. The Sweet Dreams Yarrow Lavender Mask ($8) drew me in due to my love of lavender.
https://www.instagram.com/p/BmlTSoHAdft
The brand Raw Spirit was first inspired by the Nomad Two Worlds are project created by Australian photographer Russell James. The project itself explored the cultural struggle between modernization and ancient culture, and particularly, the rich traditions of Indigenous communities. Each fragrance is formulated in partnership with Indigenous communities to ensure the all-natural ingredients are ethically sourced, and the business is supporting the neighborhood. The Mystic Pearl perfume ($85) is formulated with jasmine, white flowers, frangipani, coconut and cinnamon and clove, so you can feel like you're sitting on the island of Bali.
Cannabliss is a completely organic Korean skin care brand that harnesses the nutritional goodness of hemp oil to help cure everything from scars, to age spots, to plain old dryness. The formulas are also infused with Korean herbs, mulberry bark and panax ginseng to promote balance and moisture to the skin. I have been using the Cannabliss Body Oil ($51) for over a month and I definitely feel silkier.
For more information on more of the fabulous brands showing at IBE, and a comprehensive history on the expo itself, be sure to check out the official Indie Beauty Expo website.