Steven Spielberg might gender-swap Indiana Jones, but as Indiana Joan — and OMG dude, you almost had it right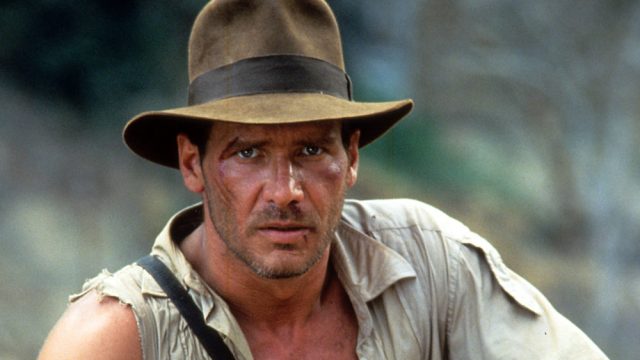 It's 2018, and inclusive, responsible, and diverse representation is at an all-time high in Hollywood, which is amazing. But it could be SO. MUCH. BETTER. So when a legendary filmmaker like Steven Spielberg says that's he's open to making a female-led version of Indiana Jones, we applaud. That's awesome, well-deserved, and has frankly taken too long to manifest.
Speaking with The Sun earlier this week, Spielberg revealed that he's considering gender-swapping Indiana Jones, after the fifth and final Harrison Ford installment debuts next year, and casting a female in the lead role because the time has come for the character to take "a different form."
"My mom was strong. She had a voice, she had a very strong opinion," Spielberg said. "I have been very lucky to be influenced by women, several of whom I have just loved madly — my mom and my wife."
But…here's where we start to go, "huh??"
Because of the gender-swapping, according to Spielberg, the character wouldn't be called Indiana Jones anymore. "We'd have to change the name from Jones to Joan," Spielberg added. "And there would be nothing wrong with that. This will be Harrison Ford's last Indiana Jones movie, I am pretty sure, but it will certainly continue after that."
Listen, the fact that Spielberg wants to cast a female lead in one of the most iconic film franchises ever is great. Indiana Jones is practically an institution, and gender-swapping to make a female-fronted Indiana Jones is a step in the right direction for empowering female representation at the box office. Could you imagine seeing a badass female star taking up the mantle, hat, and whip? We can, and we're here for it.
But, my man, calling the character *Indiana Joan* is just not how gender-swapping works.
Anyone who has seen even one Indiana Jones movie (let alone created all of them) knows Ford's character is Dr. Henry Walton "Indiana" Jones, Jr., professor of archaeology. Making the character a woman wouldn't have any effect on the last name…so, why does Spielberg feel the need to emphasize the character's gender in her name?
Twitter couldn't help but poke fun, too: false
Names aside, there's a much bigger issue with this whole idea of "remake Indiana Jones, but with a woman."
It highlights a deeper problem that the industry is suffering from as a whole. Instead of remaking popular male-driven projects with a female lead and tweaking the story to fit, how about creating entirely new projects centered around female characters that are inherently female and tell new stories? And how about with females writing the scripts and directing the films and calling the shots behind the camera?
If we are going to move forward in the right direction when it comes to inclusion and equality, let's do it for real. Don't just put a Joan bandaid on the problem; go deeper and fix it.