Here's what to know about Voyd, Sophia Bush's brand new Super in Incredibles 2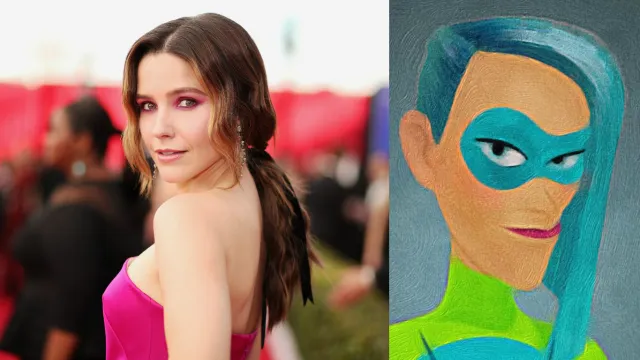 Becoming a superhero is no easy task, and not all those who try actually succeed in donning the spandex and capes. When Incredibles 2 hits theaters later this summer, we'll once again be reunited with the most-super of families, The Parrs (aka The Incredibles) along with some of their super friends — including everyone's favorite ice master, Frozone.
But that's not all: Incredibles 2 is going to introduce us to a brand new crop of cape-wearing heroes (like, and I kid you not, a super named "Reflux," and his superpowers all have to do with his ongoing acid reflux, and I've never felt more SEEN in my life). While many of their identities and powers are still top secret (as it is with Supers), we're learning a little bit more  about a new character named Voyd, voiced by Sophia Bush. And if there's anyone who should become a superhero herself, it's One Tree Hill and Chicago-verse alum and activist Sophia Bush.
Voyd is described as a"young, overeager 'wannabe' Super and a mega-fan of Elastigirl." As for her power, she can "divert and manipulate objects around her by creating voids that allow the objects to appear and disappear, and shift in space." And she's also Elastigirl's #1 fan.
"I described [Voyd] to the animators as, like, we had this dog that was this very big powerful dog and it only had two settings and one was in your face love me, love me," returning Director Brad Bird said at an Incredibles 2 press day at Pixar. "But when you said, finally, 'get off,' it was I'm sorry, I'm sorry. Then you go, 'Oh, it's okay.' She's a little bit like that, where she's always kind of leaning in a little too much and is a little too ready to ask you 10 million questions, and it's a really fun character. I've never seen that before in superhero movies."
It also sounds like Voyd has to quickly learn what it means to be a Super, so it's a good thing she's been watching Helen closely all these years. Talking to HelloGiggles, Bird elaborated a little bit more about just how Voyd finds herself in the Super spotlight.
"I think she is a very eager character and she means well and sometimes can be a little much, but it's all very genuine on her part," he explained. "That's playing with the superhero iconography. In that, they're akin to movie stars or sports heroes [in] that people are fans of them. And the fact that when you see somebody in sports enter…like I'm a huge [Golden State] Warriors fan. There's a new player that the Warriors named Quinn Cook, who just has spent most of his season in the D leagues, which is development leagues. They get to play ball but they're away from the spotlight, and he perfected his game and he got elevated to the team, and [the lead Warriors] player is injured right now, so suddenly [Cook has been] thrust on the big stage with the World Champion team, heading for the Championship, and he's coming out of the blue and he's killin' it. But he's a fan of Steph [Curry] and he's a fan of [Kevin Durant], who we knew back in Washington. He's doing his homework, but you can see that he can't believe [that he's suddenly in the big leagues]."
If we translate that basketball talk into Incredibles terms, it sounds like suddenly Voyd's going to find herself front and center if Helen finds herself benched (…and that's the right basketball term, correct?). We'll find out exactly what goes down between these Supers when Incredibles 2 hits theaters on June 15th.