Ina Garten answers the most important questions about Thanksgiving, and here's what you need to know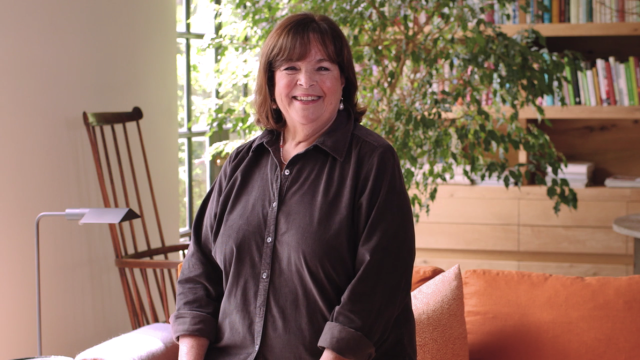 When it comes to Thanksgiving cooking, there's one voice that all of us trust to keep our celebration classy, delicious, and not too fussy. The Barefoot Contessa has long been one of our cooking idols, and this year, she's got some more fabulous tips. Ina Garten revealed her secrets for a perfect Thanksgiving, and we are listening.
We are so inspired by Ina, who started her career working in the White House before turning to her lifelong passion of cooking. She has built a culinary empire with her easy elegance and delicious food. InStyle Magazine interviewed Ina recently, asking her 25 questions about her Thanksgiving celebration, and we feel like we learned so much.
Check out Ina Garten's interview with InStyle here, where she gives us SO many great tips for our Thanksgiving celebration.
She starts with the main event, the turkey.
Ina insists that she ALWAYS uses a fresh turkey. Also, rather than brining the turkey in liquid, she does a dry brine by coating it in salt. Similar results and less mess. We love that! She also answers the age-old question about that plastic thermometer on the turkey. Ina's verdict?
"When the plastic turkey thermometer pops up, it's overdone, so toss it."
Good to know! Ina also admits that deep frying a turkey scares her, so she roasts it. And we get that. Deep fried is delicious, but the cooking process can be nerve-wracking.
Ina also clarifies the stuffing debate — inside or outside the turkey?
"If you put the stuffing in, you have to cook the turkey longer, until the stuffing's cooked and the turkey's dry. So, separate, always."
We have heard it both ways, but Ina's reasoning makes total sense.
Ina also provides plenty of tips for keeping things manageable when hosting Thanksgiving.
If you don't have time to bake fresh rolls, Ina suggest buying them from a good bakery. Simple, but still quality. She also believes in keeping the drink selection simple by serving wine, rather than cocktails.
And Ina has the perfect thing to put your party over the top.
A classy selection of music! Because Thanksgiving is often multi-generational, Ina suggests music like Frank Sinatra, Ella Fitzgerald, and Tony Bennett. Easy listening that everyone could enjoy.
Now all that's left to do is polish up our dinner party conversation.
Don't worry, Ina, we'll work on that before Thanksgiving.