There was an impromptu candlelight vigil in Charlottesville last night, and the pictures are so powerful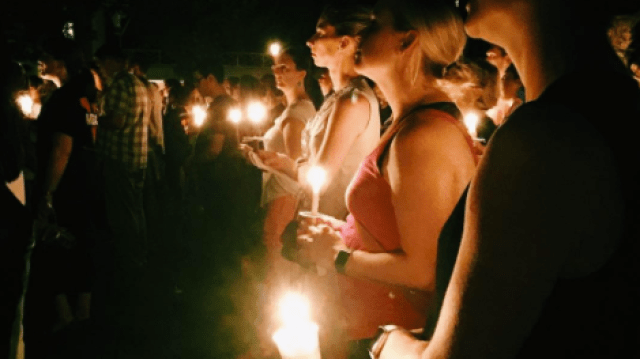 The country is still recovering from Friday's white nationalist rally, which resulted in the murder of peaceful protester, Heather Heyer. To spread love and peace throughout the devastated city, Charlottesville citizens held a candlelight vigil Wednesday night, proving that hate cannot and will not win.
The University of Virginia campus was packed with hundreds of citizens and supporters singing songs and sharing moments of silence for Heyer, as well as State Troopers Jay Cullen and Berke Bates, who also lost their lives in a fluke helicopter crash while trying to conduct surveillance on Saturday.
Those in attendance participated in a sing-along of the University's triumph song, "The Good Old Song." University of Virginia alumKatie Couric shared a video on Instagram writing in her caption,
"Never been so proud of my alma mater. I wish everyone there a wonderful year full of friendship, compassion and enlightenment. Some traditions-but not all-deserve to be preserved."
Later, the group sang "Lean On Me" together.
In the wake of what took place in Charlottesville, cities across the country are holding free speech rallies and protests against hate speech. New York City is holding their anti-racism protest on Friday, August 18th. Boston is hosting both a stand for solidarity and a Fight Supremacy! counter-protest on Saturday, August 19th.
Daytona Beach, Florida, Burton, Michigan, and Millersburg, Ohio are also hosting their own counter-protests in light of last weekend's Nazi rally.
This USA Today article shows where protests will be happening around you, so take a look and spread the word if you'd like to lend your voice to the movement.