It was impossible to find a male strip club open on my friend's birthday, so I decided to find out why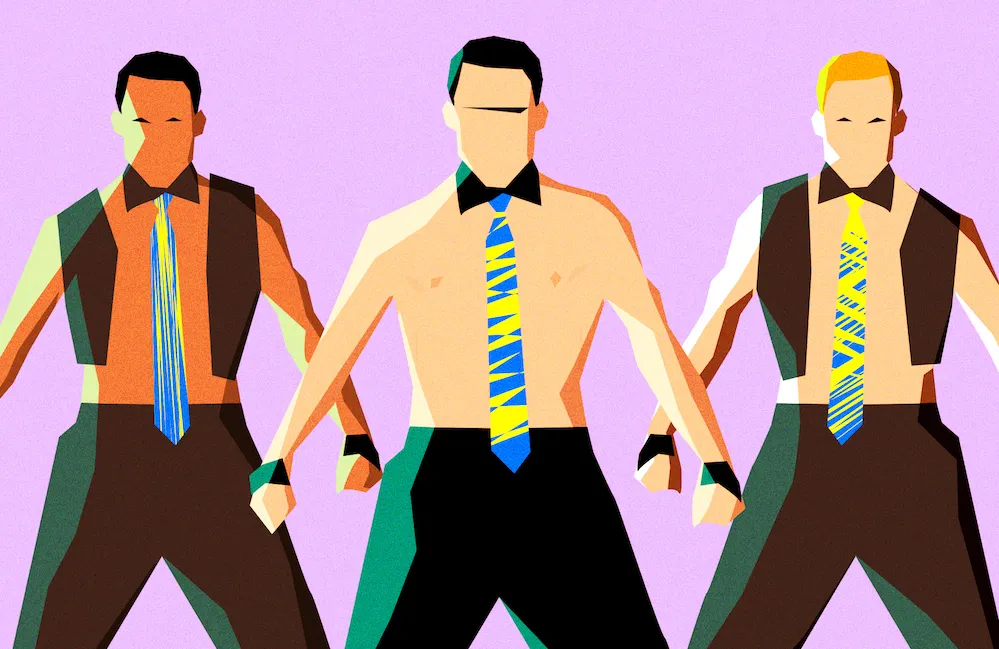 It was in the spring when Channing Tatum did something magnificent. On April 21st, 2017, he brought Magic Mike Live! to the Hard Rock Hotel & Casino in Las Vegas. Tatum is the creator and co-director of Magic Mike Live!, a grand choreographed production that echoes the original attractions of the Magic Mike movies. Like the movies, Magic Mike Live! has ridiculously hot men on stage who tease their audience with exceptional dance moves. After a very enthusiastic response to the show in Vegas (with advanced ticket sales raking in $2.5 million) and seats that are still highly in demand, Tatum's production has expanded to London. On November 28th, 2018, Magic Mike Live! will open to the public at the Theatre at the Hippodrome Casino. 
What inspired Tatum to start this steamy production in the first place? "God knows we have enough gentlemen's clubs in this world, so let's start the first gentle-ladies' club—or maybe not so gentle, depends on what you're into," Tatum said in a Facebook video clip when he first announced the birth of Magic Mike Live! Indeed the world is filled with gentlemen's clubs. And here, Tatum's show offers every oiled ab and every chiseled jawline for a woman's gaze, if she is attracted to men. But let's, for a moment, put the immensely popular performance that is Magic Mike aside.
What about the ordinary male strip clubs sprinkled across bustling metropolises like L.A. or Chicago? Are they expanding as well? More importantly, are these clubs trying to subvert centuries of the heterosexual male gaze by creating physical spaces exclusively for the female one?
I attempted to find the answer to that question as I planned my friend's 30th birthday this year—turns out that my friend wanted to ring in her third decade by objectifying men's six packs. So, I Googled male strip clubs in N.Y.C. The search engine yielded a result of exactly six clubs in the city.
I glanced at the hours of operation, and all of the male strip clubs closed at 11 p.m. on a Saturday night.
I checked my watch. It was 9:30 p.m. By the time my friend and I would roll into the city from Brooklyn, all the male strip clubs in N.Y.C. would be closed. I stubbornly refreshed the search engine. The pithy list of male strip clubs, however, continued to stare back at me before turning into a list of (surprise) countless gentlemen's clubs, almost all of which were open until 4 a.m. Ultimately, my friend and I ditched the effort and instead headed to a boring rooftop where we overpaid for vodka sodas. But a week after my friend's birthday, the lack of accessible spots for the female gaze rattled my feminist leaning brain. Why do straight men have entry to a sexual fantasy in the flesh at almost every hour, while women hardly have any?
"Business reasons," Scott Layne Wisman, the manager of Hollywood Men Male Strip Club in L.A. told me. Wisman explained that people who manage male strip shows may not be the same people who own the club where the show takes place. Often, strip show managers and nightclub owners collaborate on male stripper shows in order to draw a greater profit. First, the managers organize a booze-fueled, flirty two-hour male stripper production to attract a crowd of straight women. Once the show is over, the space where the strippers danced reverts to a regular nightclub, where both guys and girls are invited to party. Wisman said that after the show, "men come through the front door and can be pleasantly surprised to find a room full of women dancing and drinking." He also said that Chippendales, which is perhaps the most famous male entertainment brand, created the paradigm for this business model—one that is lucrative for traveling male revues and for smaller, local nightclubs as well.
"Ladies see the stripper show and word gets out to all the guys that that's where the single women are," Wisman explained. The men, flocking to the club after the show, are prone to buy drinks for the women, thereby making several thousand dollars in gross bar revenue for the club. In this partnership, managers of the male stripper shows also benefit. They're able to split operation costs with the nightclub and save money while still drawing a crowd.
But then there are the true male strip clubs. These clubs don't turn into a general party hub past a certain hour. They make it their literal business to focus on just male entertainment. These clubs include the more well-known Hunk-O-Mania Male Revue Strip Clubs, which are scattered across the states. Unlike Wisman's business model, Hunk-O-Mania doesn't aim to use a male stripper show to lure men into buying drinks for the (already turned-on) women. So why is this club closed at 11 p.m. on a Saturday night, too?
"Women are planners," Armand Peri, the CEO of Hunk-O-Mania told me. Peri told me that women tend to not be as spontaneous as men when choosing to attend a stripper show. They usually opt to go for their friend's bachelorette party or a coordinated Girl's Night Out. To prove his point, Peri said that he already sold out a bunch of tickets for Hunk-O-Mania shows for dates in spring 2019.
But even if women are planners, as Peri claims, what if the need for a lap dance hits us on a random Wednesday night? Peri said that, while the club does get regular guests who are there to see certain men and be turned on, the percentage of women who fall into that group is very small. For the majority, there's no need to go see a shimmying, muscled guy for sexual stimulation when a sex toy at home works up arousal just fine. In sum, not all women perceive a man (albeit a very hot one) stripping as sexually arousing.
Scientific research has confirmed this as well. Women are less likely to grow aroused by a visual stimulant than men are. Instead, female sexual arousal is better stimulated by an erotic movie "with a concrete story and emotional stimulation" according to a study published in the International Journal of Impotence Research. The study also reported that "a woman's ability to imagine herself as the woman in the film was the only factor strongly correlated with her reported arousal. Men also project themselves into the scenario, but may be more likely to objectify the actors."
This study's findings can explain why Wisman and Peri pour lots of time and resources into their shows' storylines. Wisman, for example, has his dancers act out the roles of fictional yet attentive men, like Christian Grey from Fifty Shades. In this scenario, a woman from the audience is called to the stage to play Anastasia, the recipient of Grey's burning lust. During this part of show, Wisman urges his dancers to quell their needs in favor of the woman's. "The girl portraying Anastasia, it's all about her," Wisman informed. "I tell my strippers the audience doesn't exist. It's a voyeuristic fantasy so that every lady sitting out there can put herself in the position of the girl on stage." Both owners have also observed that women are drawn to the production value of the show. "In gentlemen's clubs there are no themes, no costumes, no special lighting," Peri said. "Women are fascinating. They need more than just flesh."
It seems like these male strip clubs know what makes for a good time. So with the popularity of the Magic Mike films and the steady expansion of Magic Mike Live!, will more of them open? Peri believes that there will always be "growth in the industry"—but he also doesn't say that male strip clubs will be as prevalent and as accessible as gentlemen's clubs. At the end of the day, both Wisman and Peri need to consider the basics of supply and demand when deciding whether their clubs should be open past a certain hour. If most women turn to shows for just the occasional bachelorette bash and weekend party, then why would the clubs be open around the clock? Money, after all, is what makes the stripper poles go round.
But I still believe that women should be able to party at a male strip club until dawn on a Saturday night if they so choose. And yes, I know. Seeking to extend the hours in which a club is open is in no way as worthy as protesting sexual assault or demanding reproductive justice on the edge of Capitol Hill. An accessible male strip club is not the manifesto that I instantly subscribed to after having read Betty Friedan. But wouldn't it be cool to have more spaces where a woman's agency and desires are at the forefront? Where they are catered to by men with a "lack of ego"? A girl can dream.