This is why it's so important that Danielle Herrington is on this year's "Sports Illustrated" Swimsuit cover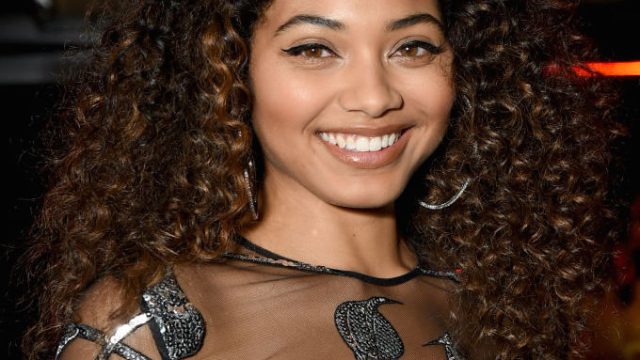 Okay, we get it, we get it. Representation matters. But we'll say it again: representation matters. Because can you really say it enough? From Muslim women who compete in pageants while wearing hijabs to the viral #MagandangMorenx movement that addresses colorism in the Filipino community to the Jamaican Olympian who perfectly explained why representation matters, it's important for everyone to see someone who looks like them in all areas of life. The reveal of the highly anticipated Sports Illustrated swimsuit cover is no exception — especially since it made model Danielle Herrington a part of history.
The 24-year-old is the latest SI swimsuit cover girl to represent a 50+ year history, one that includes legends like Elle Macpherson and Heidi Klum, along with current faves Chrissy Teigen and Ashley Graham. In addition to being part of a hot squad, Herrington is making history for a reason that's sure to make anyone, especially black and brown girls, smile.
Herrington is the third black woman (ever!) to appear on the cover of Sports Illustrated's Swimsuit edition. The yearly issue has been around since 1964 and Herrington follows in the steps, or the bikinis, of Tyra Banks and Beyoncé.
Making history and looking damn good! 
Last year, Herrington made her Sports Illustrated debut in the mag as a rookie and now she's the cover girl. Talk about leveling up.
In 1997, Tyra Banks was the first black woman on the swimsuit cover (in 1996 she shared the cover with Valeria Mazza), so it was only fitting that Banks was on hand to unveil the 2018 cover to Herrington.
Of course, she did it in true Top Model style.
When speaking about her cover and the two black women who came before her, Herrington said, "Two of my role models are Tyra Banks and Beyoncé, so the fact that I get to join this incredible group of women as I become the third black model on the cover of SI Swimsuit is a dream come true." She continued:
"I am so excited to be part of this iconic brand that has long given identity and voice to women of all shapes, colors and beliefs. I hope that young girls who look at this cover are inspired to dream as big as I did and work hard to attain all their goals."
We can't wait to see more of Herrington while witnessing how she inspires a generation of girls.