IMHO: Ariana Grande has consistently spoken out against Trump. Her peers should follow her lead
Author Michael Arceneaux breaks down the importance of Ariana Grande's consistently visible and outwardly political actions, ending with her most recent Vogue interview and record-breaking voter registration efforts.
As the poll results came in on Election Night 2016, Ariana Grande took to Twitter to express her fear that Donald Trump would succeed in defeating Hillary Clinton to become the 45th president of the United States of America. "Well this is utterly terrifying," she wrote, and after Trump's declared victory, "I am in tears."
Grande eventually took to Instagram to send both a warning and call for unity for what looked to be difficult times ahead: "although i've been crying all night and morning…… It restores my hope a little bit that this is what our generation's vote looked like. it says to me that better times are coming….. we just have to stick together right now. let's please be active and vocal every day toward making each other feel accepted and loved for our differences. not just on election day. please. it's the only way we will be able to get through what could possibly be a very dark few years. If you are feeling how I am feeling right now, please know I am holding your hand from afar and I love you."
Her suggestion of the potentially "very dark few years" ahead proved apt for a litany of reasons, but the underlying character of Trump that informs his ongoing list of monstrosities were reflected no better less than a year into the Trump-Pence administration following a series of attacks in the United Kingdom. The first occurred in May 2017 when a suicide bomber killed 22 others and injured scores more at an Ariana Grande concert in Manchester, England. At the time, Trump labeled terrorists "evil losers" and vowed to obliterate "this wicked ideology."
Weeks later, Grande hosted the One Love Manchester benefit concert on June 4th. Less than 24 hours before the show, news spread of another terror attack in London, where a van mowed down pedestrians on London Bridge and an attacker fled the scene with a hunting knife, killing seven and injuring dozens more.
In response, President Trump opted to attack London's mayor that night (before reportedly playing a round of golf) and called for what has been known as his Muslim Travel Ban, tweeting, "We need to be smart, vigilant and tough. We need the courts to give us back our rights. We need the Travel Ban as an extra level of safety!" As noted at the time by the Washington Post's Phillip Rucker, Trump expressed this sentiment "before offering his condolences to the British people, the victims of three gruesome attacks in as many months."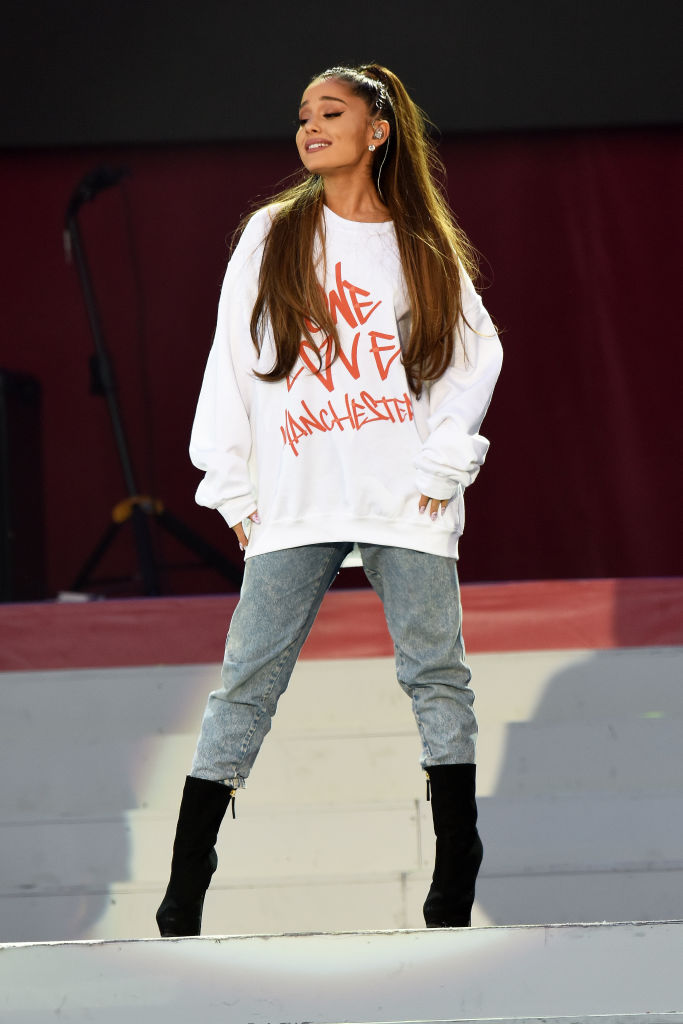 The following day, Grande offered a message that was less racist and fear-stoking to an already anxious crowd of concertgoers. "I want to thank you so much for coming together and being so loving and strong and unified," she said after singing Crowded House's "Don't Dream It's Over" along with Miley Cyrus. "I love you guys so much, and I think that all the love and unity you're displaying is the medicine the world needs right now."
Grande went on to discuss one of the victims, 15-year-old Olivia Campbell-Hardy, who died at the original show.
The juxtaposition in responses between the then 23-year-old pop star and the then 70-year-old U.S. president were so striking that a writer at NBC News said, "It isn't every day when Ariana Grande displays more compassion and inspiration than the president of the United States, but here we are." Many others noticed, too.
In late 2018, upon the release of her video for her hugely popular single "thank u, next," her mother Joan Grande confirmed there was a subtle dig aimed at Trump's hostility towards immigrants and refugees in the visual.
Grande's political views—namely the expression of them—are visited in her Vogue profile, "Ariana Grande on Grief and Growing Up."
In it, Rob Haskill notes "Grande emerged as an outspoken advocate of gun control" as he lists her performances at events organized by the survivors of the Parkland massacre, along with her flying from "Hong Kong to Charlottesville on the last day of her Dangerous Woman tour to perform in A Concert for Charlottesville, a response to the Unite the Right rally."
I'd like to add that, in 2016, Grande, along with her friend and frequent collaborator, Victoria Monét, released "Better Days," a song recorded in reaction to the murders of Alton Sterling, Philando Castile, five police officers in Dallas, and the Black Lives Matter movement. And yes, Grande has proven to be "passionately pro-LGBTQ and passionately anti–Donald Trump at a time when many of her peers have chosen to remain silent about politics lest they alienate a segment of their fan base," as Haskill asserts.
When asked about her open beliefs, Grande declared, "I would rather sell fewer records and be outspoken about what I think is some fuckery than sell more records and be…Switzerland. Am I allowed to say that? I love Switzerland. The fake wokes are waiting to attack!"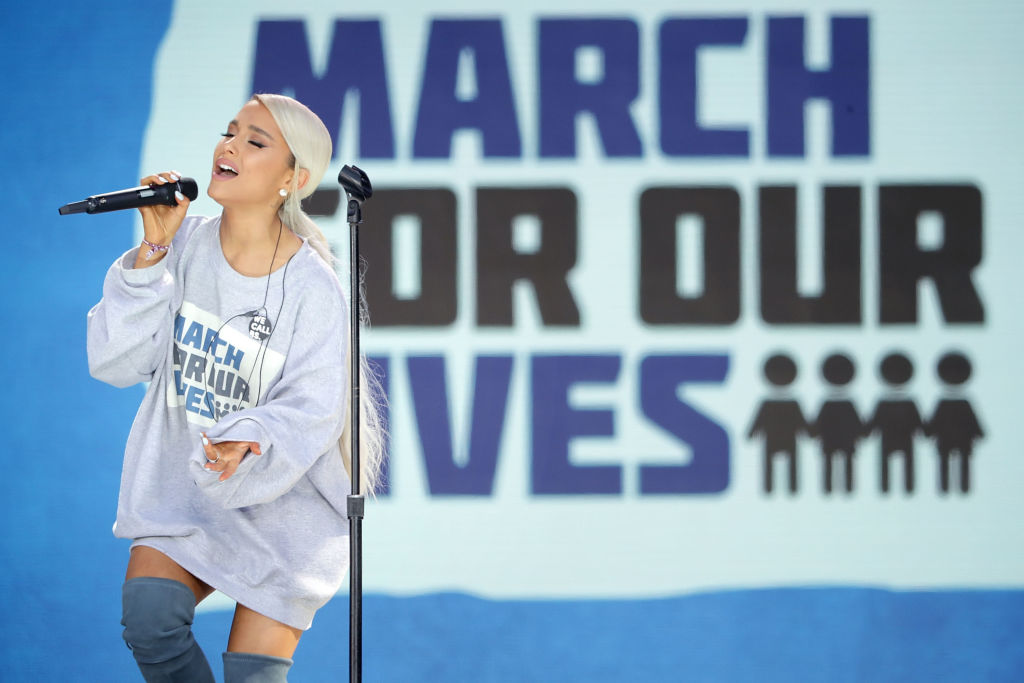 I recently came across the turn of phrase "elder millennial," which is far more offensive than Jaboukie Young-White's "vintage millennial" as heard on The Daily Show (and now appreciated more than ever).
Even so, to be an older millennial means I can recall a time when pop stars like Madonna and Janet Jackson were far more outwardly political.
While Grande is not alone in this—Katy Perry and Taylor Swift, finally, have been vocal as well—she has been more biting, and I mean that as the big compliment it was intended to be. She routinely calls out the likes of Piers Morgan for his sexism along with other men speaking out of turn. While I won't brand her an activist, she has advocated on behalf of the more marginalized members of her fan base at a time when it's frankly more important than ever for white public figures to speak out on the various strains of bigotry and ignorance seeping from this administration, and the right-wing movement propelling it to power.
There are many reasons to love Ariana Grande: her voice, her catalog which has slapped since the very beginning of her music career, her high ponytail. But as Grande gets more praise for taking control of her career—resulting in her greatest commercial successes thus far—she also ought to be applauded for being more outwardly political and not concerning herself with those who may be offended.
Even her invocation of "fake wokes" is appreciated because it's not a comment that was focus grouped to death and/or ran through a sea of suits at her label. And beyond just speaking out, Grande is doing her part to mobilize her fans. In March, Grande announced she would be partnering with nonprofit voter registration group HeadCount to register people who attended her Sweetener tour to vote.
At the beginning of July, HeadCount revealed that the Sweetener tour is the most successful solo artist tour HeadCount has seen since 2008—when former President Obama was running for president. They claim to have registered twice as many voters during Grande's tour, and there almost six months left of performance dates.
Ariana Grande has become a testament to the importance of taking a stand and leading by principle—a message I wish both her peers in the world of pop music and some of the lackluster Democrats more concerned with decorum than fighting take heed of.
Michael Arceneaux is the New York Times bestselling author of the newly released book I Can't Date Jesus from Atria Books/Simon & Schuster. His work has appeared in the New York Times, the Washington Post, Rolling Stone, Essence, The Guardian, Mic, and more. Follow him on Twitter.