I'm an Orlando resident, and I've never been more proud of my city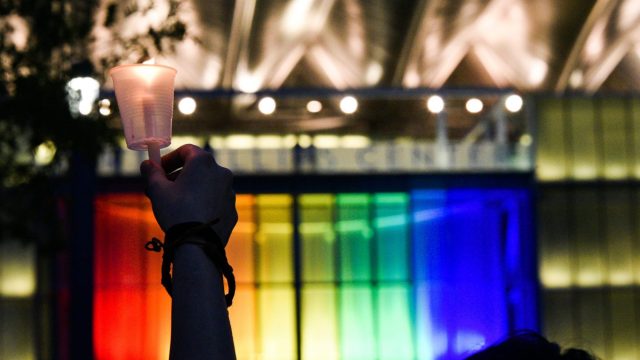 This past Saturday night, I was a couple of miles down the road from PULSE nightclub in downtown Orlando. I have never been to PULSE, but many of my friends – straight and LGBTQ+ alike, but primarily the latter – have frequented it often, and it was a solid place of love, family, and acceptance for them. I was seeing Frank Turner and the Sleeping Souls and Gogol Bordello at a venue called The Beacham, which I'd never been to before either, although I'd been to its sister venue next door, The Social, countless times. It was my first time downtown in the month and a half since I'd moved 15 minutes from it, to the suburb of Oviedo.
I can distinctly remember having four thoughts a few minutes into Gogol Bordello's set: 1)I have never heard anything like this, and I'm not even sure what's happening onstage right now. 2) I really miss living downtown. We could've walked here and I wouldn't have to drive, so I could actually have a few drinks and re-live the four years I called this area my home, if just for a night. 3) My back and feet hurt a lot…I should probably start skipping shows that require me to stand for more than an hour, or at least invest in better shoes. And 4) I'm glad we're somewhat close to the exit, because there are a lot of people in here and after what happened to poor Christina Grimmie last night at The Plaza (somewhere else I've been countless times), I'm more afraid than ever to be out at all, let alone at a concert venue in my city.
I was home safely by 10:30 p.m., and therefore one of the lucky ones in my community to escape any semblance of danger, even if I had been at PULSE earlier. When my brother called me the next morning to ask if I was okay, I quickly learned why: I was not in the group of 49 beautiful souls who met their ends at PULSE at the hands of a deranged terrorist in the early hours Sunday, the 53 others who were critically injured, or 100 others who now have the memory of running for their lives from a place they felt safe and taken care of until that terrible night. I am also not one of my LGBTQ+ Latino friends who could've easily been at PULSE that night — most of whom personally knew at least one victim, and how kind, wonderful, and deserving of life they were.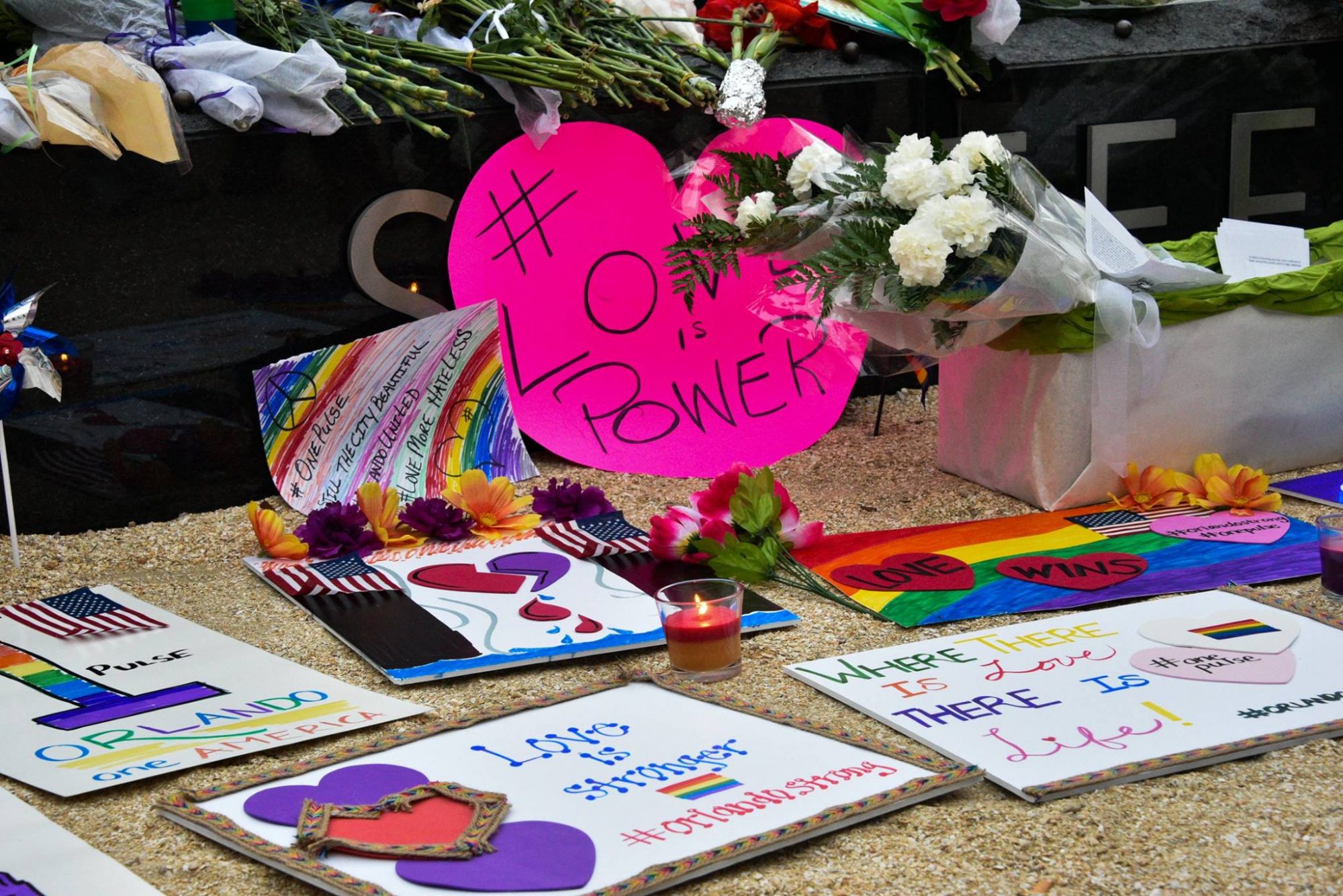 I cried most of the day, scrolling frantically through my "Marked Safe" list on Facebook after adding myself and insisting my husband do the same. I wept for the victims, for their families and friends — many of whom I wanted to console but knew there was nothing I could say except "I'm so sorry." I wept for Drew Leinonen's mother, Christine, who not only waited bravely for hours upon hours to hear news of her son's fate, but had to hear it on the local news. I wept for Eddie Justice's mother, Mina, whose last text from her son was something no parent should ever have to read. I cried again,  in a different way, over the beautiful outpouring of support from the members of my community in the form of blood donations, planned vigils, text messages and phone calls to each other, tributes, and so much more. I wept thankful tears for support from the powerful platforms of President Obama, the Tony Awards, and my personal hero, J.K. Rowling.
People like to rag on Florida a lot, because of everything from its weather to its people to the likelihood of being attacked by a shark on any given trip to the beach. They like to ask me why the hell I would ever choose to live here, when our politics are seemingly nonexistent, if the 2000 presidential election is any indication. They ask how I can stand all the tourists. My answer used to be a laugh, followed by a mumbling insistence that I've considered moving everywhere from New York City to further my writing career, to Los Angeles because of how obsessed I am with pop culture, to Paris just because Paris sounds like the jam and my own personal food pyramid is pretty much bread, cheese, crepes, and wine anyway. But after 13 years as an Orlando resident — beginning with college at the University of Central Florida, to meeting the love of my life working at the customer-focused Florida-borne supermarket chain Publix, to seeing my career flourish and meeting people from all walks of life whom I couldn't imagine meeting anywhere else, my answer is a lot simpler, louder, and clearer: this city is my home.
Yes, we are also home to Walt Disney World — somewhere I hung out on Monday, and would live if I could, terrorist threats be damned — but we're so much more than that. We're a place people come to escape their daily rat-race lives, and reconnect with their own families while giving us the opportunity to get to know where they come from. We're a city where people of all races, genders, sexual orientations, religions, and more can come to feel welcome in a state made up of mostly red counties – many of which surround us on either side. In this sense, Florida — especially its large cities — is the rebel of the southern states. Orlando itself is the UCF Knights. We are the Lions, the Pride, the Magic, and the Solar Bears. We are home to Lake Eola, the Milk District, and historic Church Street Station. We are proud of our SunRail system and our up-and-coming tech community, and are working continuously to be respected by the rest of the country as an environmentally and technologically advanced city. We will claim allegiance to traditionally southern elements and turn our noses up at others, because we can. We will laugh at key-lime pie when it's green and not yellow (but eat it anyway because we really like food). We are home to the best damn tapas and sangria in the entire state, and we will fight you on it.
But what I'm most proud of is that we are home to LGBTQ+ centers that exist to support people who feel like they have no place else to go. I'm proud of the thousands who showed up at the candlelight vigil at the Dr. Phillips Center Monday night, offering not only love, but faces painted in all colors of the rainbow. I'm overwhelmingly proud of the emergency first responders and doctors who worked around the clock to help the injured. I'm proud of the fact that I wasn't able to get into a blood-donation center to contribute my share Sunday because each one I visited or researched was at capacity, so I had to make an appointment for later this week. I'm proud of the number of people who couldn't donate blood, but instead of going home, contributed in the form of bringing water, orange juice, food, and sunscreen for those who stood in line all day – many of whom were turned away after doing so because they had traveled somewhere recently that disqualified them, the center ran out of supplies, or the doors simply had to close at some point. And not one of these people I know complained. Instead, they made an appointment for later in the week and said, "At least I went and supported those around me."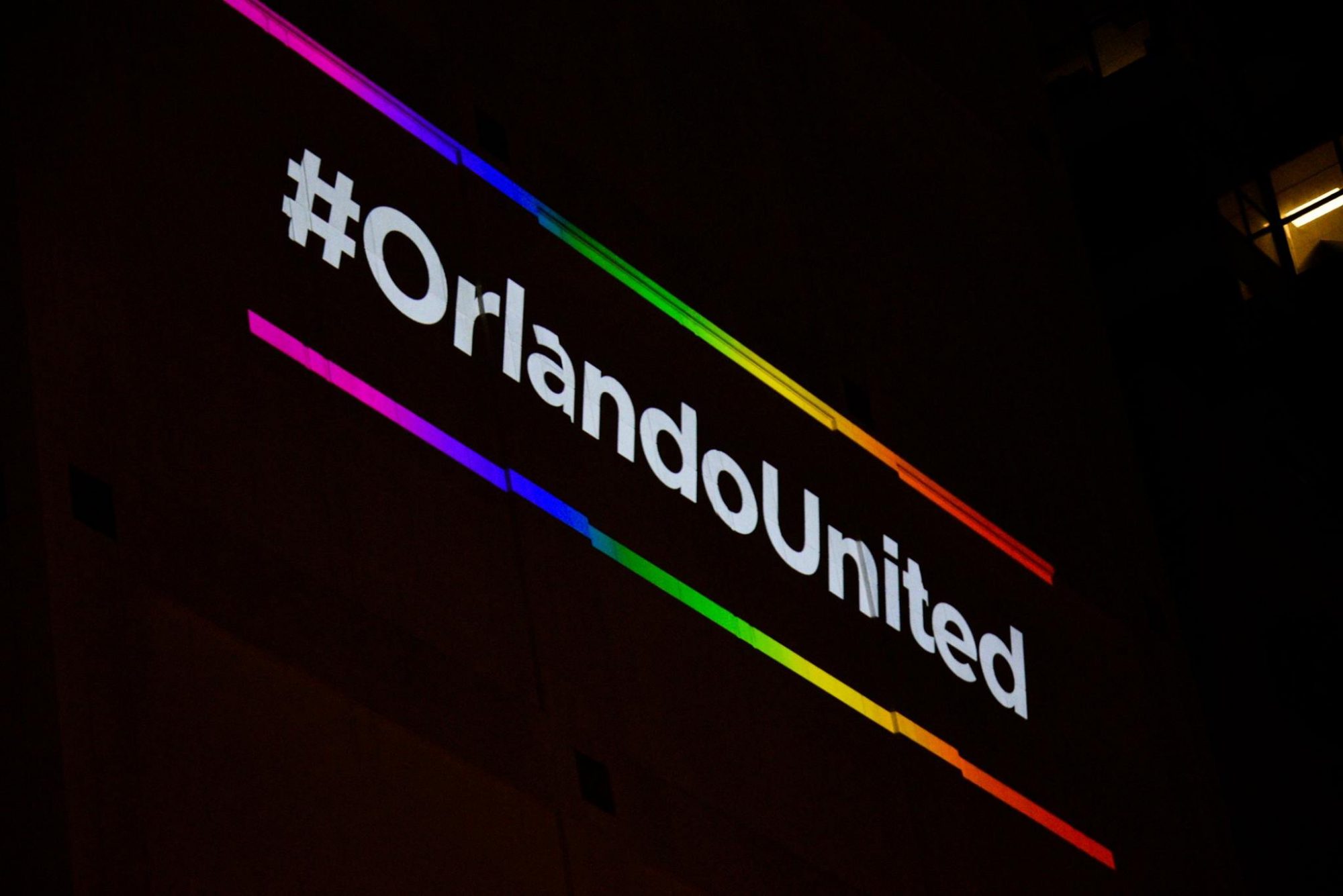 Although this is a nationwide tragedy that affects all of us, it is personal to the people of Orlando, and especially to its LGBTQ+ family and their supporters. It is personal to those of us who have called home a city that is known as a sanctuary for families. We are the town center of the country – the cul-de-sac block party on an admittedly very hot and humid summer night. And if there is one thing we've learned, especially after this weekend, it's that we will never let hate win. We will not allow our city to be defined by an act of terror. Because if we did that, these beautiful people will have died in vain. And we refuse to let that happen. We will fight, against terrorism and for everything from equality to stricter firearm laws, to continuing to be seen as a place where everyone is loved and accepted.
We are proud to be from Orlando, and furthermore, we are proud to be Floridians. We are The City Beautiful. We are #OrlandoUnited. We are #OrlandoStrong. And we are #OnePulse.