I'm not rushing to plan my wedding and I'm no longer listening to other people's opinions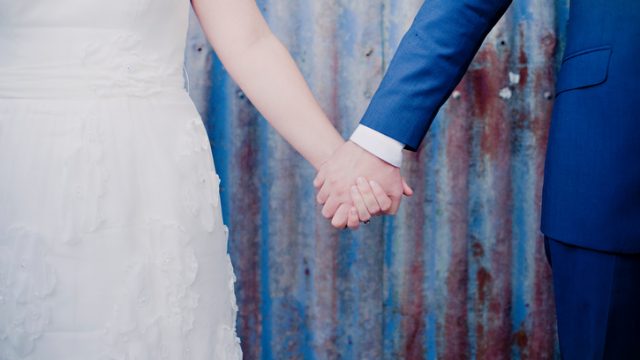 My fiancé proposed to me in January 2017 when we were on a hike in Joshua Tree National Park and I was eating salami. If you know me and my fiancé, you know that this screams "us." I was ecstatic — we had been together for six years and I was looking forward to being his legal partner in crime.
After our engagement, I blindly threw myself into wedding planning, shapeshifting into a person that I absolutely am not. I spent three months looking at Pinterest boards, obsessing over wedding websites, and checking out other people's perfect nuptials on Instagram before I realized I'd never actually thought about what I wanted for my wedding. I looked back at the trendy things I had saved for inspiration, and none of them resembled who we are as a couple.
Here's the thing: I have never envisioned a dream wedding for myself.
There has been no "dream dress" or "dream venue" in my brain…ever. My parents didn't talk to me about my future wedding when I was a kid. I didn't have a book of magazine cut outs à la Monica in Friends. My mom died before we got engaged, so she wasn't there to lead me in any kind of direction. Music, decorations, dress, etc. — you name it, I had never thought about it…until I was engaged.
After the initial panic of planning and Pinteresting wore off, it hit me that our wedding could be whatever the hell we wanted it to be. That also meant our wedding could be whenever the hell we wanted it to be.
My fiancé and I both have demanding careers, not a lot of money, and not a ton of support from family members. So what's the rush? The societal pressure to plan our wedding immediately and to set a date within the next year disappeared…until people around us started to worry:
"But Chelsea, don't most couples get married about a year after their engagement? Doesn't a longer engagement signify that something must be going wrong? Aren't you excited to plan your wedding? I've been dreaming about mine since I was five — why is it stressful for you? Why wouldn't you want to get married ASAP? Are you having second thoughts?
My answer to these frequently asked questions is the answer that I give most people who enjoy being invasive and freaking out for no reason: There. are. no. rules.
Want to be engaged for five years? Great. Want to be engaged for a month? Awesome. Did you have an elaborate wedding plan before you even got engaged? Beautiful. Would you rather just elope instead? You go, Glen Coco. Never want to get married at all? Fantastic.
Once my fiancé and I understood that we can apply our "no rules" philosophy to our own wedding plans, we were so relieved. We kept feeling like we had to do things a certain way in order to appease other people, to reassure people that we indeed still love each other. It was like lifting the weight of 100 overused floral centerpieces off our shoulders.
It might seem kind of obvious, but your wedding (or lack thereof) is just that: yours.
You should do what you want to do, when you want to do it. I'm not sure why it took months for me to finally stop giving a shit about the opinions of Pinterest boards and persistent friends, but I'm so happy my fiancé and I are listening to our own desires — even if that means holding out on wedding plans until we figure out what feels exactly right, and when.
About a year has passed, and we still haven't set a formal date because we're still brainstorming our version of a dream wedding. Right now we're leaning toward something less traditional, because it's the most appealing to our tastes and styles. Hell, we may even end up getting married at City Hall and save our money for a lavish honeymoon in the south of France. Because there are no rules, remember?