This illustrator creates GIANT floral murals and we want one in every room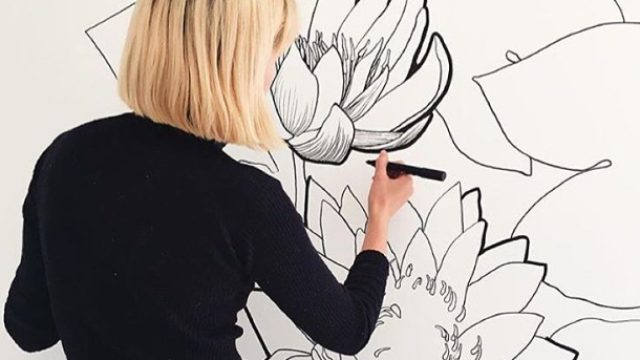 We have SUCH a sweet spot for art, and sometimes we come across an artist whose work just 100% blows us away, and artist Adriana Picker is *totally* rocking our worlds with their super stunning floral murals. An artist based in Sydney, Picker's work is nothing short of massive, and it's massively amazing.
Further proving that Picker knows our souls in their entirety, the artist created two coloring books PERFECT for helping you chill TF out while embracing your creative side. Like, yes. All the heart eyes for this artist!
Here are some of our favorite floral murals!
1. Just check out this stunning video.
Like, OMG. We told you Picker is incredible!
2. It only gets better.
We're SO IN LOVE.
3. And the final product
Absolute beauty.
4. This stunning sketch
Such incredible talent!
5. This AMAZING piece
Ugh, we're head over heels.
6. This killer work in progress
Need it everywhere.
7. And this black and white illustration
Stunning, stunning, stunning.
8. This total beauty
Absolutely adore this one.
9. These pretty pinks and purples
So cheery!
10. This late night painting
Um, hello, perfect pup!
11. And, of course, the coloring book of our dreams.
The perfect gift to the entire #squad!