IHOP Free Pancake Day is tomorrow—here's how to get free pancakes on Tuesday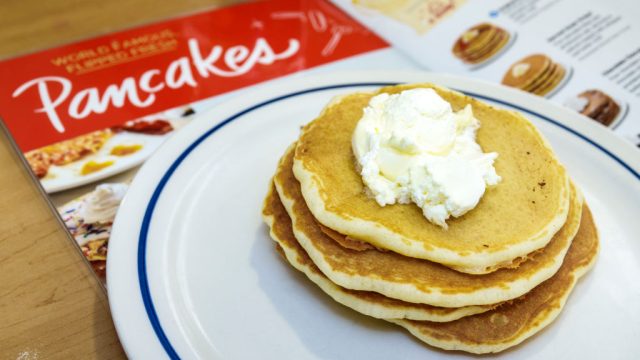 Some people get excited about Christmas. Others live for Halloween. And then there are those who count down the days until National Pancake Day. IHOP created the national holiday back in 2006, and although the date changes annually, true pancake enthusiasts never miss this perfect carb-heavy holiday. This year, National Pancake Day has been rebranded as IHOP Free Pancake Day, and it's happening on March 12th, 2019.
Enter any International House of Pancakes location tomorrow from 7 a.m. to 7 p.m. for a free short stack of buttermilk pancakes, which normally costs a little less than $6.00. As always, this deal is one per guest and good for dine-in only.
This national holiday also serves as a charity drive to benefit the Children's Miracle Network Hospitals, the Leukemia & Lymphoma Society, and Shriners Hospitals for Children. If you take advantage of IHOP's pancake generosity tomorrow, consider dropping a donation and help the pancake chain reach their $4 million fundraising goal during their Flip it Forward for Kids event.
You can also support IHOP's fundraiser by purchasing a stack of their new "Oreo Oh My Goodness" pancake stack—two buttermilk pancakes with Oreo pieces baked inside and topped with icing and more cookies—which was created by 6-year-old chef, Brody Simoncini.
Currently, the pancake enthusiasts of the internet are very much here for this. false
For more information, head over to ihoppancakeday.com or call your local IHOP for more details (some locations stay open until 10 p.m.!), and always remember to tip your server.