If you're medium skin-toned, here are 13 celebs to look to for instant beauty inspiration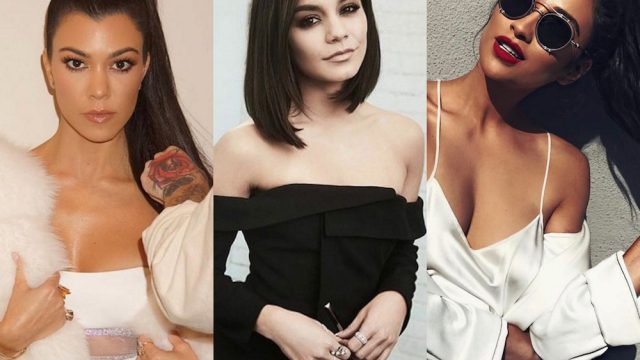 I grew up in the '90s, a time when blonde-haired, blue-eyed beauty was almost the only type I ever saw praised. Trust me when I say that it wasn't always easy for a girl like me to find relatable beauty icons: I have almost-black hair and deep brown eyes. I also have a medium skin tone, and while you'd think that would be relatively common, the truth is, few stars had similar complexions when I was growing up.
Luckily, that's changing. Hollywood is packed with stars who have complexions that resemble what so many other ladies have — and for girls like me, that doesn't just make defining the looks that will work on my own complexion easier, it also gives us a positive lens through which to view our own appearances.
Here are a few of the ladies I love to look up to for beauty inspo.
Jessica Alba
Glowing skin, minimal makeup, and defined lashes compose Jessica's signature look.
Victoria Justice
The stunning star serves up effortless girl-next-door swag like no other.
Kourtney Kardashian
All the Kardashian sisters are beauty geniuses, but Kourt favors bold colors that really make her medium skin tone pop.
Priyanka Chopra
Aside from having some of the best hair in the game, Priyanka is also one of those stars who always matches her beauty look to her outfit flawlessly.
Shay Mitchell
She's such a chameleon where beauty is concerned, and we love that she never shies away from trying new things.
Meghan Markle
https://www.instagram.com/p/BLB_IDRgj9g
The up-and-comer has SUCH beautiful skin.
Vanessa Hudgens
Boho chicks will love looking up to this eclectic star.
Camilla Cabello
The long hair, smoky eye, and neutral lip look is Camilla's thing, and she does it so well.
Jennifer Lopez
I mean, duh.
Adriana Lima
The Victoria's Secret's beauty goes makeup-free frequently, which is seriously awesome to see.
Hannah Simone
Nobody rocks that precise winged liner quite as well.
Chrissy Teigen
Follow her for the hilarious commentary, stay for the killer beauty inspo.
Lea Michele
She always slays '70s-inspired glam, doesn't she?