If your apartment is screaming to be organized, Farah Merhi is here to save you from the clutter monster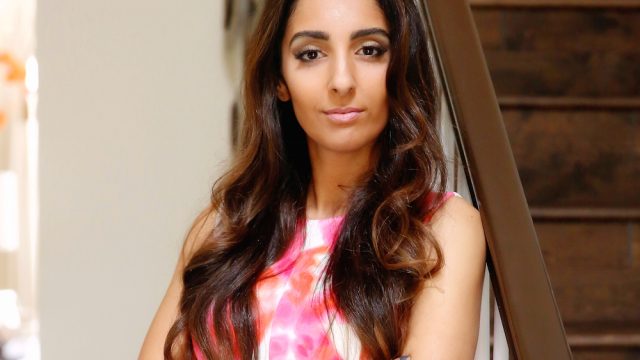 Because some of us failed the Marie Kondo way of life and would rather keep our millions of beauty products and various keepsakes (hey, they DO bring us joy!), we can use a little help in the organization department. Luckily for us, we have Farah Merhi. Farah is the mastermind behind the Inspire Me! Home Decor website, a place for those of us who find sanctuary in a clean, organized, and aesthetically-pleasing home. (Yes, the Instagram is filled to the brim with interior decor porn.)
In the second part of our feature with Farah, the guardian angel of home decor answers all of our queries about organization. Read on for her tips below!
https://www.instagram.com/p/BRrfgCol7l8
What are some basic tips for keeping things organized in a small studio apartment?
We all want our apartments to look great and clutter-free, but how do you do that when space is limited? Well you are in luck — companies are now coming up with furniture that gives you the visual appeal you need, but also offer storage. For example, a coffee table or ottoman that opens up to serve as storage, or sofas with seating that fold up to present storage space. In addition to that, bring in wicker baskets. They look great, add texture and serve as storage. Whether styled by a sofa, arm chair or under an ottoman, baskets have become a staple when designing a smaller space. While furniture storage is a great way to stay organized and keep your stuff stored away and out of sight, you should invest in organization tools for your drawers and cabinets as well. Drawer dividers, shelving organizers, and containers are great to invest in.
https://www.instagram.com/p/BSKZa5BlpPY
What's the best way to store hair care products in a tiny bathroom?
Homeowners are dealing with organizational dilemmas. The good news is that we have organizing tools available to us now more than ever! If you have a tiny bathroom but own a lot of products, get organized by bringing in a small shelving unit — if you have the space for it. Floating shelving is another option. Again, place your products in wicker baskets for visual appeal and style the baskets on your shelves. Consider replacing your pedestal sink with a vanity that offers drawers or cabinets for additional storage space and organize your items in them with shelving and drawer dividers. Finally, throw away things you do not use and keep products that you do use. We tend to easily accumulate beauty products, even ones we don't necessarily use more than once. Unfortunately that contributes to clutter in the bathroom.
How do you suggest organizing keepsakes/memories (ticket stubs, flyers, notes, etc.) in a practical way?
By using photo albums and storage baskets, you can easily stash away memories and keepsakes while still making them accessible for you to look at whenever you would like!
How do you organize a large shoe collection when you have minimal space?
Invest in shoe racks and shoe organizers. These tools will help you organize your shoe collection while making them accessible to you.
https://www.instagram.com/p/BLwiSsqhfmN
What are some tips for organizing jewelry so you actually know what you have?
Organizing your jewelry has never been more fun! There are so many ways to store your jewelry so you can see them, grab what you need and look fabulous walking out that door. You can use fun bowls, tea cups or dishes. Drawer jewelry organizers can be found in so many places now, whether online or in stores like Target and HomeGoods. Look for organizers like clear containers, ring holders, jewelry separators, bracelet holders. Place them in your drawers and voila! Hang door knobs and drawer knobs on a wall or inside a cabinet door to easily hang your bracelets, necklaces and scarves. For an easy DIY project, make your own hanging jewelry display with a cork board and tacks.
https://www.instagram.com/p/BS6DxcMFakl
How do you organize a big makeup collection in a small apartment?
If you are obsessed with makeup and need to get organized in that area, fear no more! There are different ways you can get yourself organized. Look for clear glass acrylic makeup organizers. They come in many different shapes and sized to accommodate your collection. Labeled baskets are another way to organize your makeup collection without losing track of where each item is. Hang floating shelves and store your makeup and tools in jars and baskets. If you already have storage space, organize your makeup by using dividers and baskets for your makeup and small containers and jars for your brushes. If you need storage space, investing in a small dresser or vanity could offer you what you need!
https://www.instagram.com/p/BTK7VbEF2HQ
Are there any mistakes you see time and time again when it comes to home organizing?
Before starting on any organization project, homeowners tend to forget that they need to figure out what they need before buying organizing products. The first thing you need to do is go through your items and see what needs to be donated and what needs to be thrown away. Then you can figure out what type of organization products will be needed for your project. But remember, organizing products won't solve the problem if you do not change your mentality and make a commitment to staying organized. The storage basket won't help if you do not stay consistent with putting things away and avoid going back to clutter by overbuying.
Read more tips from Farah on her website, Inspire Me! Home Decor, and follow her Instagram here.
You can read the first part of our feature with Farah, about spring cleaning, here.