Watch Idris Elba and Kate Winslet survive a plane crash together in the trailer for "The Mountain Between Us"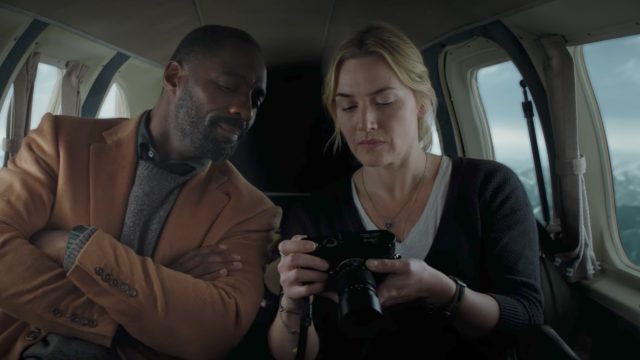 If you haven't yet heard about The Mountain Between Us, brace yourself. The movie stars Idris Elba and Kate Winslet and the first trailer shows a mind-blowing amount of intense action. Kate and Idris are total strangers to each other who end up in a similar predicament. They decide that they can mutually help each other out by sharing a chartered flight to Baltimore together. Kate is about to married and Idris is performing an emergency procedure.
It all seems like a really smart idea until, of course, everything goes awry.
The plane crashes and the two are left stranded, wounded, and freezing in the middle of nowhere. And that's just the start of the film.
Their challenges only really begin after they survive the crash. They have to depend completely on each other to try and figure how to somehow get back to their life as they know it. And there's a dog there?? The two minute trailer alone is filled with a roller coaster of emotions.
https://www.youtube.com/watch?v=3jyzGKXBOxA?feature=oembed
Both Idris Elba and Kate Winslet are insanely talented performers, and you can already see in this short trailer that they certainly flex all their acting chops. Plus, the chemistry between them electrifies the screen.
The movie is based on the 2010 novel of the same name by Charles L. Martin. Though the trailer only hints at the tension between the main characters, the book itself claims to be a disaster romance novel. So we expect this movie will have some more tender moments as these two try and figure out their dire circumstances.
The film is set to hit theaters October 20th. So make sure to do any flying you want to do before then because, based on this trailer alone, you may be a little nervous to hop on a plane for a while after watching it.