Icicle hair is the trend that will carry you through winter
Just when you thought there couldn't possibly be another way to add sparkle to your hair, we go and dig one up for you. Icicle hair is here, and it's perfect for this ridiculously cold winter.
Created by RPZL, a NYC-based extension and blowout bar, icicle hair was inspired by the sun glinting off icicle drips. The look is achieved by adding metallic, clip-in extensions that add the frosty glint in your hair – just enough sparkle to make someone do a double-take. The salon refers to it as the RPZL Frost, and the service is available in both silver and gold.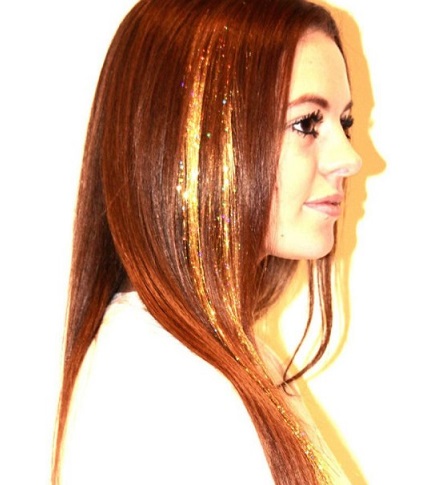 The trend is very evocative of hair tinsel, in which singular strands of holographic tinsel are connected to your hair at the root. That trend kind of lost traction though when people realized just how much work it was. Sure, it was heat-resistant, but tinsel ends up looking deflated and sad after a few run-ins with a heat styler. And it was really easy to pull out by accident with your fingers or hair brush.
If you're NYC-based, you can visit RPZL and get this look for $25 a pop, but you can also re-create the look at home. All you need is a glitter gel like Major Moonshine.
Before you get all freaked out and think "I can't handle any more glitter," this trend is much easier to wear than last year's glitter roots. Since you're only applying glitter on about 2-3 strands of hair, it's less messy. More than that, it doesn't have to glide through the rest of your strands when you wash it out.
One of the perks of doing it at home is that you can control how subtle or visible you want the shimmer to be, but remember: this trend is all about the hint of glimmer.
(Images via RPZL)