You can now get ice cream for breakfast, and basically we are complete as humans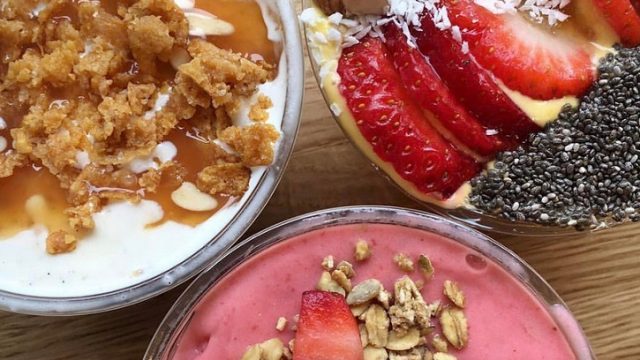 Bills and responsibilities aside, adulthood is nearly as sweet a gig as ice cream. You can stay up as late as you want, go a day without showering (if Netflix requires it), and no one tells you to eat your vegetables. In that same vein, you can also eat dessert at any point in the day. One ice cream store in jolly ol' London has made all our dreams come true with an ice cream based BREAKFAST MENU.
That's right. You can have ice cream for *breakfast*.
Four Winters, AKA literal frozen dessert geniuses, create their brain freeze inducing goodness through
"culinary art and innovative technology to deliver an unbelievable ice cream experience."
Liquid nitrogen lends a hand, too.
In addition to the cereal crunch and strawberry yogurt parfait options above, the ice cream shop also offers a mango smoothie bowl.
This bad boy's toppings consist of strawberries, coconut shreds, chia seeds, and almonds. It's also proven to increase your mood by one hundred percent.
Even better, there's a study out there showing that ice cream for breakfast isn't just delicious, it might actually make you SMARTER. After all, smart people think outside the box…or carton…and ice cream in the AM is definitely out there.
Science is officially on our side in this ice cream breakfast thing!
But, if ice cream for breakfast doesn't sound like a good idea to you, Four Winters offers up other superb choices.
Peanut butter, coconut, and vanilla flavored coffees would be sure to warm you up!
There's also a chocolate chili ice cream, if you're really adventurous! Mmmm!
Vacation anyone? This ice cream breakfast is definitely something we all need to try!