This "iCarly" star had a baby, and now we feel so old!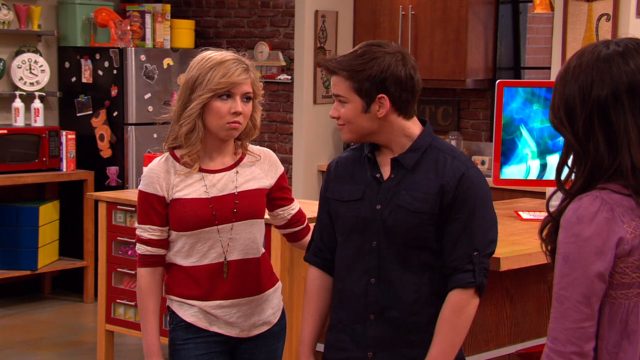 A sad truth of life is that the TV shows we love as kids age with us. Hilary Duff can't stay 13-year-old Lizzie McGuire forever. Cole Sprouse can't always be a lovable twin running around a hotel lobby (though, hey, we'll take the upgraded Riverdale version). Unfortunately, as our beloved child stars age, it's a reminder that we too are aging — and that death comes for us all.
So get ready to feel really old, because iCarly's Nathan Kress just welcomed a baby girl on Thursday! The star who played Freddie Benson has just had his first child with wife London Elise Moore. Yep, Freddie, the nerdy BFF of Sam (Jeanette McCurdy) and Carly (Miranda Cosgrove) is a dad, and they gave their little one the most darling name: Rosie Carolyn. Welcome to the world, Rosie Carolyn Kress!
Moore and Kress, both 25 years old, married in 2015 (with McCurdy and Cosgrove in attendance, of course). The two were actually best friends before they started dating, according to an M Magazine interview. They also both appeared in the 2014 movie Into The Storm. Kress played the role of Trey, while Moore was a cheerleader (and did her own stunts!). In conclusion, their love story is basically a real life iCarly plot arc.
Even though we're having an existential crisis (we do we feel so old now?!), we're seriously happy for these two. Also, Kress posted an adorable photo of his new daughter on Instagram, with a heartfelt caption.
Just gaze at the loving look on his face.
In addition, he included lyrics from the Switchfoot song "Always."
"🎵'This is the start, this is your heart, this is the day you were born. This is the sun...these are your lungs...this is the day you were born. And I am always, always, always yours. Hallelujah, I'm cavin' in... hallelujah, I'm in love again.'🎵 Rosie Carolyn Kress, born 12/21/17 at 3:59pm. 6 lbs, 6 ounces of utter joy. Mom and baby are doing amazing. I am an emotional wreck. In the good way!"
Seems like Freddie is truly happy, even though he didn't end up with Sam or Carly. While Kress and Moore celebrate their new family, we'll just be over here watching old Nickelodeon reruns and pretending we're never going to age.