IBM just revealed a new rainbow logo in response to anti-LGBTQ legislation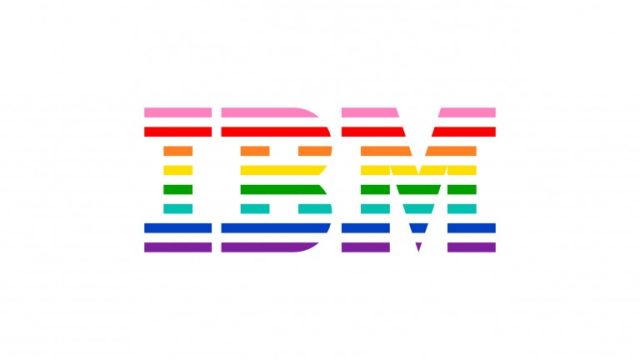 In the wake of a federal court decision allowing doctors to deny care to transgender patients based on the doctors' religious beliefs, IBM has released a new rainbow logo — a twist on its classic eight-bar logo — affirming its decades-long commitment to diversity and inclusion.
In a press release Friday, the company said it "strongly oppose[s] discrimination of any kind toward anyone" and "firmly stands by all of [its] employees." The logo, a riff on the rainbow pride flag designed by Gilbert Baker for gay political icon Harvey Milk in the 1970s, consists of eight stripes of color that mimic Baker's design. Today's pride flag designs typically have six stripes, dropping the hot pink and turquoise lines Baker included.
Here's the original IBM logo…
…and here's Baker's original flag design:
You can actually purchase one of Baker's hand-dyed and sewn flags in the original eight colors here, for $3,500.
In its release, IBM outlined its longstanding commitment to equality, listing the many diversity and inclusion initiatives it has launched over the years:
"IBM established an equal pay policy for men and women in the 1930s, and an equal opportunity policy 11 years before the Civil Rights Act became law. We were among the first companies to include sexual orientation as part of our Equal Opportunity policy, and we extended domestic partner benefits to gay and lesbian employees in the U.S. almost 20 years ago. And our progress has not stopped. We now offer a variety of benefits in 53 countries to same-gender domestic partners or spouses. This year alone we announced the launch of same-gender partner benefits in 11 countries."
That's nothing to sniff at!
IBM also took a strong stand for its LGBTQ employees in June — Pride Month — saying on its website that the company has signed on to two multi-business initiatives supporting LGBTQ inclusion and pushing for federal anti-discrimination legislation, and it continues to use its weight to change anti-trans and anti-gay laws in states where it does business.
Keep it up, IBM! We need this kind of action now more than ever.