What happened at Amber Rose SlutWalk 2016
This past Saturday, I went to the annual Amber Rose SlutWalk in Downtown Los Angeles, and as I expected, it was a magical day filled with education, solidarity, intersectional feminism, politics, and sex-positive ferocity. I had an amazing time at her first SlutWalk last year, and it was even bigger the second time around — drawing 7,000 folks of every gender identity, ethnicity, and sexual orientation.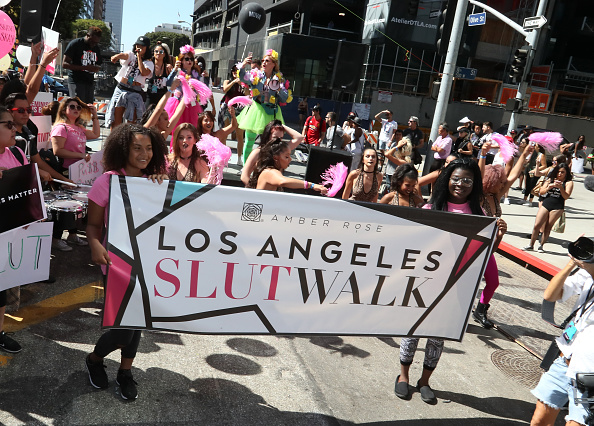 So what exactly is a SlutWalk?
For those who don't know, the first SlutWalk happened in 2011 in Toronto, and was co-founded by Heather Jarvis. After a police officer said "women shouldn't dress like sluts" if they don't want to get raped, thousands of people took to the streets to protest rape culture.
At a press conference earlier that week, SlutWalk co-host, Frenchie Davis, spoke about the movement and the politics behind reclaiming "slut." When a group of people takes back a slur that has been used to oppress them — incorporating it into their own language — it weakens the slur. Frenchie, a genius singer and a rape survivor who was famously slut-shamed on the first season of American Idol, explained how reclamation fights rape culture by revealing the actual injustice:
"If you're more appalled by the word 'slut' than the reason we need a SlutWalk, you're part of the problem."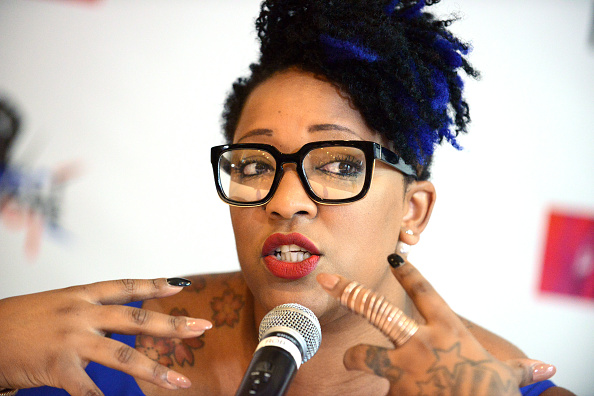 Amber explained how her choice to reclaim was a tactic of self-preservation. Facing a barrage of the same misogynistic remarks over and over, she decided:
"Cool, I'm a slut. I'm not gonna defend myself 'til I'm blue in the face" — especially since you should never have to defend your existence as a sexual being, anyway.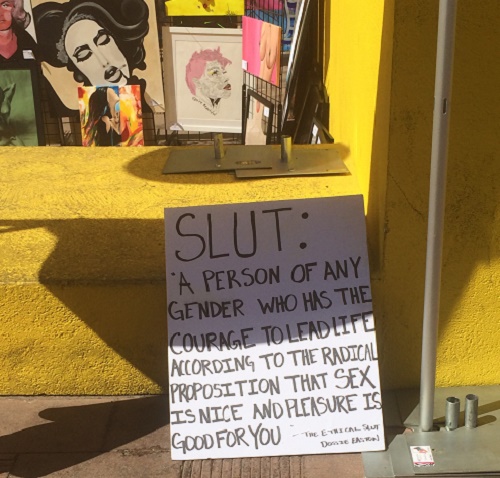 Just like last year, the SlutWalk took place in Downtown Los Angeles, and began as a march that ended in an hours-long celebration at the historic Pershing Square. Muva Rosebud led the march of thousands, a powerful sign boasting "F*ck fame, start movements" held high above her head.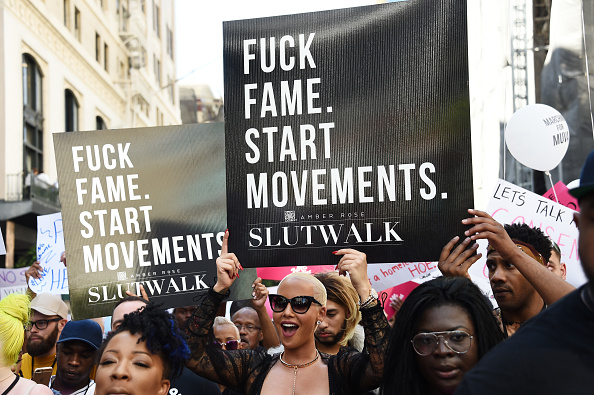 Women carried signs that boldly shared stories of their sexual assaults, while simultaneously attacking victim-blaming narratives:
"Teach don't rape, not don't get raped," "I did not ask for it," "Boys will be boys held accountable for their actions," "No! Does not mean convince me."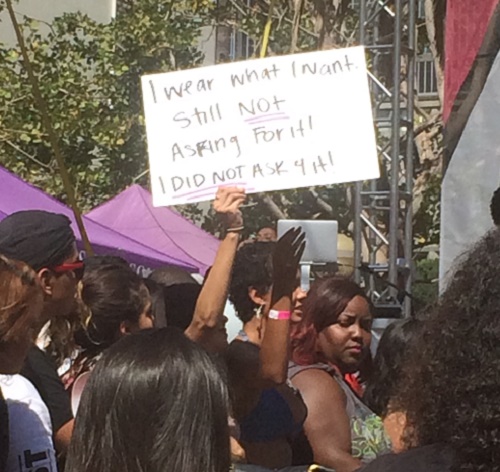 Others focused on sex positivity and bodily autonomy: "Sex isn't vulgar, slut-shaming is!" A woman dressed as a babely Abraham Lincoln held up a sign that read, "I am a slut of the people, by the people, for the people."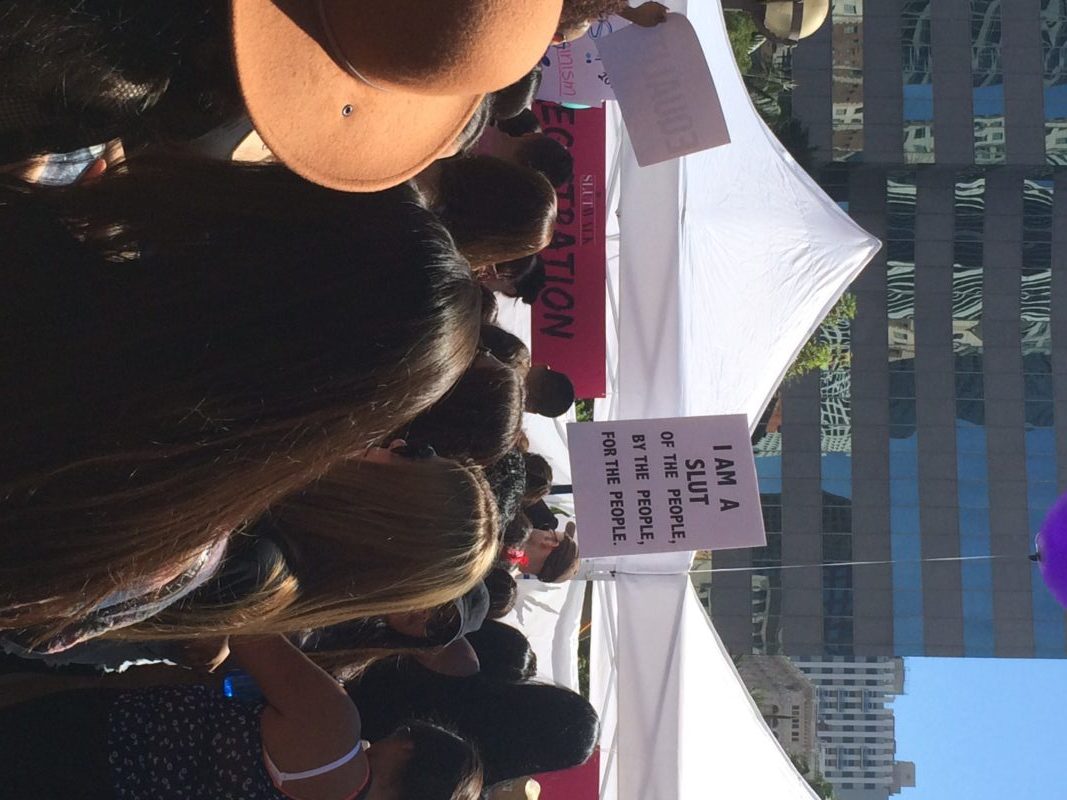 Queer activists held up signs proudly declaring their sexualities: "Bitch, I'm gay!"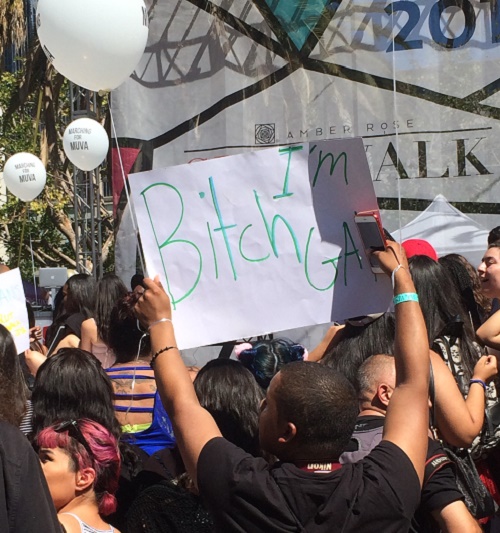 At the earlier press conference, Amber (who identifies as bisexual) made it clear that the movement is also for the LGBTQ community and for people of all genders. She specifically brought up the need to address the rampant slut-shaming of queer men who are sexual assault survivors.
During the march, we were a carefree mass of body-positivity — we belonged whether we wore jeans and a t-shirt or pasties and a thong.
Everyone radiated such positive energy, and a palpable solidarity lasted throughout the entire event. Crowds can be overwhelming and anxiety-inducing — but there was such a powerful feeling of safety and protection among the peaceful protesters.
Not that there weren't any haters, of course. As we approached Pershing Square, we passed men handing out anti-abortion literature, shouting into megaphones about Hell, and raising large banners boasting, "Repent of your wicked heart of unbelief." But our march almost hilariously outnumbered the measly four or five counterprotesters. It was pretty symbolic when their "preaching" was immediately drowned out by M.I.A. and Beyonce remixes inside of Pershing Square.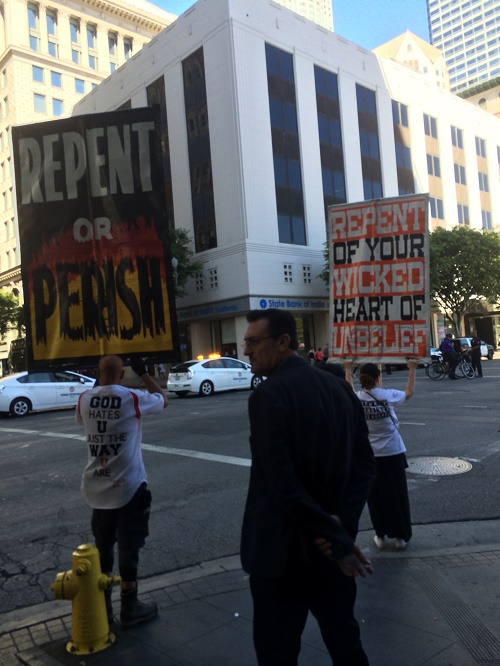 It was a scorching day in Los Angeles, but despite the hours spent in intense heat, the crowd never dwindled.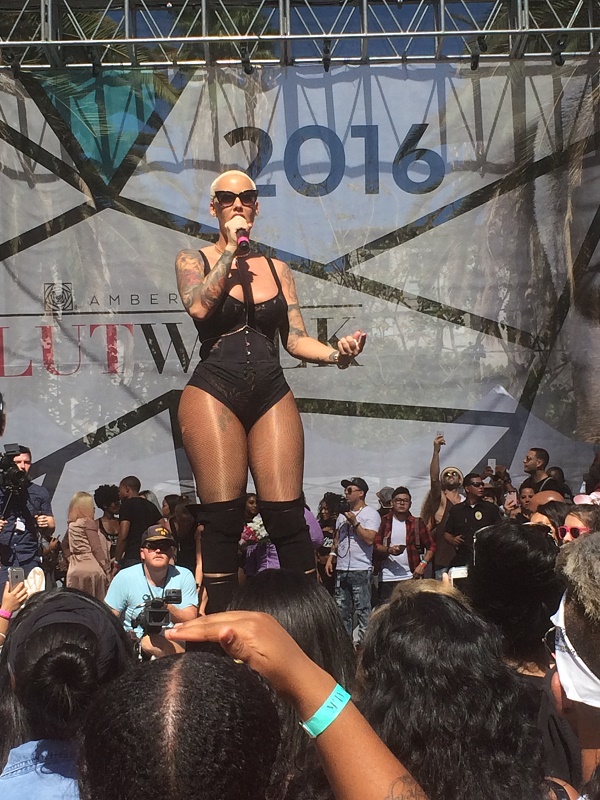 Of course, when Amber walked on stage, the crowd erupted with utter joy.
We all cheered her name and folks shouted, "You did it, girl!" Overcome with emotion, Amber started to cry —happy tears, though. As she said during the press conference, she makes no money from SlutWalk — it all goes to her foundation. This is her passion and purpose, and she seemed overwhelmed to see it all come to fruition for the second year in a row. Once she was able to compose herself, Amber gave a shout-out to all of the other SlutWalks happening around the world.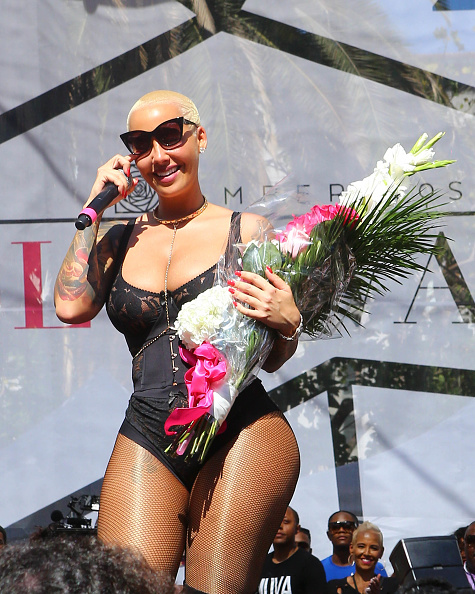 Last year, Amber Rose courageously opened up in devastating detail about the slut-shaming she experienced as a virgin in high school, as a stripper, and finally, by Kanye West (remember the "30 showers" comment) and her ex-husband Wiz Khalifa. This year, her speech was shorter — focusing on the need to continue the ongoing fight: "I started this because I've been slut-shamed so many times… and slut-shaming continues to this day."
Blac Chyna came out to say hi and the crowd went COMPLETELY bananas over the pregnant beauty and BFF to Amber — chanting "Chyna! Chyna!"Amber's DWTS castmate and Little Women: LA star, Terra Jole, showed her support and looked flawless while doing so.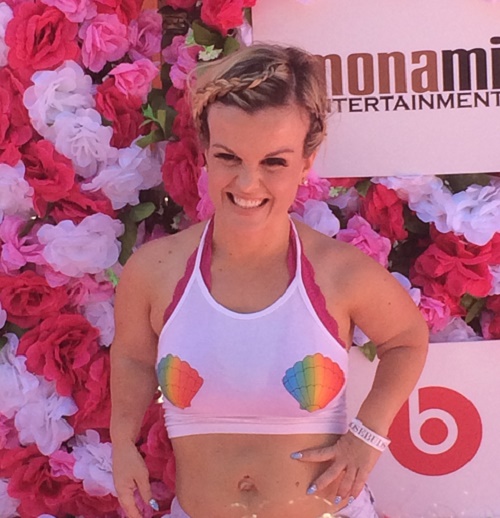 Kendra Wilkinson spoke proudly and passionately during the "Testimonials" portion of the day. She discussed her past as a stripper and as a Playmate — and her choice to do what she wants with her body. Now a mother of two, Kendra shared that, when leaving her house that day, she told her daughter, "This is for you."
Internet meme royalty Joanne the Scammer and Titi hosted the gorgeous body-positive fashion show, and it was kind of surreal seeing the two of them exist IRL instead of on my Instagram explore page.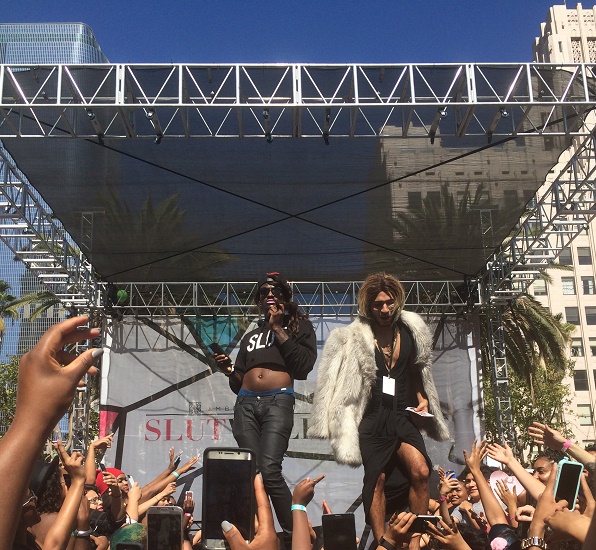 Speaking of the fashion show, it was glorious. Models of different genders, sizes, and ethnicities donned intricately designed and sparkling lingerie, as well as clothing emblazoned with outspoken messages of gender equality and sex-positivity.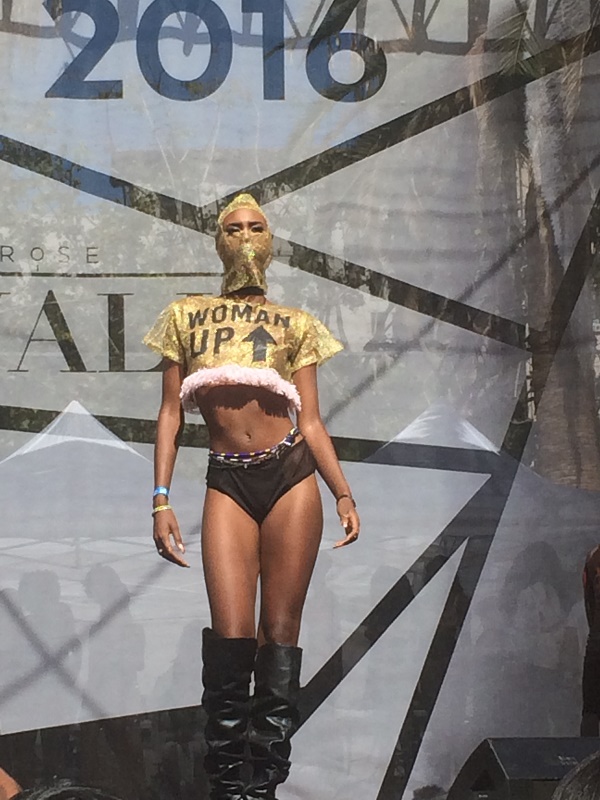 Sounds of "Yaaassss" and "Slay" filled the air. One girl next to me started legit crying tears of joy when her best friend walked in the lingerie show. It was beautiful.
Feminist art was a cornerstone of the event. There was an art gallery in Pershing Square where you could purchase gorgeous and radical illustrations, giving you a chance to support local artists.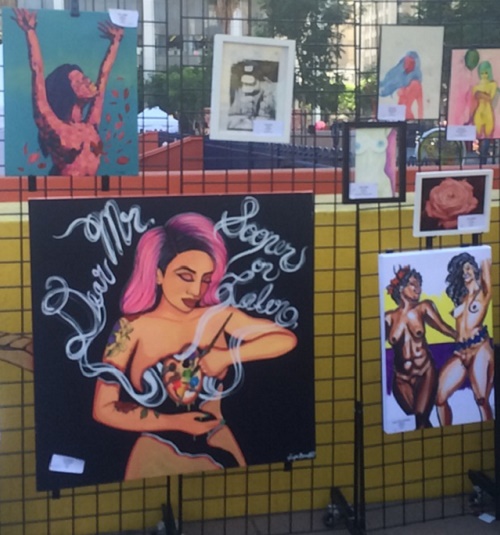 When talking to the crowd, Amber unveiled her plans to eventually open the Amber Rose Museum of Feminist Art, where she will archive all of the art galleries from the annual SlutWalk.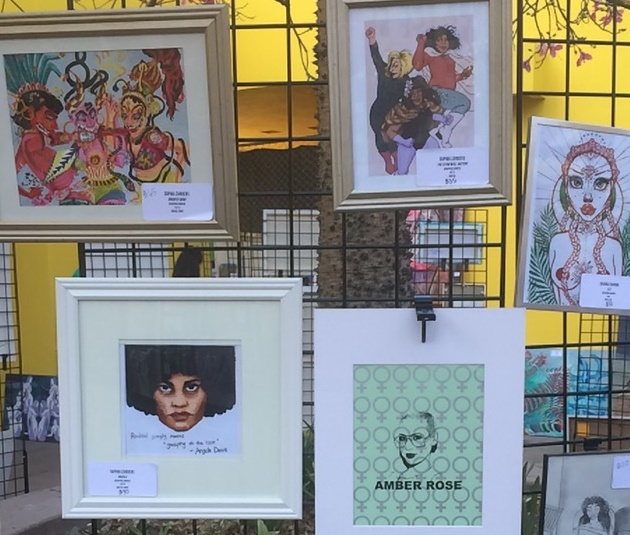 Savannah Brown performed her moving and all-too-relatable spoken word piece, "Hi, I'm a Slut" — a poem that Amber Rose previously shared on Instagram.
The fun, celebratory nature of Amber Rose SlutWalk creates an opportunity to work on the very real issues for which the movement advocates.
There was free HIV/AIDS testing and free mammograms in Pershing Square!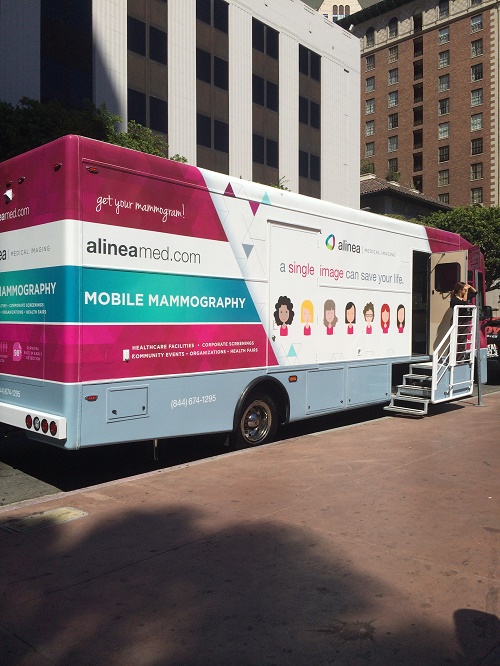 We could go to booths to register to vote, access free therapy services, and share our own experiences of slut-shaming and gender-based violence.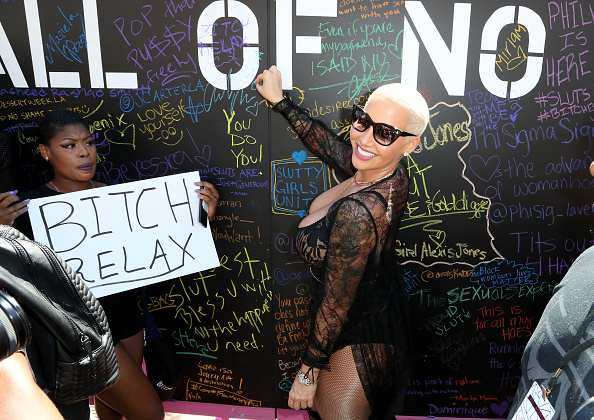 But most of all, it was a celebration of pride and autonomy. It was a party, but it was safe — "a SlutWalk meets a music festival" is how the DJs described it. The audience was treated to a twerk tutorial by incredible dancers, as well as performances by Mariahlynn of Love & Hip Hop fame, Margie Plus, Dyson, and Kap G. And, fittingly, legendary rapper, Trina, was the headliner.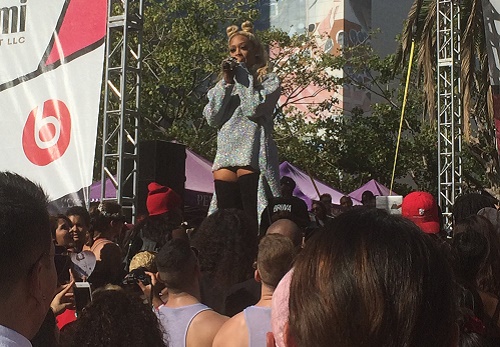 As the incredibly empowering and fun-filled day of collective healing came to an end, Amber Rose returned to the stage to remind us of the reason we are protesting.
She asked us to remember that once we step outside of Pershing Square, we are returning to that same rape culture — so keep each other safe.
As upsetting as it was to come down from the highs of SlutWalk, it was also a call-to-action. The movement must continue, and I can't wait to see how much bigger it becomes next year.