I went to an all-women's "weed camp" where we smoked pot out of papayas and lived free of the patriarchy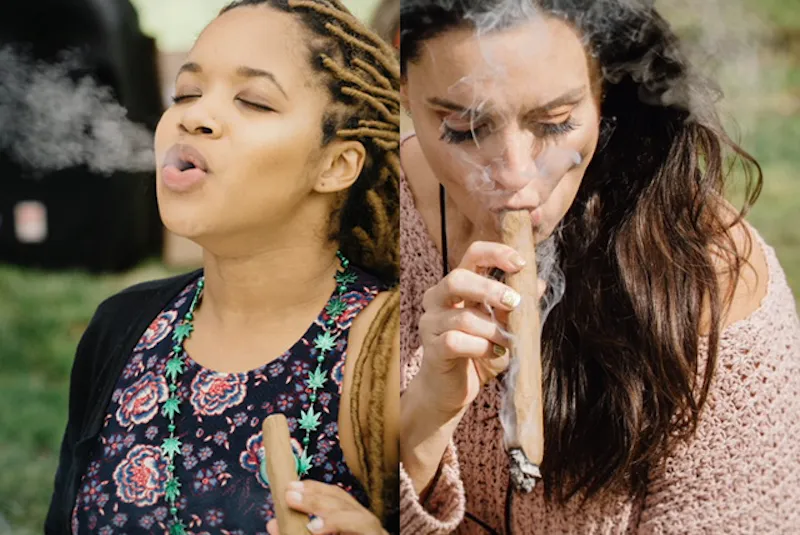 Twenty-four hours ago, I might have found that sentence to be worthy of an eyebrow raise. But now, on morning two of the Ganja Goddess Getaway (GGG), I've developed such an accepting and inclusive mindset (inclusivity being one of the "goddess pillars," after all) that I don't even flinch—or maybe I'm just really stoned.
GGG markets itself as "an overnight retreat for women focusing on ways to use cannabis as a creative and spiritual tool." Their website is packed with self-love ideology and women's empowerment messaging, but you don't fully grasp the camp's philosophy until you're under the "Puff Puff" arts and crafts tent sharing joints with 50 smiling ladies—all while Deidra Bagdasarian, aka Miss Bliss and the mother hen of the Ganja Goddess "tribe," preaches about the importance of empathy (another goddess pillar). If you're wondering, the full list of pillars is radical self-love, empathy, inclusivity, mindfulness and, of course, fun—which, in our case, means cannabis.
Ganja Goddess Getaway started in 2016, when Bagdasarian dreamed up a community where women could connect both with one another and with the cannabis plant. Each year, GGG hosts bi-annual retreats in Northern California and Southern California, and the retreat will soon be offering events in different states. Since its inaugural getaway, the "tribe" has grown. Women fly in from out-of-state and out-of-continent to partake in what is described as a "transformative movement."
But what does it actually look like when 50 female strangers congregate for a weekend of indulgent pot smoking?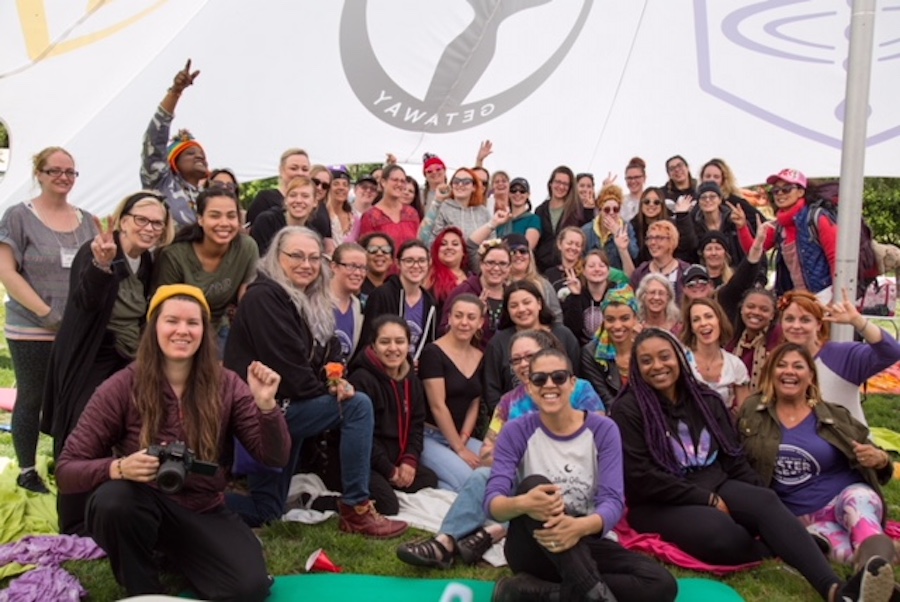 The getaway I selected was special in that it fell on 4/20 weekend. When I arrived to the campsite, located in a secluded area south of Half Moon Bay in Northern California, I felt like I was vibrating with excitement. The check-in table swarmed with women donning green, beaded necklaces adorned with marijuana leaves and signing up for activities like henna and reiki therapy.
A little bit about me: I have always been a recreational pot smoker, but I was coming from New York—a state where marijuana is only legal for medical use. I admittedly felt on edge about what I'd be getting into.
I've lived under the "stoner" stigma for a long time, experiencing plenty of judgment from others. Even now, while I use medical marijuana to help treat a back injury, my family and friends are not short on eye rolls and condescension.
But why? The decriminalization of marijuana seems to have finally gathered some momentum, yet there is still a disconnect regarding who actually lights up. When it comes to women, the answer is more of us than not. A 2017 report by Cannabis Consumers Coalition (CCC) revealed that 53% of women are smoking pot (a higher percentage than that of our male counterparts). The same survey found that women are also the majority gender consuming cannabis at 58%.
Smoking weed is also something I have enjoyed recreationally since I was a teen. And as the legal restraints loosen and more information on cannabis becomes available, I've found myself deeply interested in this controversial little plant. Sites like Leafly make it easy and fun to explore the many, many different marijuana strains available. The mainstream media seems to be picking up on the trend too, with cannabis cooking recipes, strain reviews by weed smokers, and cute pot accessories all over the internet.
With my own weed smoking background and the copious amount of information I've read online, I felt like I was going into the getaway weekend armed with enough knowledge to fit right in. Still, I was thrown by California's relaxed attitude thanks to newly granted legislation stating that recreational marijuana use is legal for adults 21 and over.
Basically, these goddesses were not messing around with their weed and I didn't know if I was ready for it.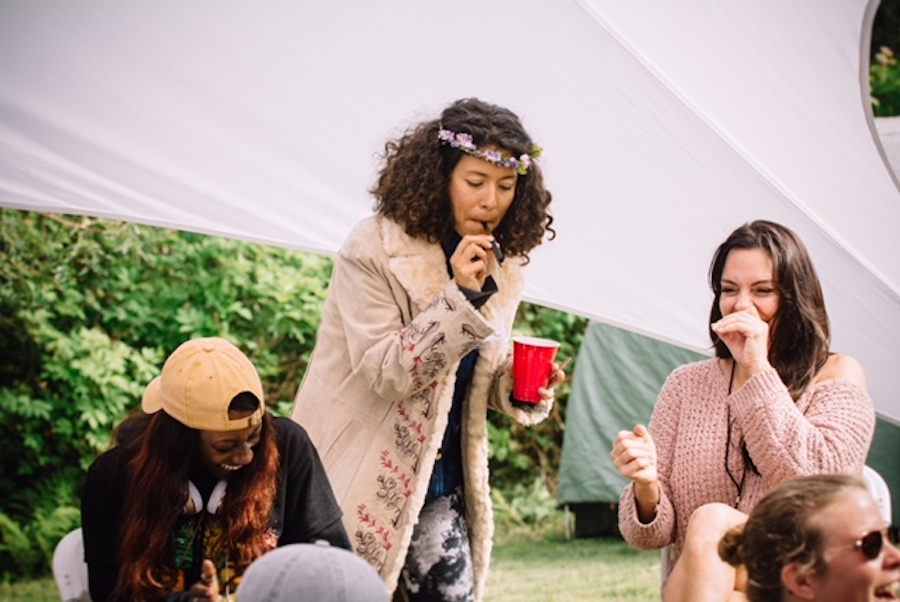 The GGG messaging is clear—don't be an asshole. Just chill out, don't judge other people, and enjoy this experience because you deserve it. All great in concept, but what about in practice—especially for someone like me? I'm the kind of person who goes on a beach vacation and immediately asks for the hotel's Wi-Fi password so I can check my emails, troll social media, and remain constantly reachable for friends and co-workers.
Maybe it was the light sea breeze coming in from the Pacific, or the seclusion of our forested hangout once home to hippies, or (more likely) the strain labeled "Super Glue"—but this trip was different.
Suddenly my intense, cynical New York heart began to thaw. I was ready to live my best goddess life.
The two-day camping retreat is actually more like glamping. You can pay extra to stay in a large house with numerous bedrooms, or you can claim one of the main tents dotted across the campsite lawn. Many activities come to you under the main tent (because sometimes, for obvious reasons, getting up at GGG is hard, and the ladies in charge are in on the joke). The weekend's schedule is printed in a pamphlet but "it's more of an idea." Every stoned desire you've ever had seems to come to life at GGG. Feel like coloring? Go outside the lines in the arts and crafts tent. Want to take a dip in the pool or hot tub? Jump in. Want to lay in an open field and stare into space? Nature is waiting for you.
Guests have free range to attend or not attend as many sessions and activities as they please. The food is plentiful and surprisingly delicious—which, well, take that with a grain of salt considering the circumstances—but I'm talking catered taco night, vegan pizza, and a snack selection better than any "Oh shit, what do I have in the fridge?" girls' night special that I've dined on in some time.
Of course, the camp's weed supply is endless and comes in many forms. There is a dab bar (a dab refers to the dosage of a highly potent marijuana concentrate made from an extraction process). There are bowls, blunts, and edibles. There are even "joint fairies"—goddess volunteers who float around the camp grounds with woven baskets filled with hand rolled joints (they are there to serve you, just in case heading to the cannabis bar seems too challenging).
The head goddesses warn you that there is such a thing as overindulging, so make sure to know your dose. For example, maybe ask questions before scarfing down a 100 milligram edible cookie, retreating to a top bunk for a nap, and then waking up to discover you have forgotten how exactly one climbs down from the top bunk (ahem, this New Yorker right here).
GGG is a vacation designed by women for women in a safe and inclusive space. But what makes it different from other retreats under similar empowerment billing is its honesty.
GGG acknowledges that sometimes you may want to better yourself with yoga, and sometimes you may want to eat five slices of pepperoni pizza without judgment or remorse. I am speaking literally—on the first night, we laid silently, our bodies pressed up against one another for a starlit sound bath meditation, then were immediately provided with an all-you-can-eat chocolate fountain dessert spread.
2018 feels like a reckoning for the patriarchy that seeks to abuse, blame, and silence women. But at Ganja Goddess Getaway, our power felt like less of a conversation and more of a given.
In a nation of oppression, wage gaps, protest marches, and #MeToo, it's gotten easier to see what women can accomplish when we stop being so fucking hard on one another and start using our energy to support each other instead. After I wheeled my carry-on suitcase down a dirt path into a cloud of sweet yet pungent pot smoke on April 20th, that feminist reality seemed closer than I thought it could be. Besides learning how to bake vegan pot cookies and smoke out of a papaya, I learned that there is already a small women-led utopia nurturing an unrelenting sisterhood. Instead of fighting patriarchy with Instagrammable signs and Facebook statuses, their tool of choice is weed.
Ganja Goddess Getaway offers women an alternative route to connectedness—one that asks you to do nothing but exhale negativity and inhale your inner goddess. Who wouldn't want to take a hit of that?