I went to a literal beauty playground and felt like I was in my own makeover movie
I spent a day at a beauty playground, and it was a dream. That sentence sounds fictional, but I promise it's all true. In July, the prolific Hudson Blvd. Group launched a concept salon in Scarsdale, New York, and it functions as a one-stop shop for beauty. The multi-brand location includes four brands and main service categories: DreamDry (blowouts & braids), Pucker (makeup & lash extensions), Spruce & Bond (wax, laser & brows), and Valley (manicures and nail art).
The vision for the new location was to create a beauty playground where women can go relax, get their legs waxed, get their hair blown out, art up their nails, and finish off with fresh eyebrows and lash extensions. The appeal of the multi-brand format is that it gives women high-quality service for each part of their routine. Many of us are familiar with nail salons that offer full-service but you wouldn't trust with your brows. Or hair salons that would offer tepid nail art at best. This is an answer to that compromise. Plus, it's a dreamy getaway.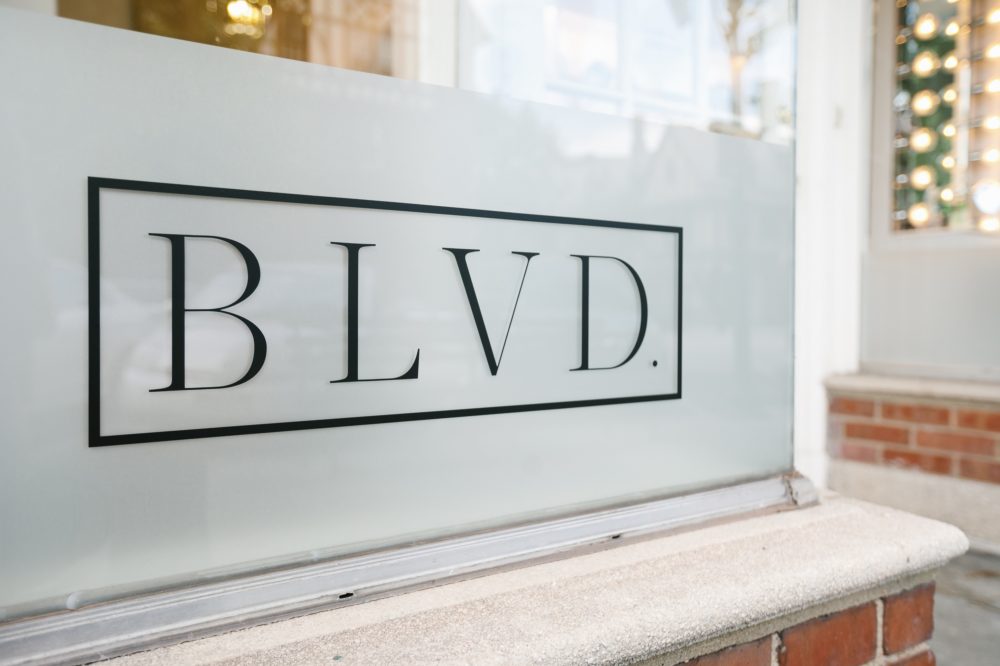 So naturally, when I was asked if I'd like to visit the Scarsdale beauty playground, I had to check it out.
I figured this would be the beauty world version of a Willy Wonka experience I've been waiting for, but without the creepy factor.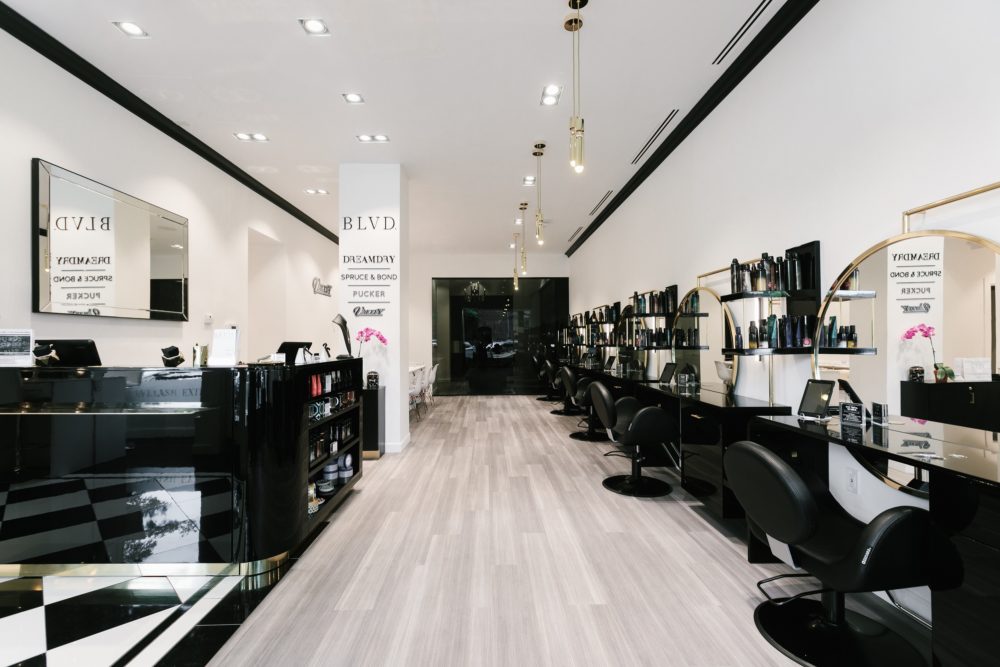 When I arrived, the location was pristine, and I was offered coffee or tea.
The two women at the desk were so friendly, I immediately felt at home. Just look at this glossy palace.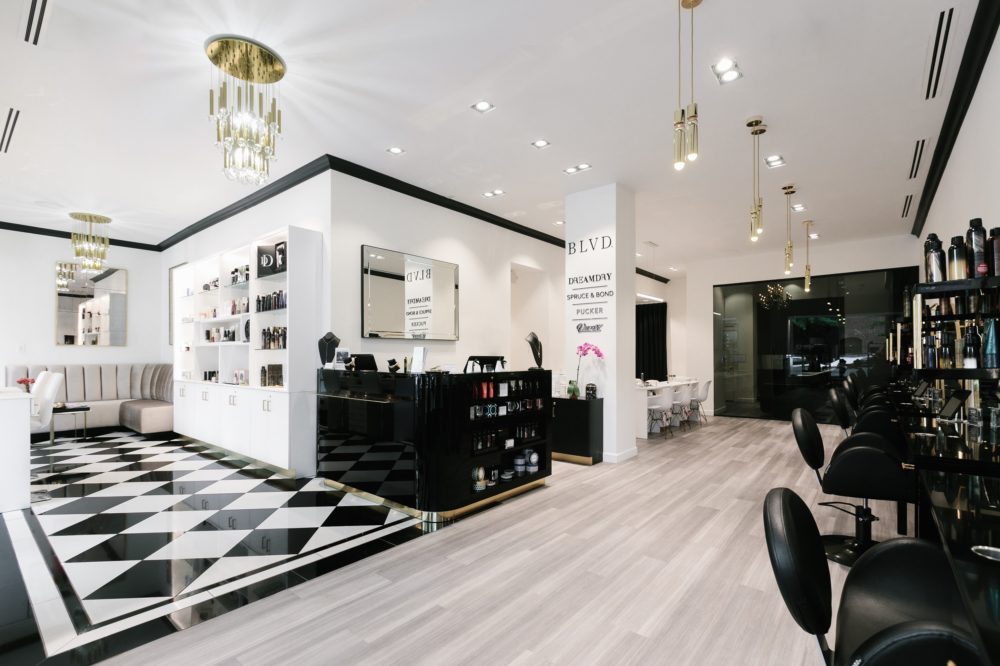 My first stop was Spruce Browlab to get my eyebrows shaped and plucked.
Kandes, the woman who did my eyebrows, was amazing. She told me she worked as a professor for years before turning her passion for beauty into a career. She measured my eyebrows with a protractor to ensure symmetry, cleaned up stray hairs, and gave me instructions on how to "rehabilitate" them. Basically, I've been doing my own eyebrows (I KNOW, I KNOW) ever since a high school friend nearly waxed off my skin, and they need some love. Now I know which parts to grow out and which sections to keep clean.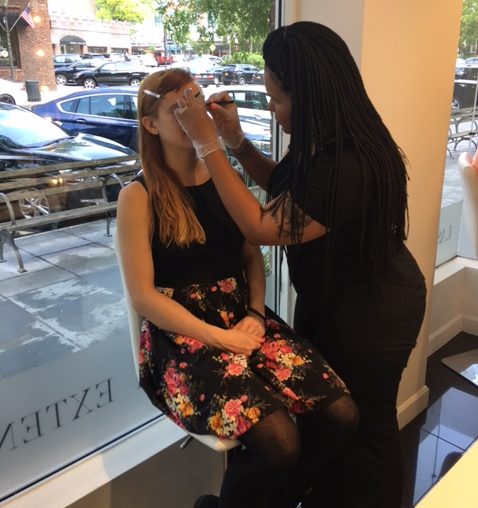 The next stop on my grand tour was Valley for some nail art.
It honestly took me half an hour JUST to pick out what nail art I wanted. They have an incredible selection of colorful glitters, trendy nail foils, and gel colors. While I love a good manicure, I've only had full-on nail art once, so this decision was essential. The woman doing my nails, Carol, was hilarious; we talked about the trend of mermaid nails and her 13-year-old daughter's blooming love of nail art.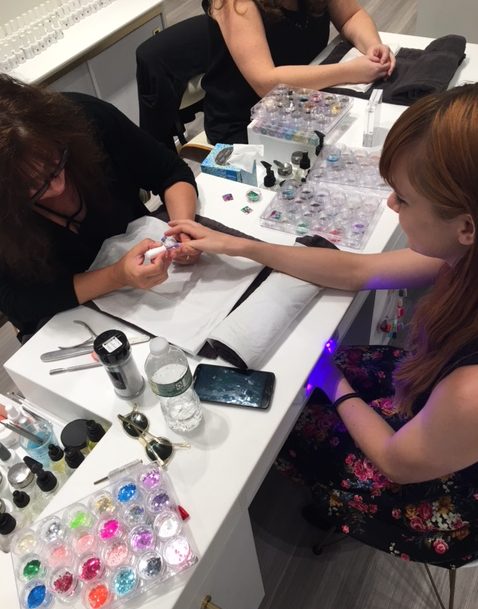 I eventually settled on a purple base and psychedelic foil for my nail art.
As you can see, the end results were killer. I felt like a human disco ball (in a very good way).
My next and finally stop was DreamDry for a luxurious conditioning treatment and blowout.
I opted out of getting waxed this time because I didn't wanna take a bunch of before pictures of my armpits. I'll save that joy for next time. ANYWAYS, the woman who did my hair, Simone, was an absolute delight. She gave me a conditioning treatment for my split ends and then showed me the big book of styles. I wanted to go full-on curly, since my hair is naturally straight.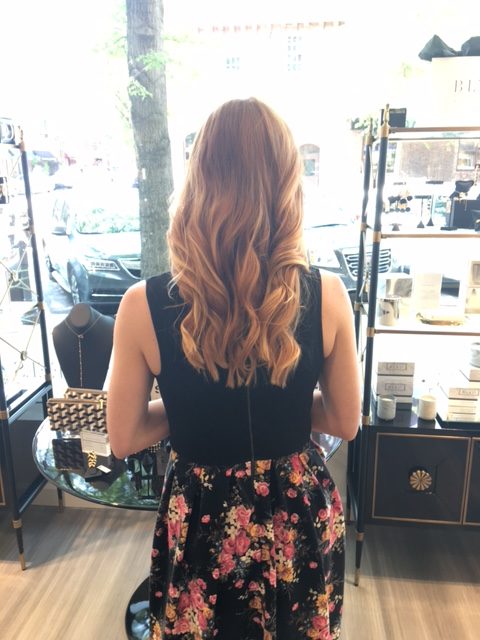 At the end of the day I looked I was ready to release a pop-folk album.
I feel deeply uncomfortable with how pure and wholesome I appear in this photo, but I think it serves as testament to how on-point Simone made my hair look.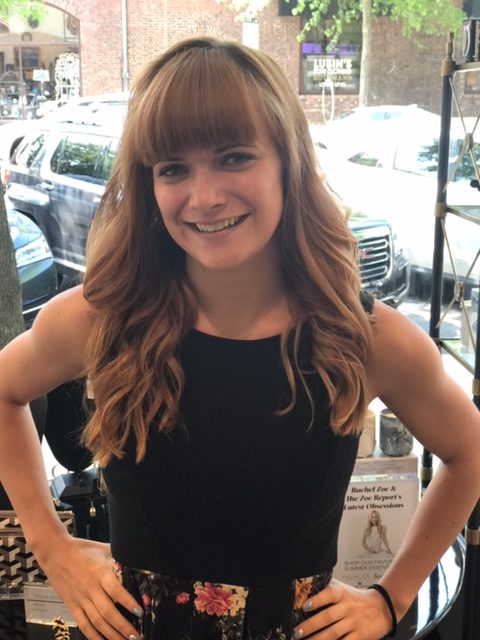 All in all, I had an incredibly spoiled day and definitely felt like I'd been transported to a beauty playground getaway. The concept and execution is lovely, and all of the women were experts in their fields and friendly to talk to.
For pricing, Valley Nail gel polish manicures run $50 and go up to $70 for extensions. DreamDry Blowouts start at $50 and go up to $90 with braids added. Browlab shaping costs $50, while tinting costs $30. If you live in the New York area and have the means to treat yourself, by all means, give BLVD Scarsdale a peep.