I Went from Strip Club Cocktail Waitress, to Self-Help Guru
Joanna Rajendran recounts how a sexual assault, a strip club stint, an ancient practice, and an unlikely friendship led to her life's purpose.
Content Warning: This article contains descriptions of sexual violence and can be triggering for some. If you have experienced sexual violence and are in need of crisis support, please call the RAINN Sexual Assault Hotline at 1-800-656-HOPE (4673). 
"I really am grateful for my rapist," shares 46-year-old Joanna Rajendran, a mom-of-two on the East Coast of Florida. "That is the start of what led me to my life's purpose of helping others through the power of yoga, meditation, and empowering speeches."
While Rajendran had a relatively quiet upbringing in the swanky suburbs of New York City, it was during her freshman year as a student at the State University of New York at Albany, that things began to change. A local boy that she had been casually dating, was preparing to go into the marines. "The night before he enlisted, there was supposed to be a big send-off party at a hotel and we went together. There was supposed to be lots of people, but it ended up just being me and him in a room."
What happened next, Rajendran recalls, would change her forever. "He pinned me down. I can still see his dark eyes distorted with anger. I didn't recognize the man on top of me. He looked more like a rabid dog."
While Joanna just prayed for it to "end quickly," the nightmare continued into the next morning when she discovered he'd not only stolen her body that night prior, but he'd also stolen some of her mother's heirloom jewelry. "My poor taste in men had left my mom vulnerable. Anger and vomit overcame me," she painfully shares.
The incident left Rajendran searching for inner peace, and that's when a hometown friend recommended she try yoga. She was hooked.
It was there that she was introduced to Tao Porchon-Lynch, a world-famous yogi who had meditated with Ghandi, and appeared on national TV (and did it all in heels).
With Rajendran just 18-years-old and Porchon-Lynch, 76-years-old, the two formed an unlikely friendship that seemed to transcend any concept of age or time.
Generations apart in age, Rajendran felt she shared a lot in common with the elderly yogi, who had started her career as a cabaret dancer in war-torn London, where she entertained the troops during WWII. Using her status as a performer, Tao would use her shows as a cover, and help people sneak away to France for refuge.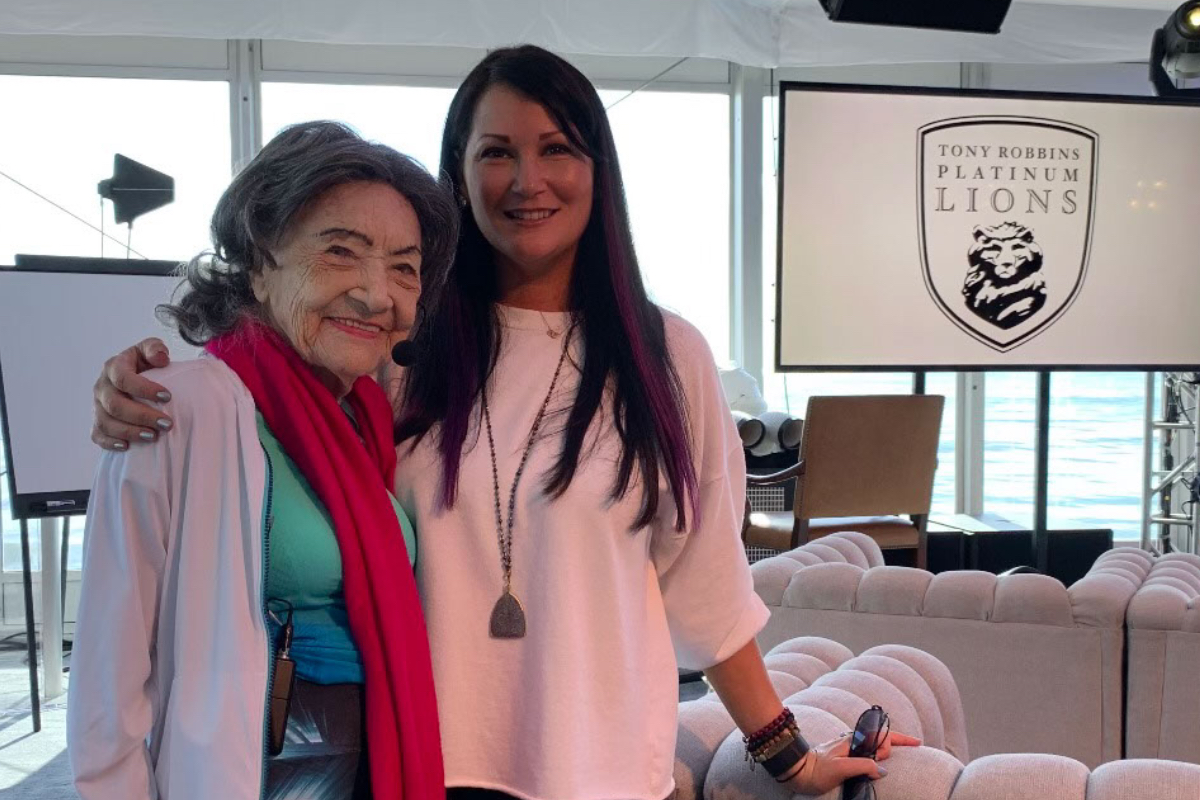 While Rajendran was on a trajectory to become an attorney like her father, her course soon shifted when she realized she'd be better suited to a creative field. After graduating college, she settled on makeup artistry, and began a soul-searching journey that would lead her to The Penthouse Executive Club —a high-end strip club in New York City's Hell's Kitchen.
Rajendran describes it as dark and narrow, with separate rooms for separate — ahem — purposes. The entire place was coated in red velvet. Each shift would begin with the shift manager ordering the boys to get ready and the girls to be, "tits out."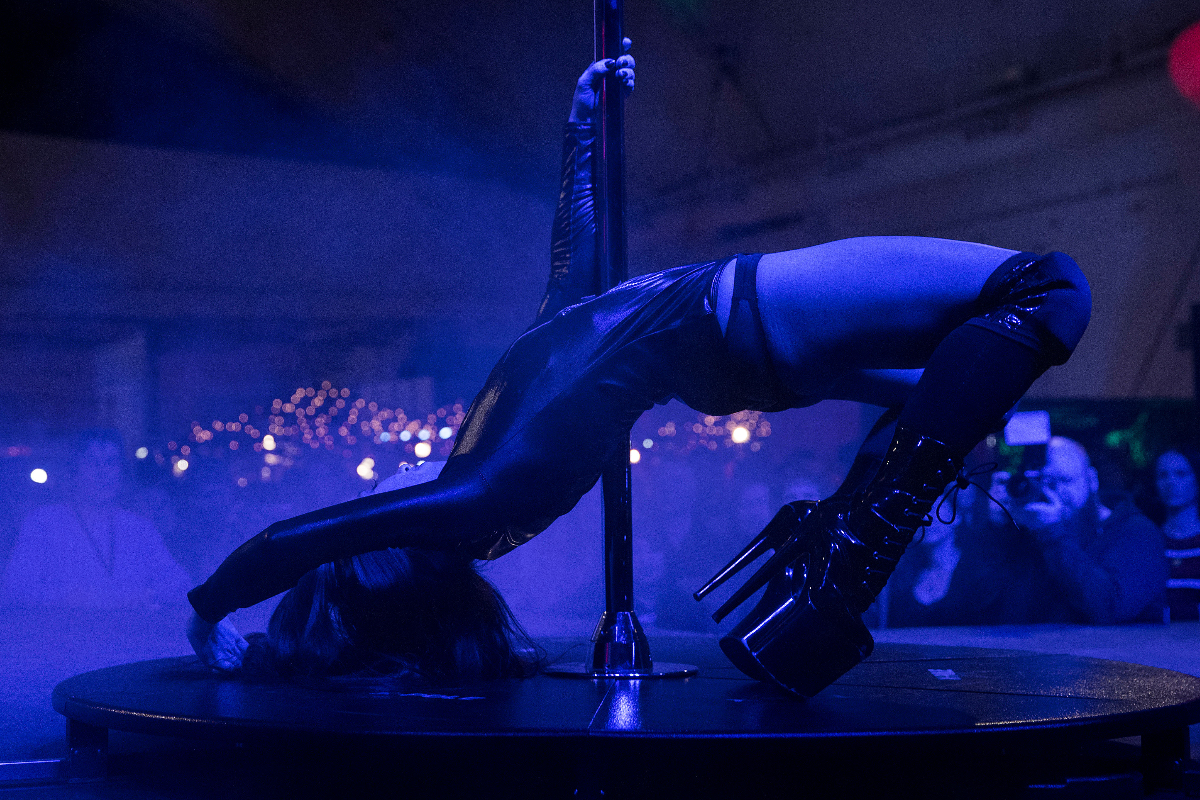 At 26-years-old, she was hired as a cocktail waitress in the exclusive champagne room, where she worked for nearly three years. It was rife with money, both old and new, and provided Rajendran a paycheck that allowed her to pursue her dreams — and continue taking the yoga classes that helped to heal her soul after a traumatic sexual assault.
RELATED: This OnlyFans Model Is a Mom and Says It's Her Most Lucrative Side Gig
She even began meeting for regular booty calls with a certain famous actor, although she won't share publicly who that person is. Once, a patron offered her $10,000 simply to "show him her tits," and she declined. While co-workers thought she was crazy, Rajendran's spirituality and moral compass wouldn't allow her to do it.
"It was one of those moments where I felt myself standing at a crossroad," she shares. "To date, I had managed to maintain my spirituality [while working] in a strip club."
Rajendran was practicing yoga more than ever, she says, to "undo what [she] was experiencing in that tawdry environment." She was given the opportunity to travel to India with Tao on a yoga retreat, where the remarkable woman took her under her wing. That was when Tao convinced her to go from student to teacher.
When Tao spoke, Joanna listened. Up until this point, the guru had never steered her wrong, with her metaphors on life and her positive words of encouragement.
Tao lived her life the way she wanted to, Joanna explains. For example, she only drank wine, champagne and tea, and didn't see a need for water. Tao told her understudy that the Sanskrit word for "wine" was the same as "hope," so she filled her glass daily with hope.
Joanna knew it was time to shift gears, and teach. "My mom told me I was meant to spread peace. Tao's words echoed that. She told me, 'you embody what yoga is, the beauty of life. The connection, the unity, everything you do.'"
From that point on, Joanna's journey shifted from one of despair, to one of hope. She met her husband Mike, one night, while working at that very club. They went on to have a daughter they named Natasha Tao.
One day, while Joanna was attending a school event for her young nephew, she came face-to-face with her rapist again. Except this time, he cradled a toddler in his hands and was just a "normal suburban dad."
While she was briefly flummoxed and nearly fled in a panic, and even considered confronting him, she was overcome with a sense of peace she knew could only come from many years of her yoga practices.
"It was no longer about fear, it was about worthiness," she shares with HelloGiggles. "He didn't deserve my words, my feelings, or my confronting him in an elementary school," she explains.
Fast forward several years later and, after several fertility treatments, at 40-years-old, Joanna and Mike gave birth to a son they called River. By this time, Rajendran had expanded her spirituality practices to include various manifesting techniques such as vision boards, and listening to the teachings of motivational speaker Tony Robbins.
In fact, one of the items on her vision board was to be able to introduce both of her mentors, Tao and Robbins, to each other. After attending one of his events in Florida and befriending a security volunteer, Rajendran was able to get that meeting arranged. At the time, Tao was nearly 100-years old, but was able to make the trip to Robbins' Florida mansion.
While Tao sadly passed away a year later at the age of 101, Rajendran forged ahead — even more resolved that her life's purpose was to help people the way both Tao and Tony Robbins had. During the pandemic, Rajendran and her family relocated to Florida, the same state where Robbins lives.
She says being close to the beach and the ocean has inspired her, and she has started a coaching practice where she counsels people on meditation, breath work, the habits of happiness and success, and mastering their own mindset, via a 12-week course. She has collaborated with Robbins for his private coaching group, and has spoken to many large groups including The Woman's Alliance Committee and Mercy College.
She has also written about her life and experiences in a book called My Guru Wears Heels — which was endorsed by none other than Robbins.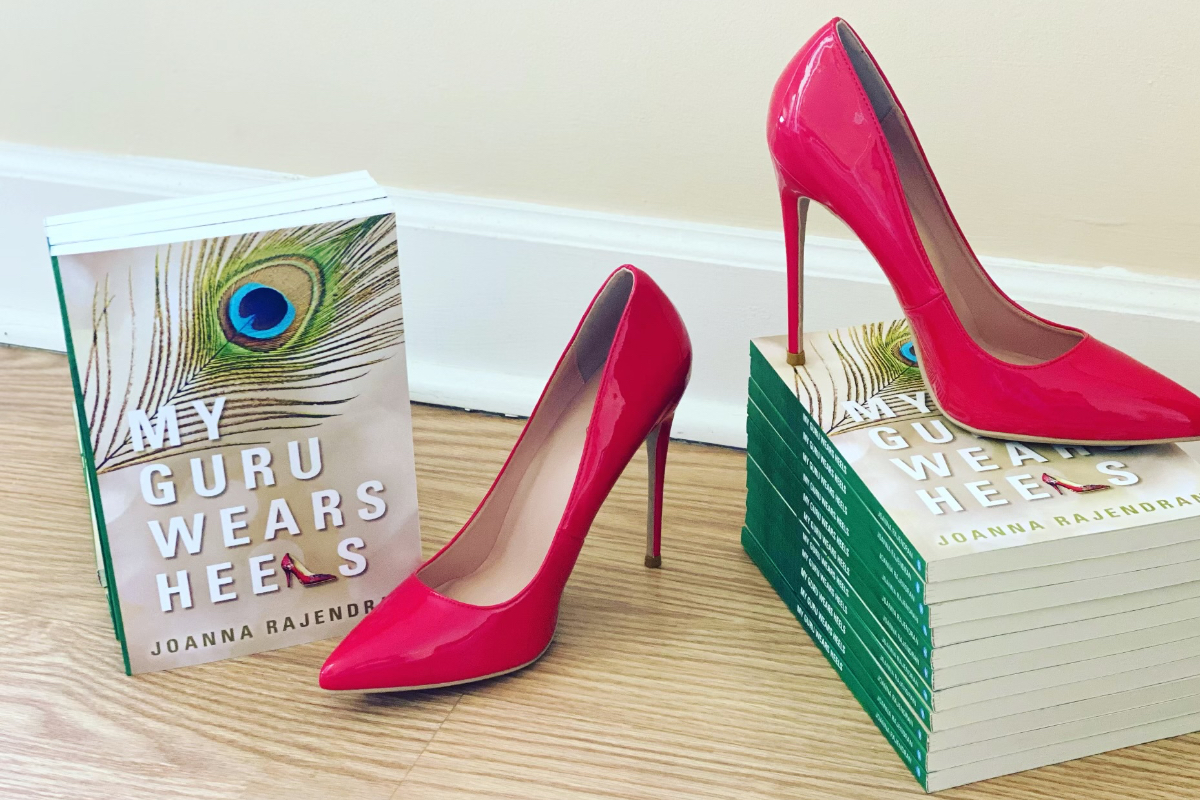 "When you're looking for the light, you will find it even in — and sometimes ESPECIALLY in — the darkest of moments," laments Rajendran. "Looking back, my trauma is what led me to my triumph and what turned sources of inspiration into actual mentors. The love, the career, the connection and the family that I once dreamed about are now my reality."
Jené Luciani Sena is an accredited journalist and internationally-renowned bestselling author, regularly seen on national TV outlets such as Access Daily, Today and Dr Oz. Touted as one of Woman's World Magazine's "Ultimate Experts," she's a TEDTalk speaker and a busy Mom of 4.
Read more