I tried to find a friend using an app, but it was not what I was expecting at all
These past few days have proven to be quite eventful for me. Not only did I exercise every morning before work — which has admittedly become harder to do with each passing week, you feel me, right? — I also left my house a few times … an incredible feat, considering I'm a very happy, die-hard homebody.
But what I did in between barre classes and grabbing my snail mail outside my front door became the highlight of those seven days in early February:
I created an online profile to find a date this Galentine's Day (aka, yesterday).
Now, before we get any further, there are two things you must know: I have a loving boyfriend of three years, Ameer, whose scouting of perfectly-rated lunch spots on Yelp is a hobby I've (surprisingly) grown to appreciate and embrace beyond my own belief. I also have a wonderful best friend, Chelsea, who I've known since Kindergarten and can best be described as the Jane to my Daria.
So, why am I on an app again?
Well, aside from having wanted to use Hey! VINA — a meet-up app for women looking to make friends in New York — for a while now, I've found myself really missing two of my favorite humans. Chelsea recently moved to Columbus, Ohio to live with her fiancé, Christian, after long-distance dating for seven years, while Ameer has found a temporary home in Thailand, where he'll be conducting research for two months to fulfill a graduation requirement for medical school.
I've always enjoyed my own company. Running errands, eating at restaurants, going to a movie theater — I've never felt intimidated by doing any of these things alone. But I was curious … would I be able to form a meaningful connection with someone similar to what I experienced with Ameer three years ago (but, you know, this time in a platonic way) when we met on Coffee Meets Bagel?
My journey began exactly one week ago.
Looking back now, that is not enough time to properly embark on a BFF search. But one week ago, I remained hopeful, dreaming up mental images of me and my new friend frolicking down the aisles of Duane Reade (my favorite pastime) before settling down at a local pub to devour a plate of chicken wings and mozzarella sticks.
I filled out my Hey! VINA profile carefully. I took my time. I wrote a few lines, deleted them, considered a Haiku, and ultimately decided on this brief, but revealing bio.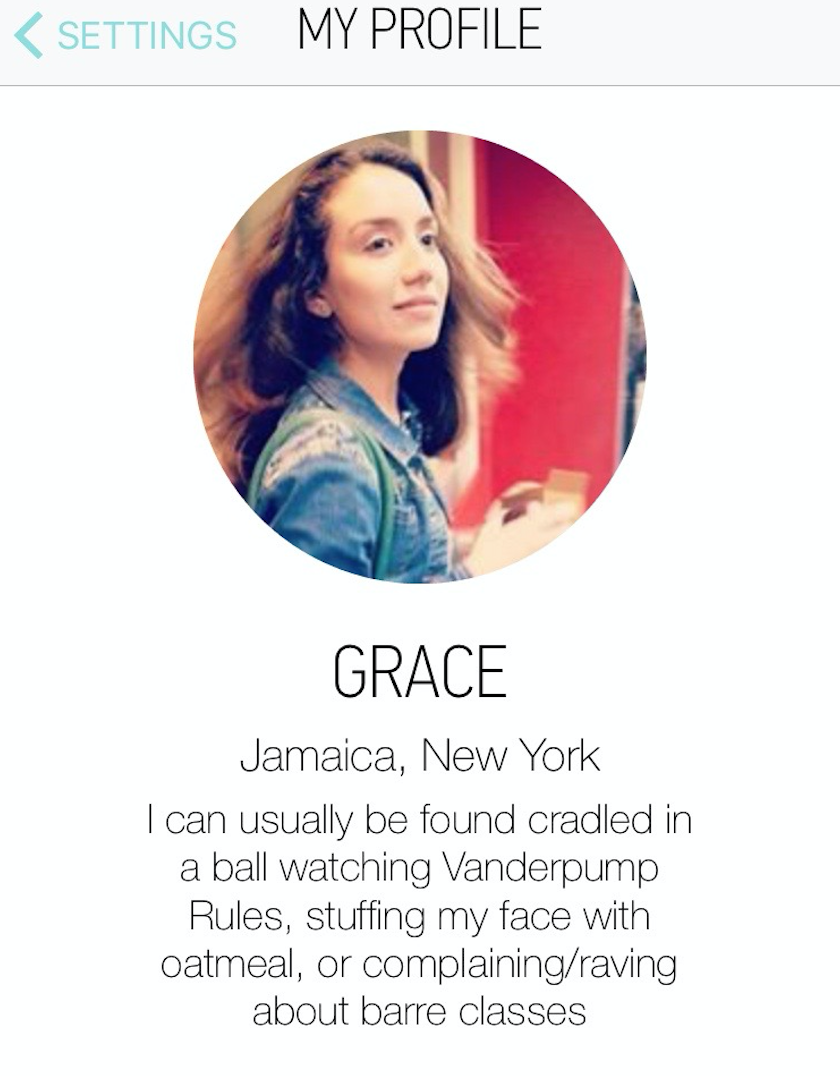 After what seemed like an eternity (really, only 30 excruciating minutes had gone by), I began swiping left and right.
Hmm, this girl is looking for a fitness buddy and she's really into dessert? [swipes right]
She sounds so cool! Oh … wait. She lives in Brooklyn? That's. So. Far. [swipes left]
She prefers partying and watching makeup tutorials over Bob's Burgers marathons and Taco Bell runs? [swipes left]
I was hooked. At first — as is the case with a majority of my friends well-versed in online dating — I carefully selected my picks, poring over each potential friend, giggling at the occasional pun, and frowning whenever I'd come face-to-face with a sparse profile. But after a day or two of being picky, I found myself treating it like a game.
That is until I matched with Emma*, a recent college graduate who lived in Queens and enjoyed "strolls through Sephora and Target."
We had a pleasant back-and-forth, which was abruptly cut short after I sent through my pharmacy rank list. To be fair, she asked me to elaborate on my love of Rite Aid and Duane Reade, and I was more than ready to fill her in. (In short: They're similar to Target but much less overwhelming.)
"Oh my God. I think I might have messed this up," I anxiously told anyone who was willing to listen to my friend dating woes. "She hasn't responded in 30 minutes and my message is marked as 'read.' "
Five minutes later, she responded. But the conversation quickly fizzled out shortly after.
And just like that, I was brought back to fall 2013 when I signed up for my first online dating account. I was met with a slew of mismatches and the occasional bad egg back then — a handful of them with a penchant for ghosting — and felt pressured to not be so picky and to make the most of painfully awkward dates.
Just this time was a little different. I was looking for someone to make fun of DJ James Kennedy (of Vanderpump Rules fame, natch) with on a Monday night who would also be down to eat cups of raw cookie dough (because it's just as acceptable to kick off #SummerBody2017 on the last week of August) while catching up on the latest pop culture-themed conspiracy theories.
That didn't happen because — surprise! — I didn't meet anyone off Hey! VINA.
I'm positive I would have if I spent longer than a week on the app, but I didn't. I don't regret the range of matches, the short-lived conversations and mini bouts of self doubt, though.
Those feelings took me back to a much more complicated time in my life, and it was nice to sit down and reflect back on why I felt the way I did. Who knew a week-long experiment would lead me to confront underlying insecurities? Thanks for the free therapy session, Hey! VINA.
As for what I'm doing today, aka Valentine's Day? I'm treating me, myself and I to ramen, an at-home facial and a Real Housewives marathon — the finer things in life.
And I'm so excited for it.
*Name has been changed.