I tried online counseling so I could talk to my therapist from anywhere. Here's how it worked for me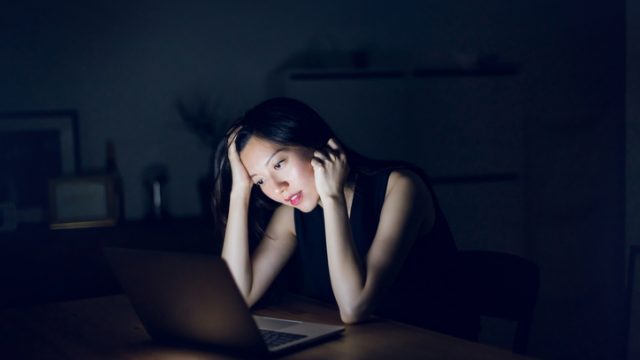 May is Mental Health Awareness Month.
It's 5 a.m. I'm sitting on a hotel balcony in Chiang Mai, Thailand, typing away into a live chat room about my problems. On the other side of the screen, nearly 9,000 miles away, my new therapist, Erin, is reading and responding to my rants.
I would have preferred speaking with a therapist on the phone or via Skype—not to mention in my time zone—but I was having serious anxiety. I needed to talk to someone ASAP, so I turned to BetterHelp, a teletherapy platform designed to match you with a therapist you can chat with from the comfort of your own home.
https://www.instagram.com/p/BxxXbupCbcv
I had been trying and failing to find a teletherapist through my insurance for some time. After having a bit of a breakdown while traveling in Thailand, I posted on a female digital nomad Facebook group to ask how other members deal with their mental health while on the move. I'd been traveling for about a year and a half. I was rarely at home for longer than a week each month, briefly seeing an in-person therapist all of two times before leaving the country again. I knew that sticking solely with in-person therapy wasn't much of a helpful option for me at all.
And that is how I ended up in Thailand with awful anxiety and in a chat room with a therapist on BetterHelp.
If you find yourself in a similar situation abroad, if you don't have insurance, if you're too shy to speak to someone in person, or for any other reason, teletherapy might be a good option for you. Here are the pros and cons from my experience with teletherapy, and with BetterHelp in particular.
They offer financial aid if you're on a tight budget—and you don't need insurance
When I heard about BetterHelp, the first thing I looked for was the price.
While BetterHelp offered chat sessions and other add-ons that a traditional IRL therapist doesn't (you can technically message your counselor at all times, although they can take up to 24 hours to respond), it was also more expensive at $40-70 per week. My copay for seeing an in-network therapist was generally around $30 per session.
But after signing up for BetterHelp without taking the final step to add my credit card, customer support reached out to me. They informed me that the platform offers financial aid; all I had to do was enter some simple information (including my annual income), and I was shortly given a discount that made my membership come out to exactly $30/week.
Moreover, if you don't have insurance, BetterHelp is most likely more affordable than seeing a therapist and paying in full, even if you don't get financial aid.
2It's much easier than finding a therapist the "traditional" way
Every time I've tried to start therapy, I've joked that finding a therapist alone would make anyone need therapy.
I'd scroll through hundreds of websites, research tons of therapists (only to find half of them don't have a website), and call at least 25 of them. I'd find that 20 weren't actually taking new patients (regardless of what my insurance claimed), four of them took over a week to return messages, and one of used the Comic Sans font in her emails (a red flag in my book).
I also found, through trial and error, that I definitely needed a therapist on the younger side, especially since so much of my life (and therefore, my problems) deals with new-fangled stuff like Instagram, FaceTime, and Raya. Unfortunately, many of the therapists available through my insurance appeared much older.
After growing desperate and impatient, I tried seeing an older female therapist; I figured anyone was better than no one. She asked me about my daily affirmations, and the most appropriate one I could think of was, "You're the shit." She looked at my quizzically and asked, "Is that a good thing?"
When I signed up for BetterHelp and originally got "matched" with an older therapist, all I had to do was email customer support and tell them I was hoping to match with someone younger. They sent me a list of therapists to choose from and told me to pick who I wanted. Erin, a 30-something counselor who specialized in relationships, was the second therapist listed. After shooting one more quick email to support, I was immediately able to message her.
https://www.instagram.com/p/BnJuzKXFmTe
3You can only schedule one session at a time
In my previous experience with traditional therapy, we eventually settled into a routine where I would have appointments every Monday night after work. Unfortunately with BetterHelp, it's a bit more difficult to do this since you can't schedule more than one session at a time. Some months I was able to make appointments at the same time each week. Other days, by the time my current session ended, the same night next week had already been booked by another client.
If you like to go with the flow and talk to a therapist as needed, then this might be a benefit for you. But for me, someone who likes to have a plan, it was kind of an annoyance.
4Technical difficulties aren't fun to deal with when you're already feeling off
Other scheduling issues came up from time to time. For example, when daylight savings passed, my appointment time (and day) got messed up and I couldn't speak to my counselor at the time I had hoped. Although I had been feeling okay that day, the frustration of missing therapy sent me into a bit of a funk.
When I moved to L.A., that time zone change made it so that I couldn't make appointments that matched with my counselor's schedule. Oh, and speaking of moving to L.A., this next bullet point is definitely important to know if you plan on moving anytime soon.
https://www.instagram.com/p/BiQPnd2FNdf
5If you move to a new state, you'll have to find a new therapist
You'd think that the beauty of teletherapy is that you can talk to your therapist from any place, no matter where you live—but due to legal concerns, this isn't the case. Because therapists are licensed in one state, they can't practice outside of that state. If my counselor was licensed in Virginia and I am now living in California, then she's technically practicing in a state where she's not licensed, should she meet with me. After I officially moved to L.A., Erin informed me that I would eventually have to find a new therapist, though she was happy to stick with me during the transition.
This was kind of a bummer because I felt like Erin and I hadn't gotten to the "deep" stuff yet, so it felt like my time had been kind of wasted since I'd be starting over. After all, going to therapy is sort of like dating: the magic doesn't happen until you really get to know each other.
6You might not get the same results you would from in-person sessions
On one hand, talking to a counselor anonymously on the phone may help you open up more. On the other hand, this also means your therapist may not be able to get to know you as well.
Shortly after I moved to L.A., I went on a date with a man who happened to be a therapist. When I told him about my teletherapy sessions,  he mentioned that, in his experience, you probably won't get the same results from teletherapy that you'd get from in-person therapy. He said that, as a therapist, he picks up on so much through body language, which he won't be able to read over the phone. He explained that analyzing body language can help him dig deeper with his patients in order to get to the root of their issues.
I understand this concern, although I won't really be able to compare for myself until I start seeing someone in person. Now that I'm no longer traveling regularly, I decided I'm going to look for an in-person therapist. I cancelled my BetterHelp subscription last week because I'm feeling so much better, and I am so grateful that I was able to talk to Erin when everything in my life seemed up in the air. While I maybe didn't get to the "deep" stuff that I hope to eventually work through with a therapist, it was still amazing to have someone give me an un-biased opinion, an affirmation, or even just a listening ear for the past few months.