I tried Emma Watson's favorite pubic hair oil, and it was amazing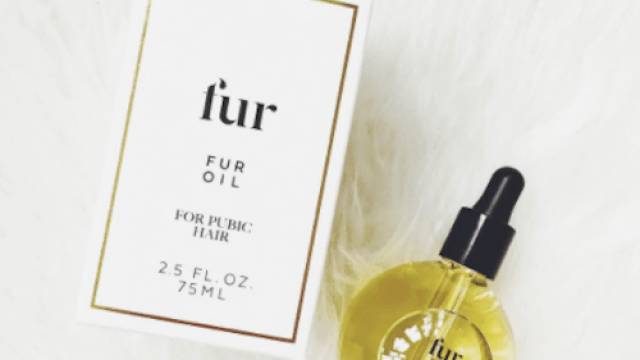 At the risk of giving spoilers at the top of this piece, Emma Watson is a genius.
Last week, Into The Gloss interviewed Emma Watson about her beauty routine. It's worth reading in its entirety, but one thing stood out:
"I use Fur Oil. I'll use that anywhere from the ends of my hair to my eyebrows to my pubic hair. It's an amazing all-purpose product.
From the way Watson said it, I thought it was hair oil she used on her pubic hair.
It's also $40 (still a yes, but less please).
I have fair-skin and dark hair, and sensitive skin, so I've battled ingrown hairs since puberty. Shaving is not an option for me, unless I'm looking for a week of excruciating pain and some unsightly bumps. I waxed, exclusively, for ten years — until that caused too many ingrown hairs, too. Now, I'm getting laser on my bikini line, though I'm overdue for my next appointment by about fourteen months… you know, because money.
I like to think of my snatch situation as Seventies Lite — I'm embracing the pubic hair that comes with adulthood, but it is groomed and under control, which is why I'm all about anything that will soften, and I regularly use a conditioner.
All of that to say, I am in the market for a pubic hair oil. So when Emma Watson revealed that she swears by Fur Oil, I was intrigued. I stopped by Merz Apothecary, the only place in Chicago that stocks Fur Oil, only to find that I'd been late to the draw.
There had been an Emma-Watson-fueled gold rush on the stuff and they were fresh out, but thanks to an ANGEL OF SKINCARE, I didn't leave empty handed.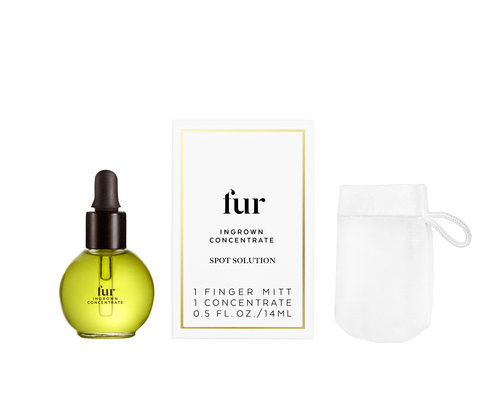 They gave me a healthy amount of samples, and I grabbed bottles of the Ingrown Concentrate ($28) and Stubble Cream ($34) because I never do anything half-way, and I have a little bit of a spending problem.
In the name of a true experiment, I decided to test out the pube oil in a whole night of self-care.
Watson takes a bath every day of her life, so I took an epic bath. I would have loved to try the Lola's Apothecary Queen of the Roses Bath Milk that Watson mentioned— it was inspired by Cleopatra's milk baths— but at £70, it was too pricey for me. (Somehow, I still managed to spend $200 at Lush. Whoops. Again, spending problem…and maybe that explains why I'm too broke for my next laser hair removal treatment).
The first thing I did was apply the oil to my brows. Wow. I didn't know that my brows were coarse, but compared to how they felt fifteen minutes after I applied the Fur Oil, apparently they were. It made my brows so soft that it will be difficult not to ask people to touch them.
I also ran the oil through the ends of my locks. Again, I was impressed. I have fine hair, so most oils leave my looking greasy, even after I shampoo. This oil left my hair light while also hiding that I am overdue for a haircut, which I am.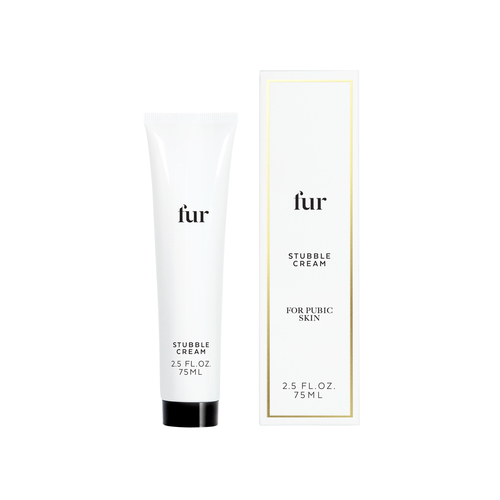 From there, I applied the stubble cream, all over my this-would-be-blurred-on-cable-television area. The products smell amazing. They're minty and fresh, the type of smell that makes you worry — is this gonna sting my bits? Worry not! It feels like heaven on the skin.
After using Fur Oil on my nether regions, my pubic hair is noticeably softer.
For real, I have never experienced anything like it, and I condition on the reg. If a product can make coarse hair un-coarse, this is it. Plus, it made the surrounding skin nice and supple.
Unfortunately, I can't report on Fur Oil's effects on ingrown hairs after using it once, but I am dedicated to finding out. If you're interested in the results of my highly scientific experiment, I will be recording my findings each day for fourteen days on Twitter. (Follow me at @MKnotfunny) ?