I took a workout class with my teenage idol, Audrina Patridge from "The Hills," and here's what happened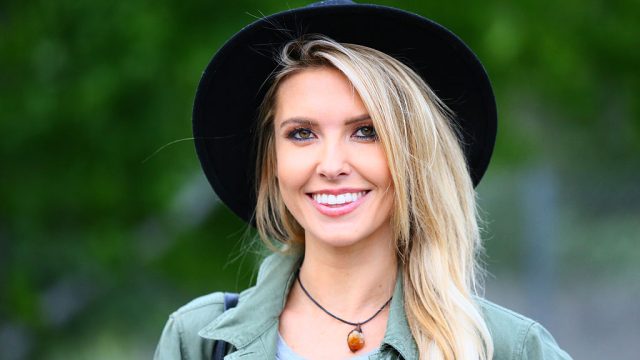 Some people say they moved to Los Angeles because films like Mulholland Drive, The Big Lebowski, or Sunset Blvd. inspired them to live in such a vibrant city. For me, it was MTV's The Hills.
That's why when I got invited to QALO's fitness event for the launch of their new stackable rings, I was pretty nervous about exercising in front of my beauty idol and fave reality TV star, Audrina Patridge. Plus, workout gurus Katrina Scott and Karena Dawn of Tone It Up were going to be leading the fitness class.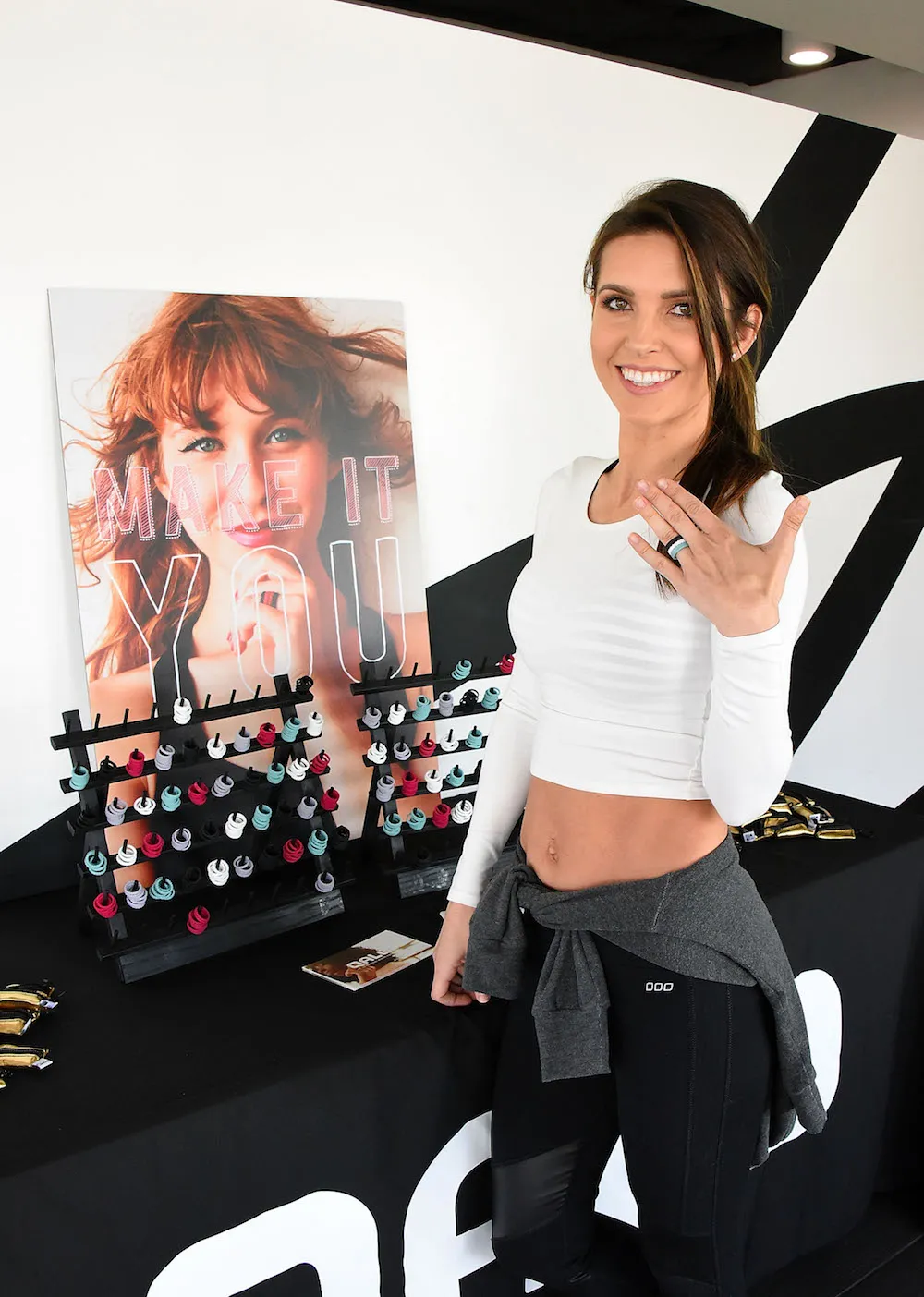 Here's a little background on me, that way you can understand why it was so important for me to scratch this off my bucket list of celebs to meet in person. In high school I became obsessed with bronzer, smudging my brown eyeliner, and wearing my hair in a messy pony, because if Audrina was rocking that beauty look, I was going to do the same.
This is little Alyssa in high school. Notice the smeared brown eyeliner, cheeks full of bronzer, and "grungy" tee with those atrocious accessories? It doesn't even make sense, but I digress.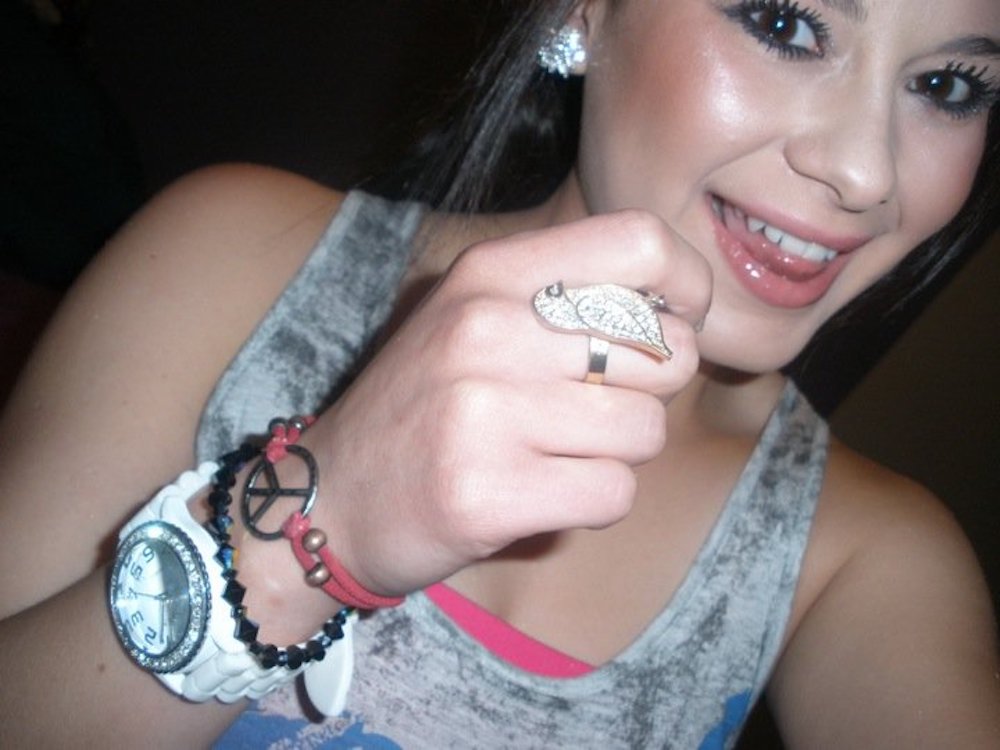 Now that we're up to speed, I was super excited to workout with the boss babes of Tone It Up and Audrina, but I was also very nervous about how my body would handle the cardio.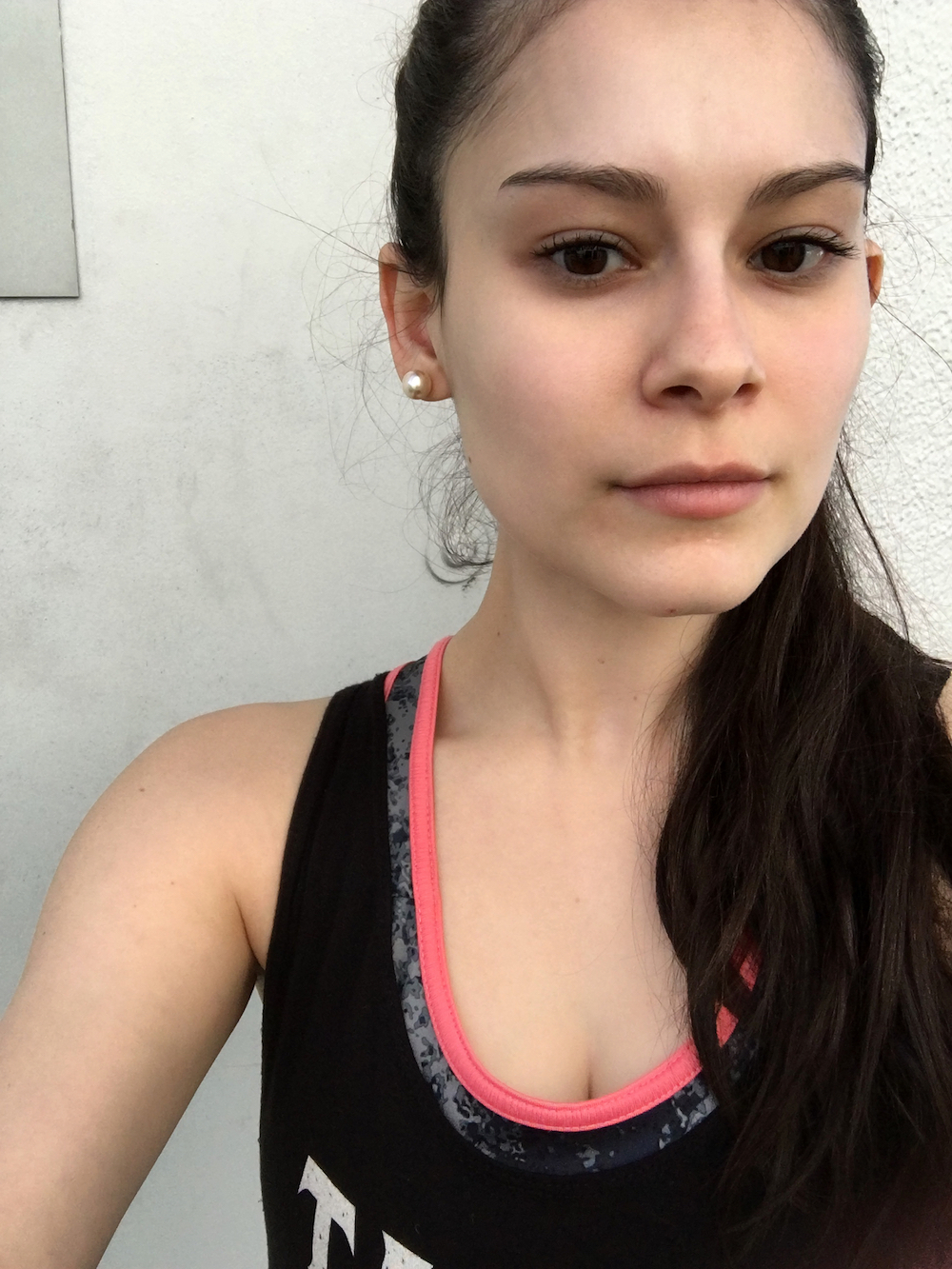 Here's the thing, I wear gym clothes when I'm out grocery shopping and stuffing my face at home, but never at the actual gym. I haven't worked out since Thanksgiving. But, being a new LA native and hardcore celebrity fangirl, I knew I had to just suck it up and sweat it out. Plus, a star from The Hills was taking the same fitness class as us mere mortals. Celebrities, they're just like us right?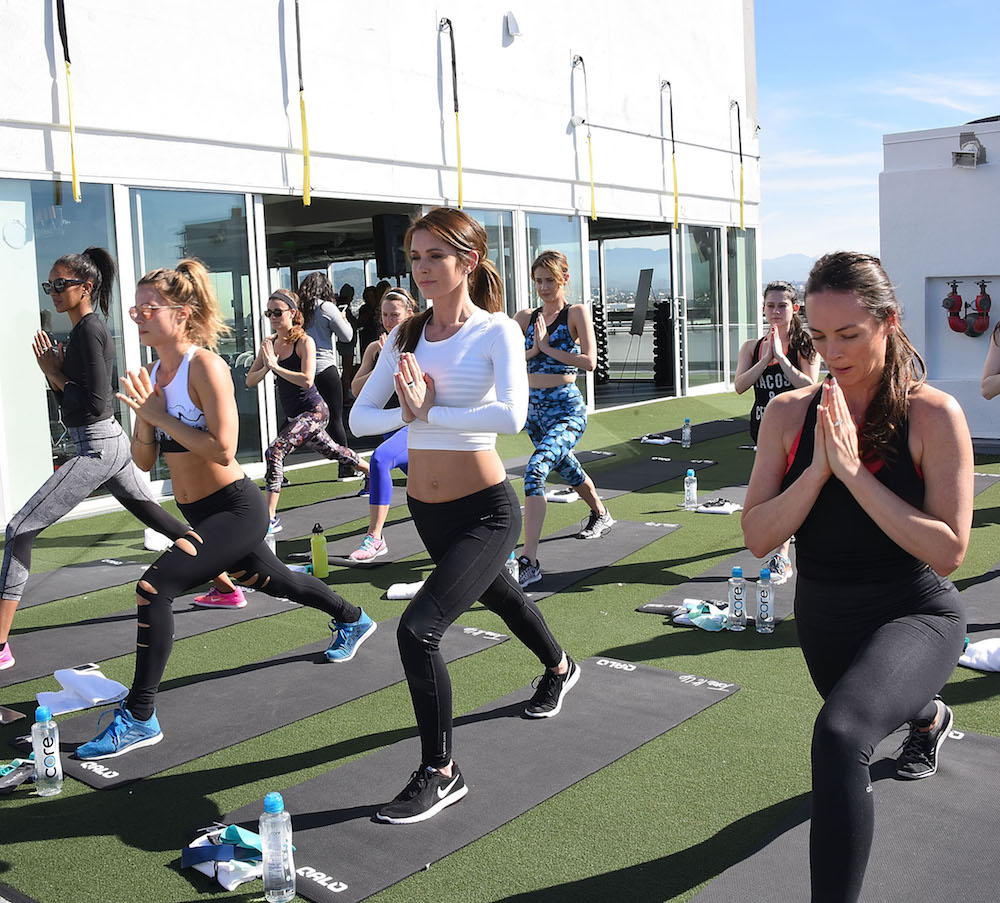 I'm so glad I did because it was such a great experience. Of course, I tried sneaking in the way back so I wouldn't be in the sun, but so I also wouldn't embarrass myself. Remember, I haven't worked out in months. But, with my luck, I was asked to move closer to the front and was directly placed behind Audrina. I was definitely sweating with nerves at that point, and we hadn't even started exercising!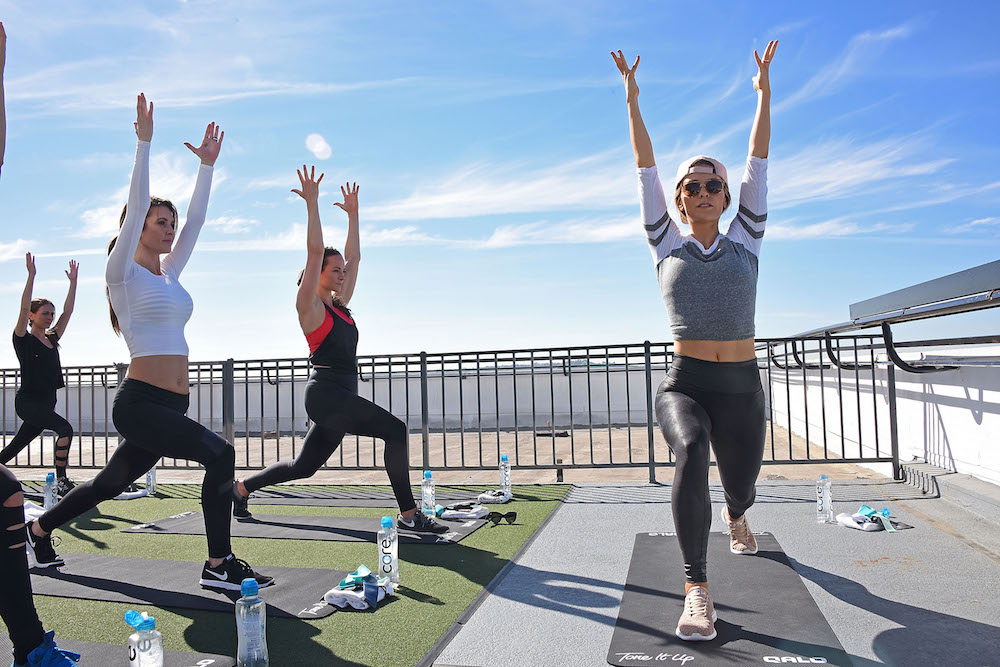 To be honest, though, celebs really are just like us. There were moments where Audrina and I made eye contact because we were both a little out of breath and couldn't get some of the moves down. Although, she did the fitness moves way more gracefully than I did. At the end of it all, it was incredibly touching to workout with such inspiring, strong women.
Luckily, Audrina gave us a little more insight into her life. We spoke to her about all things beauty — from her fave drugstore products to how her skin care routine has changed since motherhood.
HelloGiggles: Your makeup looks from The Hills inspired most of my beauty looks, what movies or shows have inspired your beauty looks?
Audrina Patridge: I love Rihanna. I have hazel-y, green, gold eyes and she kind of does, too. So when I'm really tan I copy how her makeup artist does her makeup — it's lots of plums. It's beautiful and it really brings the green and gold out.
https://www.instagram.com/p/BNvIdaAAghD
HG: How has your beauty routine or skincare regimen changed since motherhood?
AP: Everything has changed since motherhood. Everything is really fast. For my skincare routine, I still wash my face two times a day, in the morning and at night. I use tinted moisturizer and bronzer. I use vitamin D oil on my skin at night because my skin is a little dry than it used to be. I don't know if it's the weather or my hormones — I don't know what's going on — but I'm all about hydration, so I definitely use vitamin D oil, coconut oil, and I use Epicuren products. I've been really all of the natural products lately.
HG: That's so interesting! It's like whenever we use makeup, hair, and skincare products that have chemicals I'd imagine that it can affect a baby, especially when you're playing with them or kissing them.
AP: Especially when you're breastfeeding, anything you put in or on your body, it goes to your baby. I want to protect her, which I'm not breastfeeding anymore, I weened her off. You just get used to living a healthy lifestyle from being pregnant so long and you just kind of stick with it.
HG: What is your fave drugstore beauty product?
AP: The L'Oréal Voluminous mascara. That's the only mascara I use. I've tried them all, all the other really expensive, high-end brands and they dry out or get too clumpy.
https://www.instagram.com/p/BPGwjLDA5l6
HG: What are your 3 go-to beauty products you use when you're on-the-go?
AP: Right now, I've been using Charlotte Tilbury. She has this amazing product, you put it under your makeup to give you that glow. It has a tiny bit of coverage, so sometimes I'll just wear that only. I'll also do a little bit of bronzer and lipstick.
HG: What was your last beauty purchase?
AP: Charlotte Tilbury. I went crazy. I don't know why, but you know, you get so bored of using the same things and she has such amazing makeup. Right now, I'm using the magic foundation, her bronzer, her highlighter.
And if you really want to accessorize like Audrina did at QALO's event, check out their new stackable rings ($11.95 each). Brb, going to stock up on mascara, luxe makeup, and rings.