What it's like to start going gray at 16-years-old
I blame genetics. And if you began going gray prematurely, you should too.
Last month, I visited my parents. One afternoon, I found myself flipping through family photo albums. I knew what I was looking for; or rather who — Grandma Carolyn. Grandma Carolyn was tall, thin, nonchalantly elegant, and had a full head of platinum hair. "She used to have long dark tresses," my mother told me, "but that was before I was born."
Genetics is a lottery, and not everyone can win. Neither my mother nor my aunt had silver strands very early. I'm the one who has had to deal with gray hair and root regrowth since I was 16 years old.
When it comes to beauty, I am pretty low maintenance. I don't do my nails and I usually keep my makeup quite simple. My hair is wavy and unruly, and I treasure my bedhead look.
https://www.instagram.com/p/BA5ykqGLlPC
I started going gray when I was in high school. By the age of eighteen, it was clearly noticeable. I experimented with wash-in-wash-out shades. At some point, I turned to organic alternatives. Both worked for a while; but when I hit 20-21 years old, it was not enough to hide my silver hair anymore.
I was not thrilled – to say the least – to use permanent hair dyes. They contain tons of chemicals, some of which are reported to be cancer-causing. Also, the smell bothers me…a lot. I always fear that people will notice it (and they certainly do).
I've always dyed my hair myself (okay, my mother did it for me a few times). Not that I'm a hairdresser hater, I'm far from that. But the idea of dropping a bunch of money — and time — at a salon each month doesn't appeal to me too much.
Over the years, I tried all the products available on the market. Some people are connoisseurs of fine wines; I am an expert in hair dye.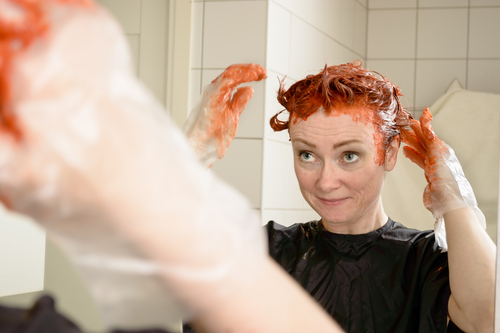 I've been religiously coloring my silver strands for the last eight years. In my early twenties, I never ever thought about not dying it. Going on a date with noticeable gray hair? Not even an option! It was time-consuming, costly, and overall painful. But my 20-year-old self could deal with the inconvenience.
Eight years later, things have changed. I'm probably 90% snow white now. Plus, my hair grows so ridiculously fast that I have to conceal my roots every two weeks. Yeah, every two weeks, you read it right.
I am almost a slave to the dye. I'm not afraid to acknowledge it. Each time I bought a new hair color kit – so very, very often – it brings me down. I don't think I'll still be a (fake) brunette in five years.
Am I ready to ditch the dye? To give up my irresponsible relationship with the hair color? Not yet. But slowly, I am starting to come to terms with this idea.
The next trick is to figure out how I'm going to get through the transition. How to get back (gracefully) to natural hair color after YEARS of dyeing?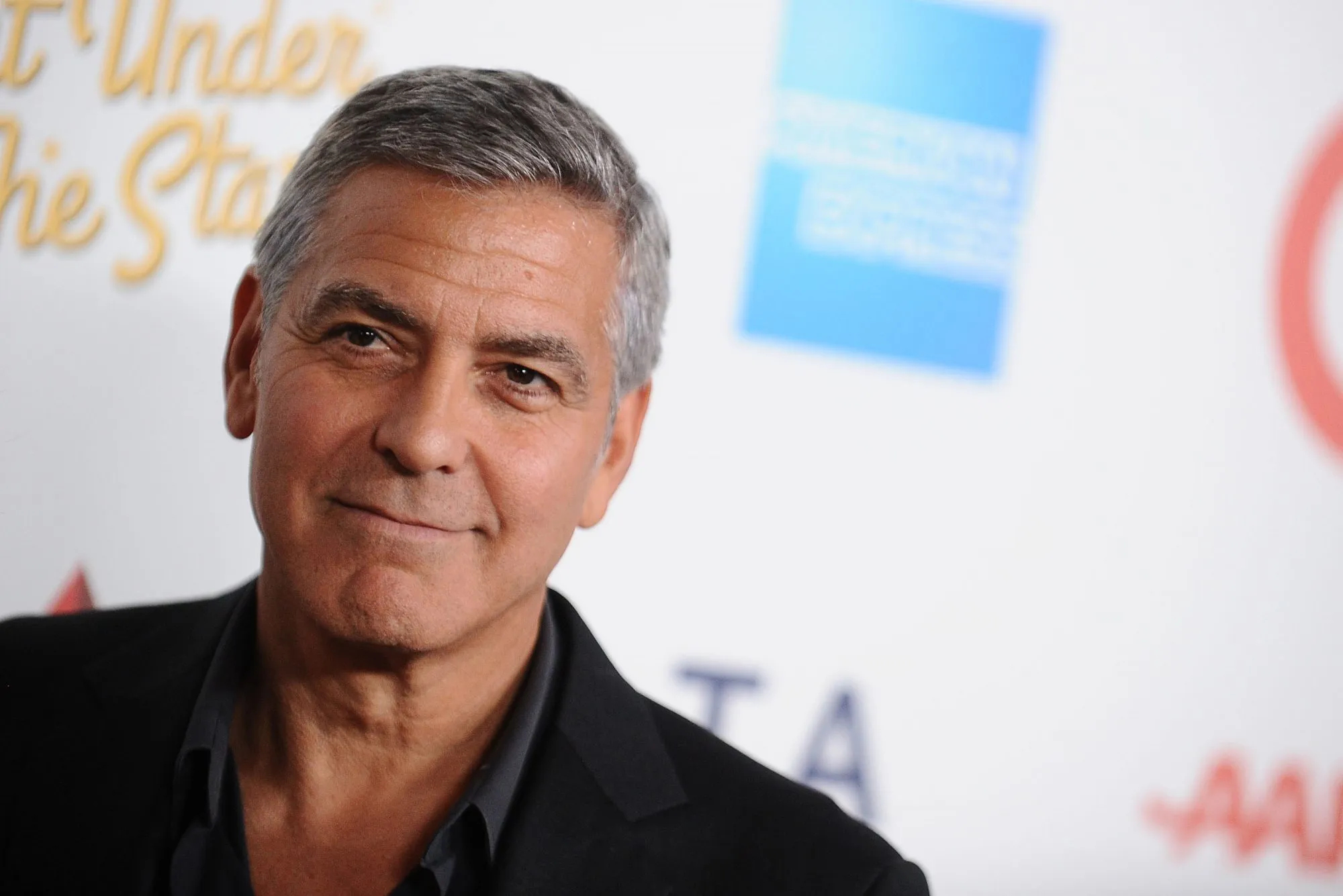 Men and women are not equal. When men start to show the first signs of salt and pepper, they're labeled "silver foxes.
George Clooney? Richard Gere? Eric Dane? They're sexy (as hell), they're distinguished, and they're powerful. There are even dozens of lists of "The Hottest Silver Foxes" on the Internet!
But when it comes to women, if a 30-something year old lady embraces her gray hair, she's accused of letting herself go. She is not a "silver fox." She's called a granny, an old cat lady, an old librarian.
You may tell me that things are changing. Somehow, in 2016, gray seems to be a trend. A bunch of A-Listers including Rihanna, Lady Gaga, Girls star Zosia Mamet, model Winnie Harlow, and Kylie Jenner have been spotted sporting silver-hued hairdos, often referred to as #grannyhair. Some insiders have even proclaimed that "gray is the new black!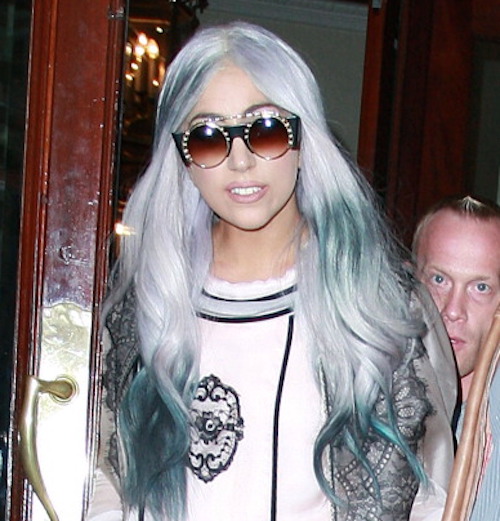 I agree: Rihanna's gray-streaked ponytail was pretty cool. But you know what?
I am neither a pop star, nor a bankable actress, nor a professional selfie taker. There is a huge difference between changing your hair wildly for a red carpet or for the cover of a glossy magazine and wearing it in your everyday life.
I never really wear the bold makeup or edgy clothes that could give me that red carpet look. I'm not a crazy experimenter, and my style is not eccentric by any stretch of the imagination. I like timeless, simple, refined, and understated garments. When it comes to color, I gravitate towards black, navy blue, grey, and khaki. Brown or copper is about as colorful as I get! I'm more about blending in than standing out or showing off.
https://www.instagram.com/p/BLEoWrbBeMc
I'm going to stop covering my silver hair, mostly because I've realized I'm fighting a losing battle. But the question is: can I pull it off?
My relatives don't understand my choice of getting off the coloring merry-go-round. "It will make you look older, my mother keeps telling me. Maybe…I am aware that grey hair can either flatter you or age you.
https://www.instagram.com/p/BNiILT9hxcz
At this stage of my life, my main concern is how to grow out my silver hair with confidence.
To be fully honest, simply embracing my white roots as my brown hair dye grows out isn't an option for me personally. Having shiny white hairs sticking out the top of my head is out of the question. Being two-toned for about 24 months is out of the question. Can a hairdresser match my natural hair color? Probably. I've thought about bleaching it. I've even thought (okay, maybe when I was a bit hungover) of cutting my hair very, very short and wearing a wig for one year or so. We'll see…
I know I still have a long way before ditching the dye. Unless you are very brave — or just Lady Gaga — wearing white/silver/gray hair remains a challenge for many of us.
Sooner or later, I will have my epiphany, my eureka moment.
Just give me two more years.
Emilie Damour is a freelance lifestyle writer. Within the past few years, her work has appeared in several magazines and websites in France, Belgium, and the U.K. She loves to spend her free time going to art exhibitions and binge watching vlogs on YouTube. You can find her on Twitter.