I used only Korean skincare products for two whole weeks, and I'm never going back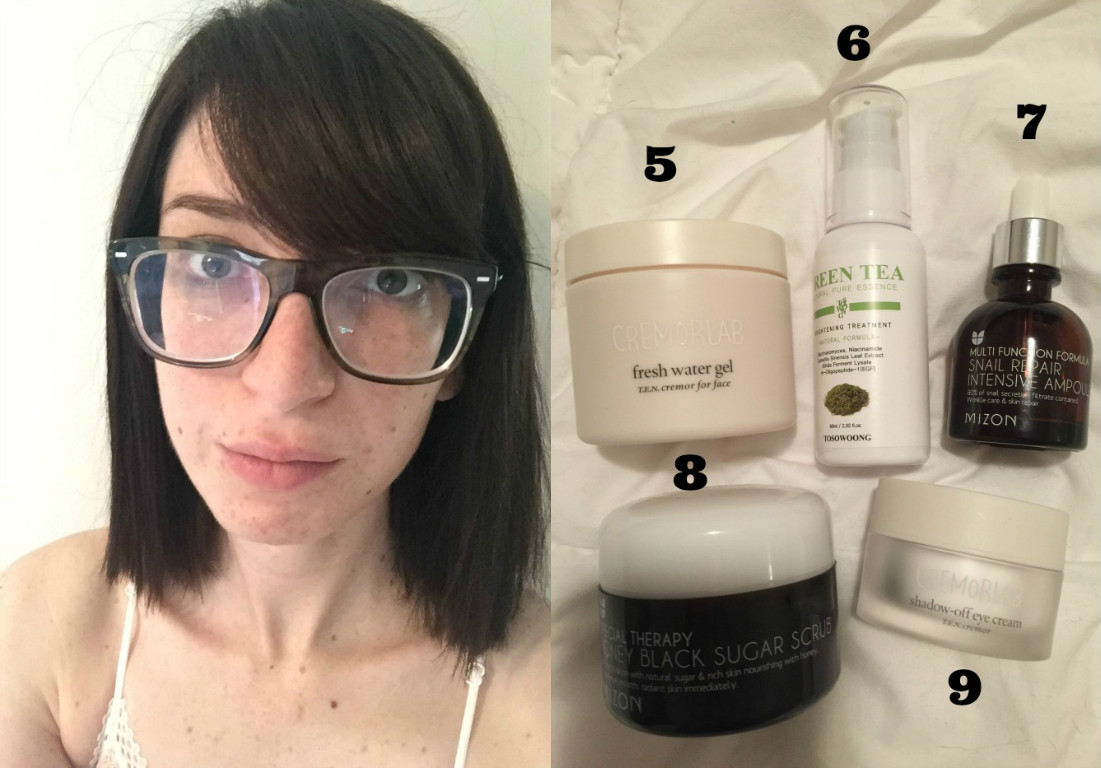 Is Korean skincare the key to fixing finicky, dehydrated skin?
Even though it's essentially been summer in L.A. since April, my skin had been acting like I live on the set of Fargo. It was dry, grumpy, blotchy, and prone to breakouts every month. No matter how much moisturizer I used every morning and every night, it felt desertly. I wanted healthy, dewy, happy skin — so I looked into the skincare trend the interwebz has been talking about nonstop: Korean beauty.
I had read about K-beauty on almost every beauty website and blog. I heard about it from friends and co-workers who swore by creams and serums. I encountered at least one sheet mask selfie on Snapchat per day. I HAD to investigate — what if Korean skincare was the key to a perfect face?
So I hopped on the phone with Alicia, the founder of Peach & Lily, an online retailer that specializes in all things Korean beauty. I described my skin problems to her, and she immediately told me I had dehydrated skin, and that I was using my Clarisonic too often (I used it twice a day, every day). Using salicylic acid-based cleansers (I was big on Neutragena and Clean & Clear), I was also stripping my skin of the natural oil it needed to stay moisturized.
"When your skin is at its best, it looks healthy. The Korean skincare routine is looked at holistically. Preventative skincare is also a big thing, too. We're all about nourishing skin, and getting it to a healthy place," Alicia told me. Basically, my face was thirsty AF. Alicia told me I needed a gentle, oil-based cleanser, and moisturizing products to get my skin to next-level health and hydration.
Alicia then prescribed me these products, which she kindly mailed me in a big box: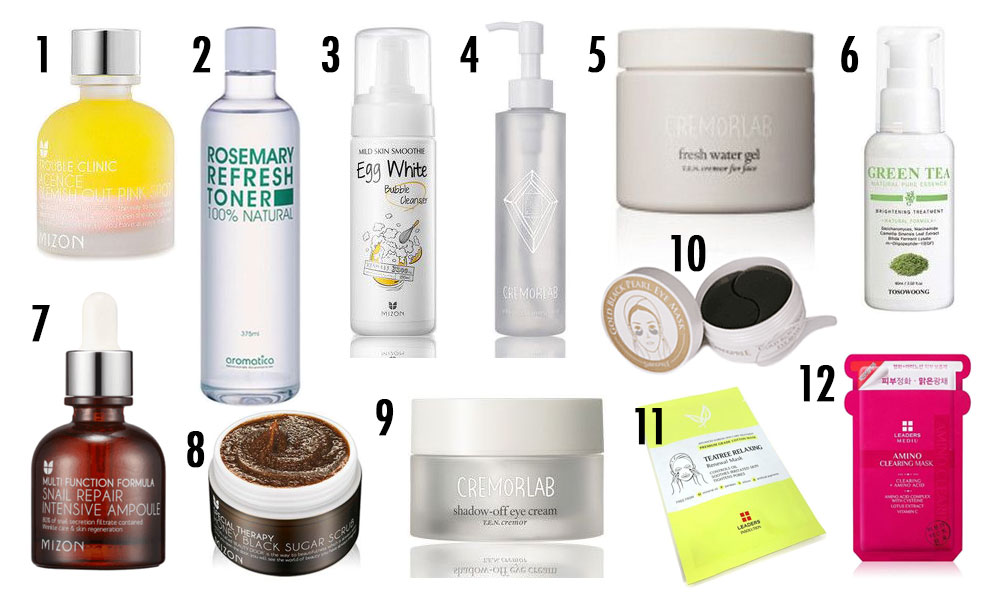 1. Mizon Acence Blemish Out Pink Spot 
This tiny (but potent) bottle is supposed to treat pimples — I should apply whenever I see a zit start forming. Cost: $18
2. Aromatica Rosemary Refresh Toner 
Right after cleansing, I use toner, which should keep my skin from getting too oily throughout the day. Cost: $34
3. Mizon Egg White Bubble Cleanser 
This fluffy cleanser is supposed to even out my skin tone and deal with acne. This particular cleanser is foamy, which makes it easy to apply, and it's made with egg whites that Alicia says are "packed with collagen," and also "papaya extract [which] provides a gentle exfoliation." Cost: $23
4. The Cremorlab T.E.N. Cremor Cleansing Gel Oil.
I would use this cleansing oil BEFORE using actual cleanser, and it's supposed to wipe away any makeup or grime on my face. Cost: $32
5. Cremorlab Fresh Water Gel 
Before applying foundation, I apply this super light moisturizer that's supposed to "sooth and tone" my skin. Cost: $48
6. Tosowoong Green Tea Brightening Essence 
This serum is supposed to "tighten the pores and curb excess oil production, while also brightening the skin." It's made with green tea and Vitamin E, and I'm supposed to apply a thin layer so it absorbs easily. Cost: $21
7. Mizon Snail Repair Intensive Ampoule 
This snail serum (yes, made with 80 percent real snail!!) helps "sooth, hydrate, brighten, and diminish breakouts and dark spots. Cost: $38
8. Mizon Honey Black Sugar Scrub 
This scrub is super, super gentle and not only exfoliates skin, but moisturizes it as well. Made with sugar, honey, Vitamin E, mango butter, and green tea extract, this scrub brighten skin AND prevents breakouts. Cost: $16
9. Cremorlab Shadow-Off Eye Cream 
At the end of the day, I'm instructed to use eye cream to help treat the dark circles on my eyes. It's supposed to ease puffiness and make me look like I actually slept a full eight hours. Cost: $48
10. Shangpree Gold Black Pearl Hydrogel Eye Mask 
This product is supposed to "hydrate, firm, and smooth out the appearance of fine lines," and I leave it on for 20 minutes. Note: They feel like jelly. Cost: $60
11 & 12. Sheet masks  
I'm given Leaders Tea Tree Relaxing Mask ($4) and Leaders Insolution Mediu Amino Clearing Mask ($3), both designed to combat blotchiness and hydrate my skin throughout the night.  
The K-Beauty experiment BEGINS
Basically, I needed to completely revamp my current skincare system (which consisted of like, three products total), and was to me — up until this point — purely perfunctory. Korean skincare is definitely a more time consuming, thoughtful process. And there is a LOT of layering involved. But let's see if it paid off. I monitored my skin day by day, taking photos with my iPhone every single morning (I tried to aim for the same amount of light exposure, but as you can see I pretty much failed with that). Each photo is taken immediately after washing and moisturizing my face, and absolutely no makeup was applied. I am completely naked-faced, bbs.
Days 1-3
After the first day, my face already felt softer, and it became exponentially less oily throughout the day. On the second day, I used the Honey Black Sugar Scrub, and it felt LUSCIOUS on my skin. Most exfoliating scrubs leave your face pink and desperately needing moisturizer, but this scrub was super hydrating on its own. On day three, I didn't notice a huge difference in appearance, but my skin FELT healthier.
Days 4-6
By day four, it seemed like my skin was really evening out, and dramatically so. Moreover, it was less oily (no more oily nose!). I start incorporating the snail serum (Alicia instructed me to not start using all the new products at once to avoid a skin freakout), and while it felt sticky at first, it dried quickly, leaving my face dewy. Also on day four, I got my new makeup removing cleansing wipes in mail (Celavi, in apricot, for $11 for two packs from Amazon ) for a post-gym face wipe-down.
Days 7-9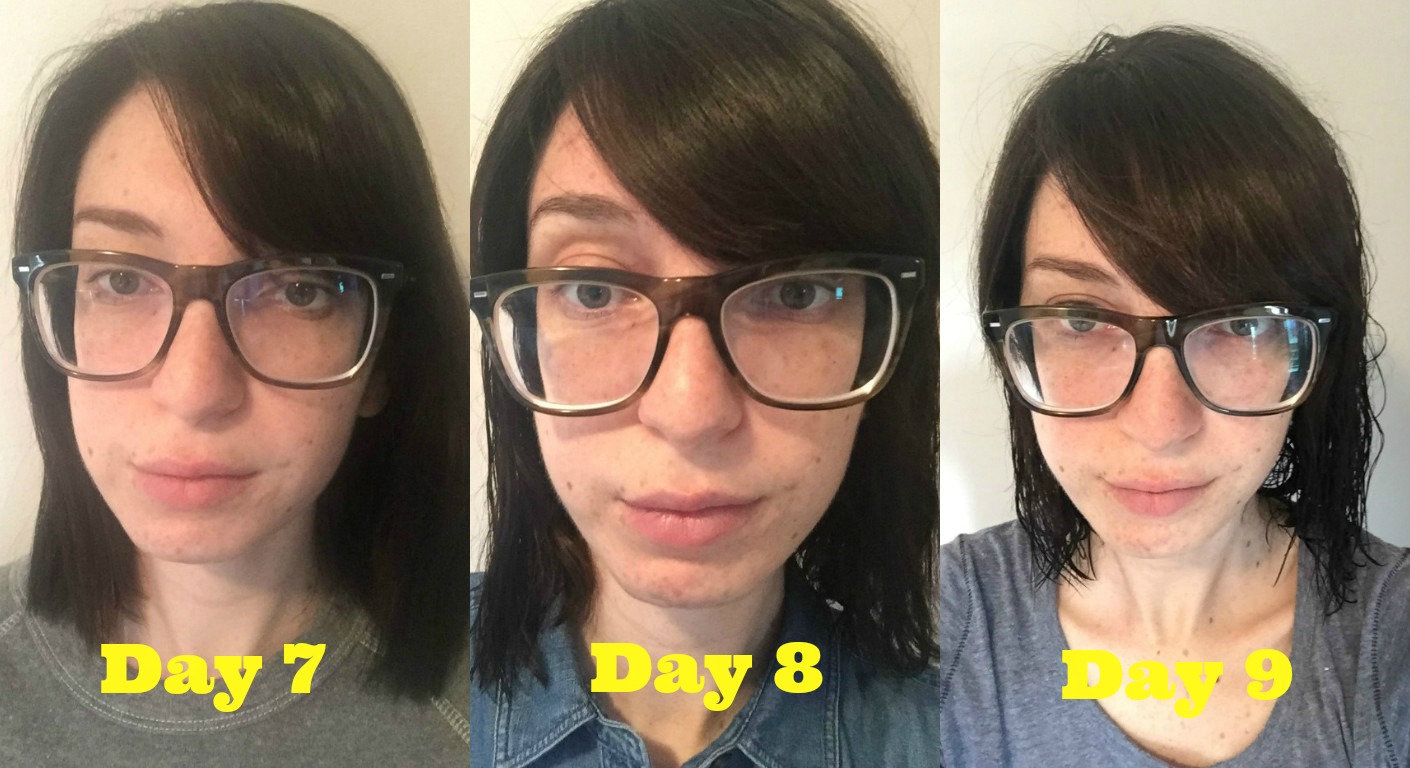 On day eight I wake up to two MOUTH zits (the worst zits), but also I was getting my period soon, so. The acne spot-treatment seemed to work — I applied some before I went to bed and woke up to two smaller mouths zits, so hooray, progress! I will note that the spot-treatment leaves your skin really chalky, so I'd only use it at night.
Days 10 – 12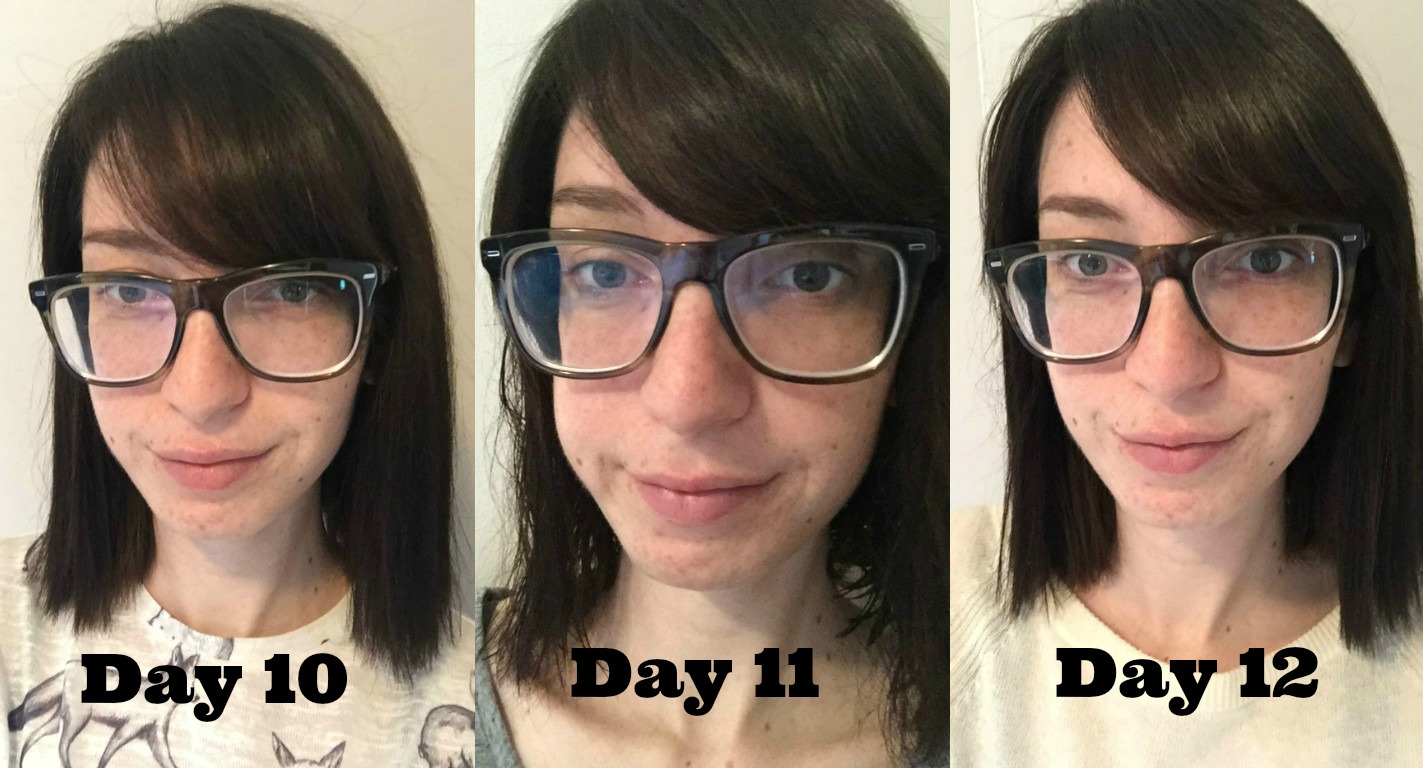 By day ten, I was getting used to the whole routine, which seemed tumultuous at first. The dedication and lathering on lathering on lathering seemed to be paying off — my skin WAS noticebly brighter and clearer and more hydrated. I also had used both masks, and while they didn't seem to affect any blemishes, they did make my skin feel smooth and soft in the morning.
Days 13 & 14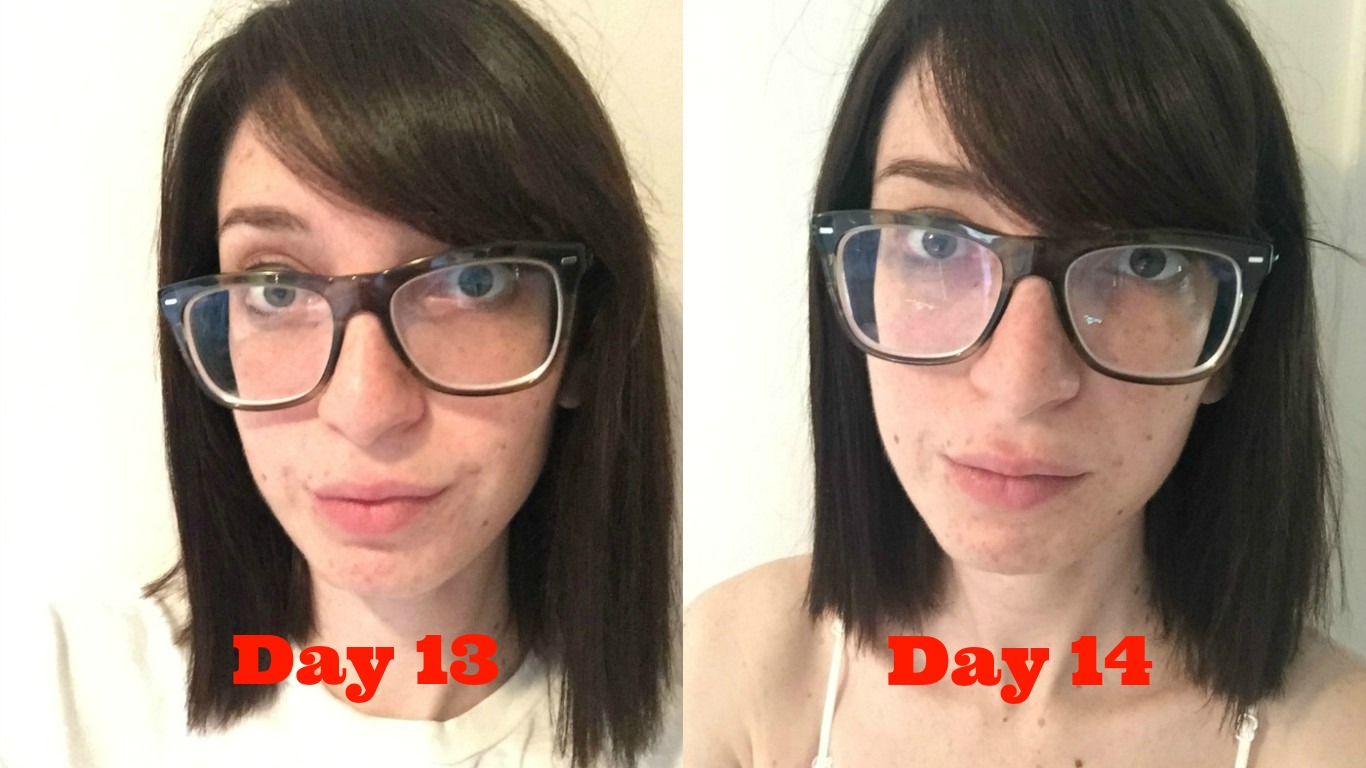 By this point, I had stopped using concealer and foundation and had just been applying a light CC Cream (Smashbox, $42) and some setting powder (Makeup For Ever Microfinish Powder, $35). For once I was actually stoked with my skin — just as it was.
Verdict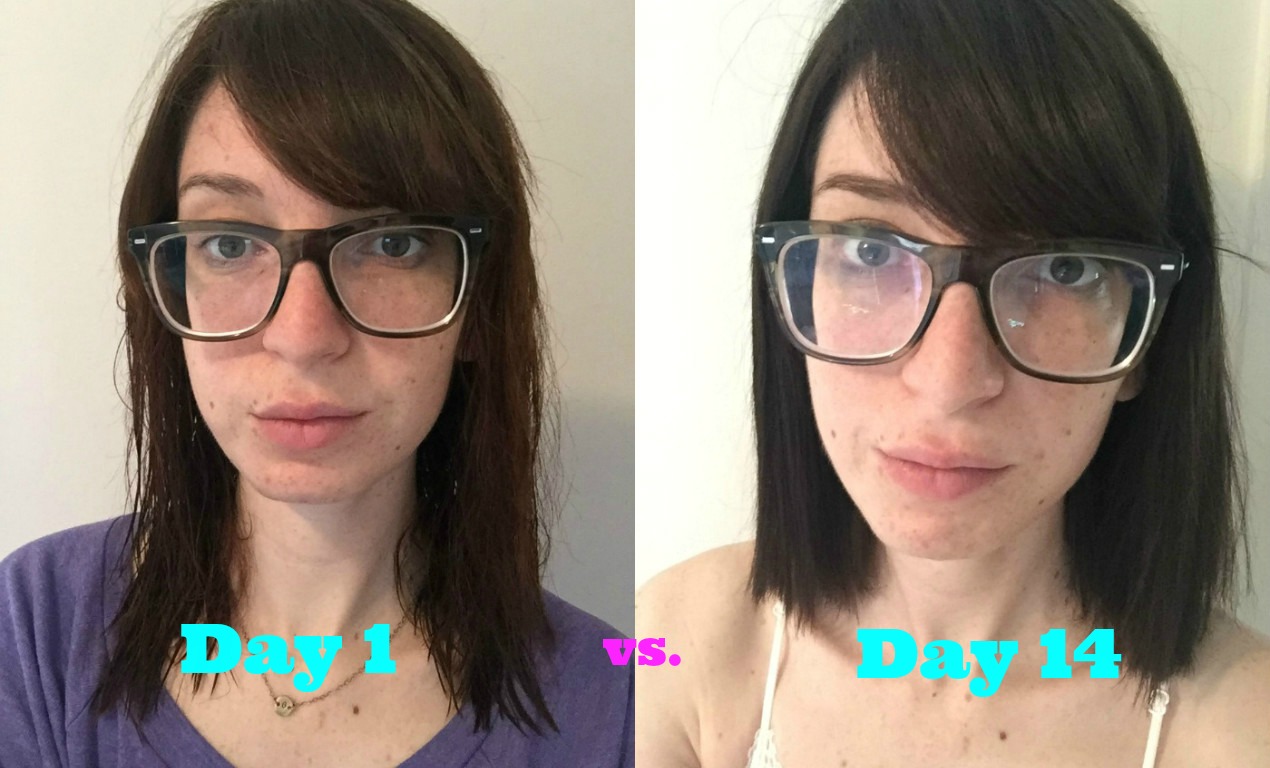 I think there's a definite difference between the first day of my new Korean skincare regimen and the last (granted, the lighting here is NOT the same, as previously noted). My skin is brighter, less splotchy, and most importantly, it feels healthier and QUENCHED.
The downside is yes,  the regimen is more time-consuming than splashing water and soap on your face and calling it a day. It's also expensive. You would really have to invest in a couple hundred dollars worth of products (nothing more expensive than most brands at Sephora, but still). Korean skincare doesn't come at a drugstore price (although I'm sure you could score some deals on Amazon). However, most bottles will last you months.
I think my face and I will be sticking to Korean skincare products, thankyouvermuch!