Snowboots, celebs, and civil rights: I marched for gender equality at Sundance Film Festival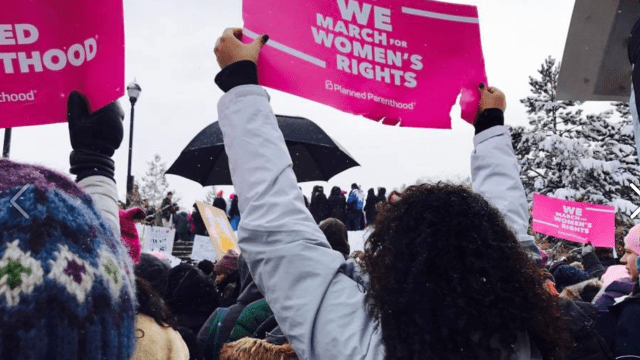 Women and men all over the world took to the streets Saturday to show support for women's rights and protest the inauguration of Donald Trump. At Sundance Film Festival in Park City, Utah, I was among them.
Sundance is one of the most culturally significant events to take place in my home state of Utah each year, so it seemed only natural that the festival would be one of the locations for what was (arguably) one of the most culturally significant events of our generation:Millions of women marching for their rights, coming together with hope and solidarity, bound by a shared desire for a better world.
Chelsea Handler led the march down Park City's iconic main street. Snow was basically coming down in buckets, but it didn't matter: Nothing could dampen the mood that buzzed through the city as activists filled the street.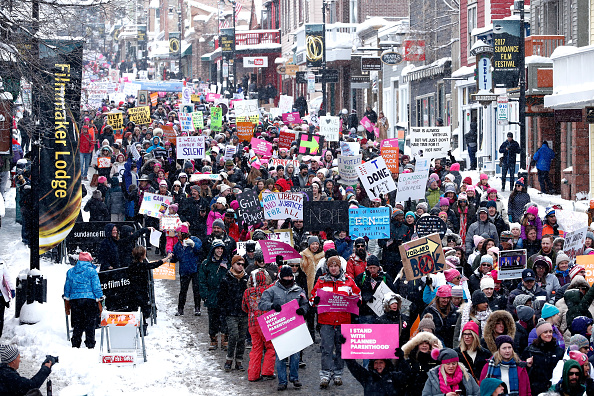 The 8,000 women and men who turned up for the march might seem small when compared to the turnout in Washington D.C., New York, and L.A. — but the tiny mining town of Park City was completely overwhelmed by the women who flooded the streets.
Main Street – Park City's main thoroughfare – was packed to the brim, with most people marching shoulder to shoulder.
We marched up Main Street through the snow, too empowered to be bothered much by the cold, too focused and passionate to even be that starstruck by the celebrities marching alongside us. I spotted Kristen Stewart, John Legend, Nick Offerman, and Charlize Theron in the crowd, but no one that I saw was pausing to take selfies with their favorite stars. We were all on a mission.
As we gathered at the bottom of Main Street for a post-march rally, former Daily Show correspondent Jessica Williams took the stage.
Williams, who now co-hosts the 2 Dope Queens podcast, has a movie premiering this week at Sundance — but she wasn't on stage to promote anything but justice for women and people of color across the globe.
"I am a descendant of slaves. I am my ancestors' dream. Standing up here in literal 21-degree weather in front of all these white people in Uggs," she said to the crowd.
That line earned laughs, but much was said in very few words: We still have so far to go when it comes to inclusiveness and equality, but human rights are earned when fought for at demonstrations like this one, with thousands – or millions – standing together to say "this is not okay, and we demand change."
https://www.youtube.com/watch?v=JXADdqD2Z2E?feature=oembed
Despite clogged canyon roads and heavy snow, Salt Lake City residents (like me) turned up in droves to the march.
Beside me walked two women, Amber Amarillo and Laurel deLagerheim, who were carrying pink Planned Parenthood signs. Both had braved the treacherous drive up Parleys Canyon from Salt Lake, which took more than 2.5 hours to traverse, courtesy of the weather.
"We're here because we both have daughters," said Amarillo, motioning to Lagerheim beside her. "I'm a little terrified about the new administration. My daughters are Latina, we have family members who could be affected by the new policies, so it's important to stand together with people who feel the same way."
Women weren't the only ones who turned out for the event – men and boys joined the fight too.
Near the end of the rally, I saw two young boys holding signs as they walked beside their mother through the snow. I found out they were 14-year-old Cameron Wright and his 11-year-old brother, Christopher, from Salt Lake City. They told me their mother, who was beaming with pride as they answered my questions, gave them the choice to stay home, but they came anyway.
"President Trump is trying to take away the rights that women have been fighting [for] for years, and it's just not fair," said Cameron. "We're here to fight for women's rights."
Even days later, I still think about these boys a lot. I ponder the idea that — even though there is so much pain and oppression surrounding us every day, trying to hold us down — we're actually living in an extraordinarily hopeful time: People are coming together to raise their voices for what's right, and do it loudly. 
Parents are raising their daughters to demand respect, and raising boys like Cameron and Christopher to give it. The world is scary and dangerous and divided, but I still have hope that my children will live in a world better than mine. Marching through the snow in Park City gave me that gift.
So keep marching. Even when they laugh at us. Even when they tell us to stop complaining. Keep raising your voice, louder and louder until the collective shouts and yells harmonize into a song.
We have that power, and that gives me hope.